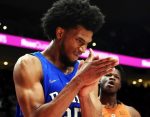 DURHAM, N.C. – Duke freshman Marvin Bagley III has swept the ACC basketball weekly awards, earning both Player and Rookie of the Week following his MVP performance at the PK80 Invitational in Portland.
 No. 1-ranked Blue Devils (8-0) have garnered six of seven ACC weekly honors in the season's first three weeks. Bagley III, the ACC's leading scorer (22.3 ppg) and rebounder (11.3 rpg), was both co-Player of the Week and Rookie of the Week on Nov. 13, while senior Grayson Allen and freshman Wendell Carter Jr., were Player and Rookie of the Week, respectively, last week.
 Bagley was named the Most Valuable Player of the eight-team Motion Bracket in leading the Blue Devils to the title. In four games last week, he scored 106 points and grabbed 53 rebounds, averaging 26.5 points and 13.3 rebounds.
 He is the first Duke player since 1973 to post three consecutive games of 15+ rebounds and is the first Duke player in history with consecutive performances of 30+ points and 15+ rebounds.
 Bagley had 34 points and 15 rebounds in an overtime PK80 semifinal win over Texas, including eight of the team's 12 points in overtime. He followed with 30 points and 15 rebounds in Sunday night's win over No. 7 Florida in the title game.
 The 34 points versus Texas tied Duke's freshman scoring record (J.J. Redick vs. Virginia in 2003). Bagley's six double-doubles are tied for the most in the NCAA. For the week, Bagley shot 60 percent from the field and 71 percent from the free-throw line, including 9-of-10 in the PK80 title game. He added seven assists, four blocked shots and two steals last week.