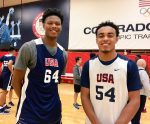 You may have heard about some injuries to Javin DeLaurier and Marquess Bolden of late via click bait.  While both have been hampered them sitting out is precautionary and they will not miss extended time,.
The Duke staff is working hard with Trevon Duval to get him more accustomed to running a team.  Duval is still a tad raw in some areas of the game which he makes up for with sheer athleticism.
The team will have an open practice before the Duke vs FSU football game which should be announced today.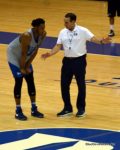 If you are expecting Duke to look especially crisp right away this season, temper your expectations.  In the past Duke has known by now how they will use players but not this season.  This is a year they will have to see some early games with the team playing together to define roles.  The staff will again, play seven main players as I stated in the pre season preview.  They are looking for some separation past the top seven players for an eighth man.  They have confidence that Antonio Vrankovic will be fine playing some if there are injuries to the top four front court guys in the pecking order.  But they need another wing to develop  on the roster, especially if there is an injury.  Duke will face a lot of zones this season.
While the staff cannot check the guys out, Colorado Springs was a hot spot this weekend.  There are of course, Tre Jones and Cameron Reddish attending and they are hard after Zion Williamson and getting to know others.  Williamson will visit Kentucky for their midnight madness and Duke for Countdown to Craziness.  While many will tell you he could go to South Carolina and Clemson, I have good reason to think that is a long shot after talks with sources as is Kansas who is rumored to perhaps have repercussion problems from the recent shoe-gate news.  Williamson has nice things to say about Duke.  A guy in place in Colorado Springs says he echo's what Mike Krzyzewski has told him that he can play multiple positions and that they will get him ready for the pros.  Kentucky has a similar pitch but the two are different in their approach.  Duke has been a little more soft sell, yet firm.  Kentucky has been the more aggressive.  It will come down to these two schools and many feel Kentucky holds the slight edge.  All I can tell you is this one is not over and Duke will be able to offer playing time, so the longer this one goes on the better for the Blue Devils, in my opinion.
Other players Duke has interest in at the USA Basketball Camp are Vernon Carey, Jalen Johnson,and RJ Hampton.  Some list Emmitt Williams but I have reason to think he is a long shot per a source. However, never say never in recruiting for he says great things about Duke in all of his interviews and remains interested in the program.  He was also seen hanging around the Duke guys during the USA camp.   Carey is being recruited hard by North Carolina and other schools as well but Duke is showing major interest there and he is slated to visit during Countdown for Craziness.    R.J. Hampton will also come in for CTC as will a bevy of others.  He now holds an offer after his recent visit. Duke has about ten invitations out there for CTC which I will go over shortly.  That will of course be the official visit weekend for Zion Williamson and their concentration will be on him and his family.  This, again, is coming after his visit to Kentucky, so they will need to crack a homer and not one-off the wall.  The word is Immanuel Quickly has told people he is confident Williamson will be a Wildcat.  Quickley is their PG for next season
Tre Jones and Cameron Reddish are both played well at the USA camp.  Both are maturing on the court and physically.  Reddish's length continues to impress and Jones is a Jones and a proven winner and cool under pressure.  Darius Garland has looked good as well, but as stated on the message board, Duke has parted ways with him.  They liked him a lot as a player, but Jones earned his way to the top PG spot and the familiarity just made for a slightly better fit.  Garland wants to run a team and he would have been a smaller off guard at Duke.  Back to Jones, he ran teams he played for on scrimmages flawlessly and solidified the growing hype surrounding him.
Now, a lot of the teams departure from Garland is that they are in great shape to land R.J. Barrett.  This kid can play anywhere  but is most effective at the 2 or 3 spot.  While he will not officially announce his choice until later in November, there is no reason to get paranoid although many in the fan base will.  Kentucky is a player and the only negative with a later decision is that time can allow things happen.  But this is one where people need to be patient and trust the process and allow him to pick Duke on his families terms.  He will announce his choice in his home country of Canada with family and long time friends in attendance.
It is simply too early to know who may or may not go pro after the season.  Why do I bring this up?  Well, mainly because Duke will have to turn up more bodies for the roster.  But keep in mind DeLaurier, a senior Vrank will be back up front and if there are not transfers (and I am not hinting at that) there will be wings.  I do expect Duval, Carter, Trent and of course Bagley to be gone for sure and maybe Bolden.  Duke may look at some graduate seniors or transfers from coaching changes as well, but they are by no means finished recruiting and have a plan.  There is a chance that Armando Bacot or a player mentioned at the USA Camp could reclassify so we will keep tabs on that and most everything mentioned in this kind of article out of the public eye.
Here is a quick list for CTC which will be adjusted at a later date.
Bryan Antoine - confirmed
Armando Bacot - confirmed
Vernon Carey
R.J. Barrett
Scottie Lewis - confirmed
R.J. Hampton - close to confirming
Zion Williamson - confirmed
Matthew Hurt- confirmed
Other tidbits - I still have some tidbits left which I will make public articles on from media day.   Duke is not scheduled to send any players to ACC media day but there is a rumor that the conference is trying to change that.  Allen continues to play very well in practice and the staff will allow for Marvin Bagley to expand his game going outside a lot on offense but will ask him to be a rim protector on defense.  Expect to see him in the passing lanes as well for the Blue Devils think they can and need to score points off the steal and break this season.  Looking for a chink in the armor?  Two things which could at times be a hindering factor this season is the lack of  proven three-point shooters where only Allen and maybe Trent stand out.  Duval is still a work in progress there.  The other thing is the teams ability to hit free throws.  With such a tall lineup, there will be a lot of hack a Duke big going on which will send the likes of Bolden, DeLaurier, Carter and Bagley to the free throw stripe quite a lot.  If Duke cannot hit the three and had off nights from the FT line, that could allow opponents and advantage.  On the strength end of things, Duke should control the rebounds and glass.  If they allow a single shot to teams, that will off set the aforementioned.  Duke should also be nearly impossible to stop on the offensive glass if they play together,