Browse:
Home
/
Valor Christian Football
By Patrick Cacchio on January 23, 2012
With the recent decision by Terrell Jackson to re-open his recruitment, the Blue Devils find themselves looking to bulk up their defensive line in the class of 2012. With that in mind, Duke hosted Valor Christian DE Michael Mann on an official visit over the weekend. Originally committed to Arizona State, Mann opted to re-open […]
Posted in BDN Premium Articles, Duke Football | Tagged BDN Football, Blue Devil Nation, Coach Lubick, Colorado State, Duke Blue Devils, Duke Football, Football Recruiting News, Max McCaffrey, Michael Mann, Michael Mann Duke, Michael Mann Valor Christian, UCLA, Valor Christian Football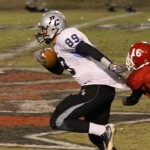 By Patrick Cacchio on September 14, 2011
The Blue Devils hosted several high school prospects on campus this weekend for the Duke Athletics Hall of Fame ceremony and Saturday's game against Stanford. BDN Premium caught up with several of the prospects after their visit and got their thoughts on the game and the trip.
Posted in BDN Premium Articles, Duke Football | Tagged A.J. Wolf, BDN Football, Blue Devil Nation, Dan Beilinson, Dan Beilinson Duke, Duke, Duke Football, Duke Football 2012, Duke Football commitments, Football Recruiting News, Hackley Football, Max McCaffrey, Max McCaffrey Duke, Panther Creek Football, Valor Christian Football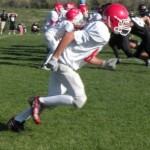 By Patrick Cacchio on June 1, 2011
Head Coach David Cutcliffe and the Blue Devils have added their 5th verbal commitment to the class of 2012 today from the state of Colorado. Max McCaffrey informed the Duke coaching staff of his decision on Wednesday afternoon. McCaffrey is a 6'3" 190 pound wide receiver prospect from Highlands Ranch, Colorado. As a receiver and […]
Posted in Duke Football | Tagged Billy McCaffrey, Connecticut, David Cutcliffe, Duke 2012 Football Commits, Ed McCaffrey, Football Recruiting News, Max McCaffrey, Valor Christian Football, Wake Forest
By Patrick Cacchio on May 28, 2011
In their three-plus years in Durham, Head Coach David Cutcliffe and Offensive Line Coach Matt Luke have built the Duke offensive line into what is expected to be a position of strength in 2011. The past two recruiting classes have brought in a very good group of young offensive linemen, and the Blue Devils hope […]
Posted in Duke Football | Tagged Alex Kozan, BDN Football, Blue Devil Nation, Duke, Duke Football, Duke Football 2012, Football Recruiting News, North Carolina, Patrick Cacchio, Pitt, South Carolina, Syracuse, UConn, Valor Christian Football, Wake Forest