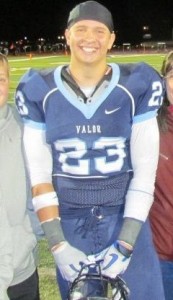 With the recent decision by Terrell Jackson to re-open his recruitment, the Blue Devils find themselves looking to bulk up their defensive line in the class of 2012. With that in mind, Duke hosted Valor Christian DE Michael Mann on an official visit over the weekend. Originally committed to Arizona State, Mann opted to re-open his own recruitment after the coaching staff change in Tempe. A teammate and close friend of Duke WR commit Max McCaffrey, the Blue Devils have had Mann on their radar for awhile. The 6'4" 220 pound DE prospect is coming off his third straight Colorado HS Championship and spoke with BDN shortly after his visit to Durham.


Sorry, but you must become a premium subscriber to view the rest of this post.

Join now by visiting the PREMIUM MEMBERSHIP link at the top of the page, where you can learn more about the benefits of a Blue Devil Nation Premium membership.