Browse:
Home
/
Dan Beilinson
By Patrick Cacchio on February 1, 2012
It's Signing Day for Duke Football! Coach Cutcliffe and the Blue Devils officially will welcome the class of 2012 into the Duke family today. BDN has all the coverage, including Mark Watson live at Coach Cutcliffe's afternoon press conference. National Letters of Intent Received TE Erich Schneider Height: 6'7″ Weight: 220 pounds High School: […]
Posted in Duke Football | Tagged A.J. Wolf, Allen Jackson, Anthony Nash, BDN Football, Blue Devil Nation, Carlos Wray, Casey Blaser, Coach Cutcliffe, Corbin McCarthy, Dan Beilinson, Deion Williams, DeVon Edwards, Duke class of 2012, Duke Defense, Duke Football, Duke Football Signing Day, Dwayne Norman, Erich Schneider, Football Recruiting News, Max McCaffrey, Michael Mann, Michael Westray, National Signing Day, Ross Martin, Shaquille Powell, Tanner Stone, Thomas Sirk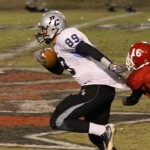 By Patrick Cacchio on September 14, 2011
The Blue Devils hosted several high school prospects on campus this weekend for the Duke Athletics Hall of Fame ceremony and Saturday's game against Stanford. BDN Premium caught up with several of the prospects after their visit and got their thoughts on the game and the trip.
Posted in BDN Premium Articles, Duke Football | Tagged A.J. Wolf, BDN Football, Blue Devil Nation, Dan Beilinson, Dan Beilinson Duke, Duke, Duke Football, Duke Football 2012, Duke Football commitments, Football Recruiting News, Hackley Football, Max McCaffrey, Max McCaffrey Duke, Panther Creek Football, Valor Christian Football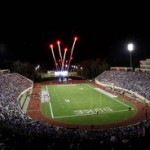 By Patrick Cacchio on July 1, 2011
Even on a holiday weekend, it's still time for BDN's Football Friday, a weekly look inside the world of Duke Football. If you enjoy this weekly column, please consider becoming a BDN Premium Member and joining our growing community of Duke Football fans. As we say goodbye to the month of June, it's time to […]
Posted in Duke Football | Tagged Allen Jackson, BDN Football, BDN Football Friday, Blue Devil Nation, Coach Cutcliffe, Conner Vernon, Cooper Helfet, Dan Beilinson, David Cutcliffe, Deion Williams, Donovan Varner, Duke 2011 Football, Duke Football, Duke Football 2011, Duke Football News, Duke Football Preview, Dwayne Norman, Erich Schneider, Football Recruiting News, Jela Duncan, Jim Collins, Matt Daniels, Rick Petri, Sean Renfree, Thad Lewis, Thomas Sirk, Todd Gurley, Will Snyderwine
By Patrick Cacchio on June 25, 2011
With the impending graduation of Cooper Helfet and Danny Parker, Duke is looking to reload at the tight end position in the class of 2012. On Saturday, the Blue Devils did that, securing a commitment from top in-state TE Dan Beilinson. Beilinson is a 6'5" 220 pound prospect from Panther Creek HS in Cary. As […]
Posted in Duke Football | Tagged Blue Devil Nation, Blue Devil Nation Football, Dan Beilinson, Dan Beilinson commit, Dan Beilinson Duke, David Cutcliffe, Duke Football, Duke Tight End, Football Recruiting News, Miami, N.C. State, NC HS Football, Panther Creek Football, Vanderbilt, Wake Forest
By Patrick Cacchio on June 24, 2011
Fear not, loyal fans, Football Friday returns! If you've been under a rock for the past week, please be sure to check out all of our great interviews and reports from the NBPA Top 100 Camp. BDN was on the scene as always and has the best content with Duke's prospects in 2012 and beyond. […]
Posted in Duke Football | Tagged Ahmad Fulwood, Alex Kozan, Allen Jackson, Andrew Jelks, BDN Facebook, BDN Football, BDN Premium, BDN Twitter, Bilal Marshall, Blue Devil Nation, Brett McMurphy, Carlos Wray, Casey Blaser, Dan Beilinson, David Cutcliffe, Deion Williams, Dondre Brown, Drae Bowles, Duke Depth Chart, Duke Football, Duke Football 2012, Duke Recruiting, Duke Victory Bell, Dwayne Norman, Eli Manning, Erich Schneider, Football Friday, Football Recruiting News, Hakeem Nicks, Jela Duncan, Jeremiah Allison, Keilin Rayner, Korren Kirven, Max McCaffrey, Ross Martin, Ryan Morris, Shelton Gibson, Stewart Mandel, Tanner Stone, Thad Lewis, Thomas Sirk, Todd Gurley, Tyler Cameron, UNC Football Investigation, Victory Bell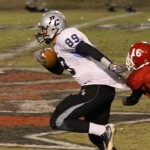 By Patrick Cacchio on June 21, 2011
With the impending graduation of Cooper Helfet and Danny Parker, Duke will be looking to reload at the tight end position in the class of 2012. After an early verbal commitment from Florida prospect Erich Schneider, the Blue Devils have remained focused on a local prospect to fill their remaining spot at tight end. Dan […]
Posted in BDN Premium Articles, Duke Football | Tagged BDN Football, BDN Premium, Blue Devil Nation, Cary Football, Coach Cutcliffe, Coach Middleton, Dan Beilinson, Duke, Duke Football, Duke Recruiting, Duke Tight End, Football Recruiting News, N.C. State, NC HS Football, North Carolina Tight End, Panther Creek Football, Wake Forest