Browse:
Home
/
Dondre Brown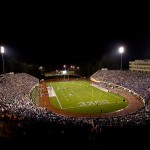 By Patrick Cacchio on July 29, 2011
If you think football season is close, consider this: there is only one more Football Friday before Duke opens training camp. If that doesn't get you excited, hopefully the rest of this column will. Early analysis suggests that this may be the longest Football Friday ever, so pace yourself! No sales pitch this week. If […]
Posted in BDN Premium Articles, Duke Football | Tagged Anthony Boone, Austin Kelly, BDN Football Friday, Brandon Braxton, Brandon Connette, Brandon Harper, Brandon King, Braxton Deaver, Brett Huffman, Brian Moore, Bryan Morgan, Butch Davis, Coach Cutcliffe, Coach K, Conner Vernon, Conor Irwin, Cooper Helfet, Corey Gattis, D.J. Reader, Danny Parker, David Reeves, Desmond Scott, Dondre Brown, Donovan Varner, Duke, Duke 2011 schedule, Duke Blue Devils, Duke Football, Duke football offense, Duke Football Preview, Duke Football Single Game Tickets, Duke football tickets, Duke Offensive Line, Duke Quarterback, Duke Running Back, Duke Tight End, Duke Wide Receiver, Everett Withers, Football Friday, Football Recruiting News, Jamie Gilmore, Jay Hollingsworth, Jela Duncan, John Coleman, Josh Snead, Juwan Thompson, Keilin Rayner, Kevin White, Korren Kirven, Kyle Hill, Laken Tomlinson, Marcus Allen, North Carolina football, Patrick Kurunuwe, Perry Simmons, Rams Club, Richard Brodhead, Robert Conyers, Ryan Janvion, Sean Renfree, Takoby Cofield, Torey Agee, Tyree Watkins, UNC Football, UNC Football scandal, UNC NCAA investigation
By Patrick Cacchio on June 24, 2011
Fear not, loyal fans, Football Friday returns! If you've been under a rock for the past week, please be sure to check out all of our great interviews and reports from the NBPA Top 100 Camp. BDN was on the scene as always and has the best content with Duke's prospects in 2012 and beyond. […]
Posted in Duke Football | Tagged Ahmad Fulwood, Alex Kozan, Allen Jackson, Andrew Jelks, BDN Facebook, BDN Football, BDN Premium, BDN Twitter, Bilal Marshall, Blue Devil Nation, Brett McMurphy, Carlos Wray, Casey Blaser, Dan Beilinson, David Cutcliffe, Deion Williams, Dondre Brown, Drae Bowles, Duke Depth Chart, Duke Football, Duke Football 2012, Duke Recruiting, Duke Victory Bell, Dwayne Norman, Eli Manning, Erich Schneider, Football Friday, Football Recruiting News, Hakeem Nicks, Jela Duncan, Jeremiah Allison, Keilin Rayner, Korren Kirven, Max McCaffrey, Ross Martin, Ryan Morris, Shelton Gibson, Stewart Mandel, Tanner Stone, Thad Lewis, Thomas Sirk, Todd Gurley, Tyler Cameron, UNC Football Investigation, Victory Bell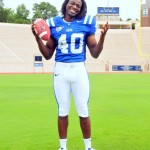 By Patrick Cacchio on April 15, 2011
It's Friday afternoon, which can only mean one thing – Football Friday! This week, we take a look at Duke's 2011 ACC opponents spring practices along with some recruiting updates.
Posted in BDN Premium Articles, Duke Football | Tagged Albert Reid, Allen Jackson, Andrew Jelks, Bart Houston, BDN Football Friday, Bilal Marshall, Blue Devil Nation Premium, Boston College, Carlos Wray, Casey Cochran, D.J. Humphries, D.J. Reader, Dami Ayoola, Dan Beilinson, Darius Powe, Deion Williams, Desmond Frye, Dondre Brown, Dontonio Jordan, Duke Football, Duke Football 2012 Recruiting, Dwayne Norman, Eric Olson, Erich Schneider, Evan Baylis, Florida State, Football Friday, Football Recruiting News, Georgia Tech, Jared Crump, Jay Jay McCullough, Jordan Watkins, Justin Johnson, Keilin Rayner, Keith Marshall, Kent Taylor, Korren Kirven, Lott IMPACT, Mark Harrell, Matt Daniels, Matt Johnson, Max McCaffrey, Max Tuerk, Miami, Michael Summers, Nelson Agholor, Nick Tompkins, North Carolina, P.J. Harris, Patrick Cacchio, Patrick DeStefano, Ron Geohaghan, Todd Gurley, Virginia, Virginia Tech