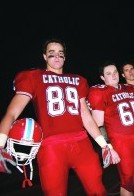 In their four years in Durham, Head Coach David Cutcliffe and Offensive Line Coach Matt Luke have built the Duke offensive line into a position of strength. The past two recruiting classes have brought in a very good group of offensive linemen, and the Blue Devils hope to continue that trend with the class of 2012. Mark Harrell is a 6'5" 260 pound offensive lineman from Charlotte, North Carolina. The standout junior offensive lineman has an offer from Duke among his impressive list of offers, and hopes to have a final decision before his senior season. Mark's highlights can be viewed here.
BDN: Can you start off by describing your strengths for fans who haven't had a chance to see you play?
Well, blocking is my strong suit.  We run an offense where primarily blocking, run blocking, but yeah, have good leverage, good explosion off the ball, good feet, and yeah, primarily run blocking.
BDN: What are some of the things you have been working on this offseason?
Pass blocking, I've been getting in the weight room, but during basketball season it's hard to really keep up with that, but I've been definitely working on pass blocking, that's something I need to work on because we run the ball a lot, but my offensive line coach used to play for the Panthers, so he knows what he's talking about, and he's teaching me a lot about pass blocking.
BDN: What are some of your goals for your senior year?
You know, keep the tradition going of another good, winning season, take it home this year.  We felt we were so close but fell short last year, but this year I want to take it back home.
BDN: As you look at your college decision, what are the most important factors you are looking for in a school?
Primarily academics.  Also, if I like the campus, if I like the location where I am, since I'm gonna be living there for the next 4 or 5 years, depending on whether I get redshirted or not, but that, and also depth chart, I want to see if I'm gonna have a chance to play.  But yeah, primarily academics.
BDN: Is there a specific academic field you are interested in?
Probably business or management.
BDN: Which schools have you heard from the most? Who were the first to contact you?
The first schools to contact and offer were – Duke was the first to offer, then came Georgia Tech to offer, then UVA offered, Kentucky, and then NC State last night, but other than those 5 that offered, I've been hearing a lot from Clemson.  I've also been hearing a lot from Wake Forest.  I've been hearing some from Michigan and West Virginia, and I'm also starting to hear some stuff from Tennessee and Notre Dame as well.
BDN: Have you had a chance to visit any schools so far?
I've visited Duke, I've visited NC State.  I've also visited Georgia Tech.
BDN: Have any schools stood out to you at this point in the process?
I mean, I like all of them, all said.  I'm not gonna try to pick any favorites, you know, I like all schools, yeah, just basically like all of them.
BDN: Do you have any other visits planned for this spring or summer?
I'm going down to UVA for a junior day.  I'm also going back to Duke, and I think Clemson as well.  Hopefully that'll go well, but other than that, I've been trying a lot more visits.  I think I'm trying to go down, fly down to Notre Dame, see what that's all about.  But other than that, I've been planning – other than the ones that I've mentioned, but I'm sure I will in the summer.
BDN: Do you have an idea for when you would like to make your college decision?
I'd like to pick a top 5 by the start of summer, hopefully, and then maybe make a decision before – early into my senior – high school season, but that's in a perfect world, so we'll see what happens, but that'd be ideal, where I'm going before the season starts, before my senior year starts.
BDN: Thanks a lot, Mark, and best of luck to you.
All right, you too.  Thanks.