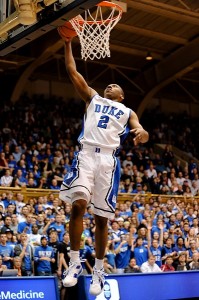 The Atlantic Coast Conference Tournament has arrived once again so it is time to preview the action. Conventional wisdom indicates the ACC is having a down year but no one will be focused upon anything other than winning when the teams take to the court in Greensboro starting on Thursday afternoon, which means it will be an exciting weekend of ACC basketball.
Since the tournament expanded to include 11 teams in 2005 and then 12 teams in 2006, the #1 seed has won four times and the #3 seed has won twice. All six years the tournament has been won by either Duke or North Carolina with Duke winning four times and Carolina twice. Duke won in 2009 and 2010 so they will be seeking a three-peat in 2011.
Duke will be looking to be the first #2 seed to win the tournament since expansion. Duke and Carolina could be destined to meet for a third time in the Championship Game after having split the regular season with each team winning at home. The ACC Championship Game would be the rubber match for the season series. Duke and Carolina have not faced each other in the ACC Tournament since 2003. However, there is a lot of basketball to be played before that match-up can be realized.
Carolina (1), Duke (2), Florida State (3) and Clemson (4) have earned the first round byes and will see action on Friday in the quarterfinals. History and the odds favor one of these four teams winning the championship. One of these teams can win the championship by stringing together three good games, while seeds five through 12 must win four games.
Carolina (24-6, 14-2) has all the pieces and must be considered the favorite to win their 18th ACC Championship this week. The Tar Heels enter the tournament riding a seven game winning streak and have won 12 of 13 games since suffering an embarrassing 20 point defeat at Georgia Tech on January 16. Even though Carolina has looked vulnerable at times such as during an ugly 48-46 win over Boston College, they continue to win ball games. And in the end, winning is what matters most.
Freshman Kendall Marshall has developed into the solid point guard every team needs to distribute the basketball and earned 3rd Team All ACC honors. He leads the ACC in assists averaging 5.6 per game and is second in assists to turnover ratio at 2.5. Add in 5.9 points per game and Marshall's statistics show that he has all the tools required to be a successful point guard in the ACC.
The second piece is inside strength and Carolina has it with Tyler Zeller and John Henson. Both Carolina big men can finish on offense and rebound the ball. Zeller averages 14.6 points and 7.1 rebounds per game, which is number 8 and number 9 in the ACC respectively. Moreover, he leads the conference in field goal percentage at .541. Henson is third in the conference in rebounding at 9.7 per game, while contributing 11.3 points per game. Additionally, Henson is an intimidating shot blocker.
The third piece is perimeter shooting. Carolina has struggled with this aspect of the game for significant parts of the season and is viewed as a team better suited to get out in transition and finish at the rim. While they remain a strong transition team, their outside shooting has been improving. Against Duke, in the regular season finale, they went 4 for 9 on 3-point attempts. They went 6 for 12 in their previous game against Florida State. By comparison, the Tar Heels were 2 for 14 in their loss at Cameron Indoor Stadium and 2 for 12 when they lost at Georgia Tech. Outside shooting remains a concern for the Tar Heels but it is an area showing improvement.
Carolina will play the winner of the Virginia (8) vs. Miami (9) game on Friday at 12 pm.
During the early part of the season, Duke (27-4, 13-3) looked like a team destined to dominate the ACC this season. However, that all changed on December 4 at the Izod Center in NJ when freshman phenom Kyrie Irving was injured late in a game against Butler. Without the elite point guard, Duke has become a jump shooting team who looks stagnant on offense and struggles to score when the 3-point field goal is not dropping.
The Blue Devils are led by seniors Nolan Smith and Kyle Singler. Smith is the ACC Player-of-the-Year and Singler is 1st Team All ACC. Smith averaged 23.4 points and 4.94 assists per game in 16 ACC contests this season, while Singler averaged 15.8 points and 7.8 rebounds. However, Singler shot an uncharacteristic 29.2% (26/89) on 3-point field goals in ACC action. Duke needs both players playing their best if the Blue Devils are going to challenge to win their 19th ACC Championship this week.
Smith and Singler cannot carry the scoring load by themselves so it is vital for a third or fourth player to step up and provide consistent scoring for the Blue Devils. Seth Curry is the most likely candidate as he averaged 10.9 points per game in conference action. Ryan Kelly (6.8 ppg), Mason Plumlee (6.4 ppg) and Andre Dawkins (5.2 ppg) are other candidates. Dawkins is a fantastic shooter who has made 53 3-point field goals this season including eight in a game back on December 8 against Bradley. If Dawkins can reemerge as an offensive option in March, his presence will provide Duke's offense with enormous firepower.
It will be important for Duke to control the boards to improve their opportunity to win games. Mason Plumlee is #5 in the conference with 8.7 rebounds per game. Looking at ACC games only, Mason Plumlee pulled down rebounds at a rate of 9.7 per game. Kyle Singler is Duke's second best with 7.8 rebounds per game in conference action, while Miles Plumlee contributes 4.9 per game. The Blue Devils need to limit their opponents second chance opportunities while simultaneously capitalizing on offensive rebounds. Strong games on the glass from Mason and Miles Plumlee could be vital to the Blue Devils achieving success in March and April.
Duke will play the winner of the Maryland (7) vs. NC State (10) game on Friday at 7 pm.
Florida State (21-9, 11-5) is another team which was bitten by the injury bug this season. The Seminoles lost leading scorer Chris Singleton in February to a broken foot. He may return to action this weekend. Early in the season, Xavier Gibson broke his hand and missed nine games. The Seminoles have size and athleticism, play physical defense and, if Singleton does return to action, have the talent to win this tournament.
Florida State is number one in the nation in field goal percentage defense and in the top 25 in blocked shots and rebounding margin. Bernard James has developed into an excellent inside presence over the course of the season averaging 2.3 blocks along with 8.3 points and 5.9 rebounds per game. He plays a little over 20 minutes per contest. Seven footer Jon Kreft provides inside depth by playing 10 minutes per game.
On the perimeter, Derwin Kitchen, Michael Snaer, Deividas Dulkys and Luke Loucks combine to contribute 29.5 points per game. Kitchen is the primary ball handler and averages 3.6 assists per game.
Florida State will play the winner of the Virginia Tech (6) vs. Georgia Tech (11) game on Friday at 9 pm.
First year Coach Brad Brownell has Clemson (20-10, 9-7) playing consistent basketball in March. The Tigers won three of their last four games to earn a first round bye and stay in contention for an NCAA Tournament bid. Their loss came against the Blue Devils in Durham. The Tigers play a deliberate conservative brand of basketball under Brownell, in direct contrast to the pressing high risk high reward style which was prevalent in years past.
Seniors Jerai Grant and Demontez Stitt are the leaders of this team. Grant was named to the ACC All Defensive Team, while Stitt was named 3rd Team All ACC. Talented sophomores Devin Booker and Milton Jennings along with juniors Andre Young, Tanner Smith, Bryan Narcisse and freshman Cory Stanton all average double digit minutes per game.
While Coach Brownell is in his first season at Clemson, he has post season coaching experience. He has led UNC-Wilmington and Wright State to NCAA Tournament berths.
Clemson will play the winner of the Boston College (5) vs. Wake Forest (12) game on Friday at 2 pm.
While this tournament preview will not make predictions on which teams will advance to play in Saturday's semi-final games and Sunday's championship, it will point out in 2010 three of the four top seeds lost on Friday, and since the league expanded in 2005, 2008 is the only year all four top seeds have advanced to the semi-finals. So when you kick back with your beverage of choice and a bowl of popcorn to enjoy the games, be ready for multiple upsets as it is the ACC Tournament and upsets are the norm.