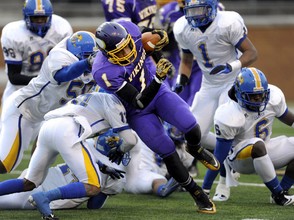 Led by elite running back Todd Gurley, Tarboro High School successfully defended their 2009 State Championship and finished 16-0 in 2010. Gurley, a 6'1" 195 pound athlete, finished the season with 30 touchdowns and was named to the 2A All-State team. Highlights of his junior year can be viewed here. Thus far in his recruitment, Gurley has focused on schools close to home, but he is certain to attract national attention at camps this summer. Duke is looking to add an elite running back in the class of 2012 and was the first school to offer Gurley a scholarship. Todd visited Wallace Wade Stadium last fall and was in Cameron Indoor Stadium last week for the Duke vs. North Carolina men's basketball game.
BDN: Can you start off by describing the strengths and weaknesses of your game for fans who haven't had a chance to see you play?
My power, and I'm just aggressive. My weaknesses would probably be – I don't really know, to tell you the truth, my weaknesses.  I haven't really pointed it out.
BDN: What are some of the things you've been working on this offseason?
Put more weight on my body, like I need to become a little bit more of a bigger back, and just use my vision more.
BDN: What are the most important things you are looking for in a college?
You know, tradition, not too far from home, and just the community, the city, and the school.  Just, you know, I have to feel like I'm at home, but I'm not home.  Just the coaches and everything.
BDN: What schools have you recently heard from? Who were the first schools to contact you?
Duke was like, Duke was the first.  NC State, then UNC and ECU.  I've visited Duke once.
BDN: How was your visit to Duke?
It was good, I went for the Duke versus Miami game, to go see them play against Miami.
BDN: Growing up in North Carolina, is there a school that you've grown up following?
[Pause] NC State.
BDN: Do you have any plans for other visits this spring or summer?
Yes, I have plans to visit NC State, Duke, ECU, go to camps there, go to camps at every one of those, and at Clemson too, I have a coach who's starting to recruit me from there, too.
BDN: Is there anything else that you think is important for college football fans to know about you?
I am a very versatile player, I also play both sides of the ball.  Not just running back, I can play safety, and I am just a very competitive athlete.
BDN: Thanks a lot, Todd, and best of luck to you.
All right.