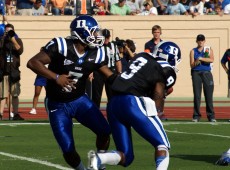 News Alert! Duke Football is 5-1 and one win shy of being bowl eligible! Normally this time of year Blue Devil Nation is talking about the juggernaut of a program Mike Krzyzewski has built at Duke, but Coach David Cutcliffe and his troops have been winning, and every game is a big game from here on out, because a win puts Duke in contention for a much-coveted bowl game.
There is a lot going on around the football program these days, including  unveiling exciting upgrades to Wallace Wade Stadium and the reality of more prospects showing interest in the resurgent Blue Devils. I break it all down to lead off the week.
A quick look back at the UVA win
After a pedestrian first half effort, Duke rolled the Cavaliers, and in the process pushed their season record to 5-1, including 2-0 in the ACC. When is the last time Duke outscored an ACC or any other opponent 28-0 after halftime? As you ponder the answer to that question going to the way-back machine, it will make you realize the second half of the UVA game was Duke's best half of football in the Cutcliffe era. The Blue Devils had 7 pre-season defensive starters out and yet they still pitched a second half shutout. Impressive. And then there was the play of QB Anthony Boone, which I will discuss in a bit.
The Perfect Storm
In the pre-season I alluded to what I called the Perfect Storm for Duke Football. What did I mean?  A look at the schedule showed winnable games for Duke on the front end of the schedule, if all fell into place. That Perfect Storm looked like a pipe dream after the road loss to Stanford, even though that game had been penciled in as a likely loss. At that point, considering all the injuries Duke had sustained, it seemed that rebounding to a 5-1 mark going into the Virginia Tech game was unlikely at best. But these Blue Devils have achieved that "Perfect Storm" by taking care of business against every other opponent -- and that is the sign of a well-coached football team. Despite the injuries, the Blue Devils have swept their games at home and have the one key road win at Wake Forest. With Coach David Cutcliffe in his fifth season in Durham, the hard work and sacrifices that have gone into building a program are finally paying dividends.
The dreaded back end of the schedule is upon us
How fortunate would it have been for Duke to have Boston College and Maryland from the Atlantic Division on the schedule? Instead, they have ACC powers Florida State and Clemson. First, Duke travels to Blacksburg -- a place few escape with a win --  this weekend to take on the Hokies, who boast one of the nation's top quarterbacks. They then come home to face North Carolina and finish the season at Tallahassee against FSU, then at home with Clemson, a trip to Georgia Tech, and the home finale versus Miami. In case you haven't noticed, if the games were played today, Duke would be an underdog in each one. In short, Duke will have to make their own fortune beating solid football teams.
Handling the hype
We're in rarefied air here when talking about hype surrounding Duke Football, but a 5-1 start to the season finally has the Blue Devils getting some exposure. Yes, they got some votes for the Top 25, but are they truly ready to handle that kind of talk? This is the next challenge the staff faces --  to keep the team believing in themselves but at the same time to ground expectations. What I am saying is that every team Duke faces from here on out will be big and physical and Duke can no longer sneak up on anybody. All of the teams left, save North Carolina -- who is ineligible from a cheating scandal -- will be fighting for a bowl berth, and this means they'll hit the Blue Devils square in the mouth. How the Blue Devils respond will be key, meaning they won't be able to simply rest on their laurels.
On the other hand ...
The Duke football players should have a bit of swagger, given their accomplishments thus far. After the wins over NCCU and Memphis at home, I thought to myself that these guys are capable of being better, and that they had to believe in themselves. This is happening before our very eyes. Duke has some talent on this roster, as evidenced by how many backup players are playing key roles.  At 5-1, Duke will get more media exposure, and the players need to find that elusive balance between managing the aforementioned expectations while remaining confident that they have what it takes as a team to get the job done.
Enter Anthony Boone - Keeping the Vultures at Bay
During the ACC pre-season media conference a News and Observer columnist asked Coach Cutcliffe is he was going to "Vulture" Sean Renfree this season. On the outside looking in, it was a fair question in that Duke had played several QB's in previous games and many felt momentum was lost when substitutions were made. However, Cutcliffe took obvious pride in pointing out in the post-Virginia press conference that people now know why he played these guys. What he meant was that because Boone had some seasoning, he was ready for the golden opportunity he had to lead the team against Virginia. Few thought Duke could pull off a win without the senior Renfree, but the sophomore QB made their worries go away with four passing touchdowns. Don't look now, but this bodes well for next season as well, when Boone is likely to take over as the starter. In the meantime, you are sure to see him on the field alongside Renfree as the season progresses.
Take a moment to appreciate Conner Vernon
Many Duke fans have become spoiled by watching Conner Vernon catch pass after pass, which he's done at Duke from day one. Vernon is now the all-time leader in receptions in ACC football history, and he's doing that against sagging zone defenses and double coverage, and he's also taking a lot of the pressure off other wideouts with his play. His catch in traffic against Virginia was one of his best.  Vernon needs 287 yards receiving to catch Florida State record holder Peter Warrick in that department. He's caught a pass in 41 straight contests. You'll miss him when he's gone, so enjoy the All-American hopeful the rest of the way.
Players stepping up
I don't know where to begin this discussion, because so many Blue Devils have stepped up their games this season. It has been the play of seniors and juniors who have not played a lot while at Duke that has been most impressive, and it signifies that the staff is truly developing players and developing depth.  For instance, teams have tried to pick on Tony Foster, a senior forced into action due to injuries, but so far he's answered the bell and had some key breakups.  And then there are freshmen coming into their own and playing key roles. Jela Duncan is as good a freshman back as Duke has had to carry the ball in some time, and his is emergence makes for a a deep backfield. And how about Desmond Scott? He's made a position switch and is a leader on the team. Like I said, too many guys to mention individually here, which itself is a great sign.
And in the FWIW Department ...
Did you know that the 227 points scored by Duke to date is the most in team history? Duke has now recorded three come-from-behind victories after the 42-17 win over the Cavs. Starting the year 5-1 is the best mark since they went 6-0 in 1994. The UNC vs Duke game in two weeks will kickoff at 7:00 prime time on either ESPN 2 or ESPN-U. Walt Canty, who is the perfect example of a player completely blossoming in his senior season at Duke, was named ACC DB of the Week for his performance against Virginia.
Heads up!
Tickets are still available for the UNC at Duke football game, but the Tar Heel fans have been known to try to take over Wallace Wade Stadium.  There is no reason for any Duke fan that can attend this game in two weeks not to do so. It is also the same weekend as Countdown to Craziness, which kicks off the basketball season, so make it a Duke Blue Weekend and attend both events.
Next up, the Hokies
You can bet that Virginia Tech will have their ears pinned back when Duke visits this weekend, especially after allowing North Carolina to run up 48 points against them last Saturday.  The Hokies open up as just under a 10 point favorite, and winning in Blacksburg is a difficult thing no matter what.  Win or lose, Duke Football has turned its fortunes around, and it's time fans take notice, turn out, and support the team.