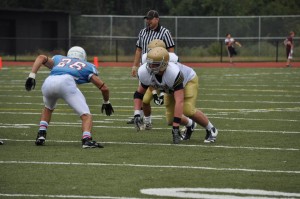 As the Duke Football coaching staff works to improve the 2012 Blue Devils on the field this spring, they're also looking forward to the 2013 recruiting class. Already this spring, several top 2013 prospects have toured the Duke campus and football facilities. This past weekend, Duke welcomed 9 top prospects to Durham, headlined by one of the top offensive line prospects in the country. Mike McGlinchey is a 6'9" 275 pound offensive tackle prospect from the William Penn Charter School in Philadelphia. His combination of strength and size has placed him squarely at the top of new OL Coach John Latina's recruiting board. Having coached several NFL linemen during his tenures at Notre Dame, Ole Miss, and Clemson, Coach Latina now looks to continue his success with the Blue Devils in Durham. McGlinchey is exactly the type of prospect with the skills to succeed at Duke, both on and off the field. With 20 scholarship offers, however, the big lineman will have his choice of schools; the Blue Devils are among those who have made a good early impression. [private]
BDN: How would you describe your strengths as a player?
I'm getting recruited to play offensive tackle and I guess they like me because of my length and my size and stuff like that. Also, as a player, I'm very physically sound, I have fast, quick feet and I like to finish blocks. It's a good combination, I guess, for college coaches to look at.
BDN: What are you working on this offseason as you prepare for your senior year?
Just to keep getting stronger as a whole, physically, and being able to move faster and have better feet. I'm just trying to work out on every aspect of my game.
BDN: As you approach your college decision, what are the most important things you are looking for in a school?
I'm looking for a school that has a bunch of great people there. I'm looking for a school that is a great school in itself. I'm looking for a program that is going to be a solid program and help me grow as a player, and somewhere that I know that I'll fit in and have success.
BDN: Where do you stand with offers and visits now?
I'm at 20 offers now, I'm trying to narrow it down. I'm planning on taking about 3 or 4 more visits and then I'll probably make a decision after that. I'm really excited about all of the opportunities that I have and I can't wait to see all of the other schools that I'm going to visit.
BDN: Which schools have you had a chance to visit?
I've visited Maryland, Virginia, Rutgers, and Boston College so far. And I visited Duke yesterday. I liked all the schools and it's going to be hard to narrow one down to see what one is right for me.
BDN: Do you know which 3 or 4 schools you definitely plan to visit this spring?
I think I'm going to visit Penn State, Notre Dame, Wisconsin, and maybe one other school, I'm not sure. Those are the 3 I'm definitely going to visit.
BDN: Can you talk a little bit more about your visit to Duke yesterday?
Duke was awesome yesterday. I loved it there. It was a great experience, obviously, they took us to see the Carolina basketball game and the atmosphere was unbelievable. I really enjoyed the experience and I got to know the coaching staff and I liked them a lot. It's a great place down there and I'm really excited about the opportunity to have them recruiting me.
BDN: How did your visit to the other schools like Virginia, Maryland, and Boston College go?
They all went well as well. Like I said, it's going to be tough because everywhere you go you like seeing. I'm just going to have to make a list and think about it pretty long and hard about which school is going to be the best spot for me.
BDN: You mentioned that you plan to take a few more visits and then make your decision. Do you have a date in mind for when you plan to narrow things down or make your final decision?
I think I'm going to make a decision by the end of the school year, if not then, then by a couple months later, if needed. I want to get it done before my senior football season.
BDN: Thanks a lot, Mike, and best of luck.
Alright, thank you so much.
[/private]