Browse:
Home
/
Ross Cockrell
By Mark Watson on November 19, 2013
Ross Cockrell has been through it all during his Duke career.  He's battled injuries and has become a key building block in the current success of the program.  Duke travels to rival Wake Forest this weekend where they'll take the field as a slight favorite, but it hasn't always been that way and Cockrell reflects on […]
Posted in Duke Football | Tagged Ross Cockrell
By Mark Watson on November 5, 2013
The Duke Blue Devils return to the gridiron this week to take on cross town rival N.C. State where a win would be their 7th of the season.  Selected players addressed the media today and Blue Devil Nation was there to get their thoughts – Ross Cockrell talks progress and facing N.C. State on Saturday.
Posted in Duke Football | Tagged Duke Football, Ross Cockrell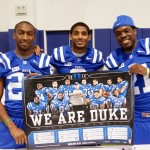 By Mark Watson on August 19, 2013
Duke Football held their annual Meet the Devils Day this past Saturday with an estimated fan turnout of 1700 people according to Duke marketing.  The Duke players were able to mingle with their fans in an up close and personal manner while showing off new facilities at the same time.  Most of the kids would ask for […]
Posted in Duke Football | Tagged Jamison Crowder, Meet the Devils, Ross Cockrell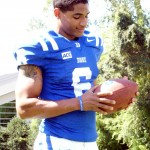 By Mark Watson on August 16, 2013
Ross Cockrell and Duke Football are just 13 days away from kickoff and the team held a scrimmage today in preparation.  We caught up to Cockrell after practice who stated the team is ready to hit somebody else.  A reminder, you can meet Ross and his teammates tomorrow and get a team poster and autographs […]
Posted in Duke Football | Tagged Duke Football News, Ross Cockrell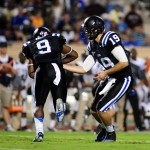 By Mark Watson on November 20, 2012
The Duke Blue Devils play their final home game of the 2012-13 season versus Miami this Saturday at 12:30 in Wallace Wade Stadium. Check out what Duke running back Josh Snead and defensive back Ross Cockrell had to say today about the match up via BDN Video -
Posted in Duke Football | Tagged BDN, Cockereel talks Duke season finale vs Miami, Duke-Miami preview, Josh Snead talks Miami, Ross Cockrell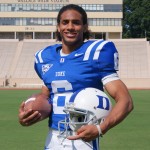 By Mark Watson on September 26, 2012
Duke Defensive back Ross Coackrell and DL Dez Johnson talk of the big ACC opener against Wake Forest with Blue Devil Nation -
Posted in Duke Football | Tagged Blue Devil Nation, Dezmond Johnson, Duke vs Wake Forest preview, Ross Cockrell