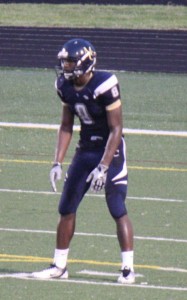 It has been suggested that writing a spring update on Duke Football might help make the nightmares about mountain hawks go away, so here it is. In fact, there's actually a lot to be excited about with regards to Duke Football. Yeah, yeah, we always say that and then we're all disappointed come the fall. But you've got to see the forest instead of the trees, people!
Recruiting off to a hot start
Ok, show of hands. How many of you just went and checked the Duke 2013 commitment list when you read that sub-headline? Or, another way of asking the same question, how many of you have been following Duke Football recruiting during basketball season? Well, either way, you've probably figured out that Duke has yet to secure a verbal commitment in the class of 2013. (Saturday afternoon edit: Duke landed a commitment from QB Quay Chambers and OL Austin Davis this morning)
So, how can recruiting be off to a hot start? Generally speaking, you've got to get a prospect on campus if you have any hope of landing a commitment, and Coach Cutcliffe and his staff have hosted an impressive list of visitors already this spring. In fact, Duke has already had more than 10 members of the ESPNU150 Watch List (an unofficial list of the top 300 HS rising seniors in the country) on campus in Durham. Most recently, the Blue Devils had 9 top targets in the class of 2013 on campus for the North Carolina basketball game, including Watch List members WR Marquez North, LB Peter Kalambayi, OL Mike McGlinchey, and OL Tyrone Crowder. The coaching staff has been in contact early and often with a number of other Watch List members, including several on the West Coast, and hope to host several more visitors later this spring and summer. As you know, we'll continue to bring you the best coverage of Duke Football and Duke Football Recruiting around.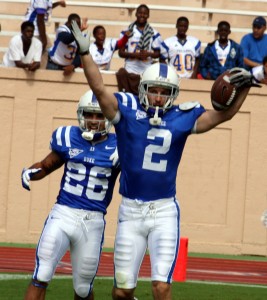 Spring practice highly competitive
The Blue Devils returned to the field this past week to start the second half of their spring practice, and the competition level has been at its highest in the Cutcliffe era. We checked in with WR Conner Vernon earlier this week, and he confirmed that across the board, Duke is a deeper and more competitive team. The Blue Devils return 17 starters this fall, but each of those players will be pushed by younger players on the depth chart. Let's take a look at a few examples.
The Duke defense loses two of its leaders to graduation in S Matt Daniels and NG Charlie Hatcher, but there is real competition to fill their starting job. At safety, Walt Canty, Jordon Byas, and August Campbell will be projected to start heading into the fall, but they are being pushed everyday in practice by newcomer Jeremy Cash, former WR Brandon Braxton, and youngsters such as Chris Tavarez and Britton Grier. Also, it can't be ruled out that Issac Blakeney won't see some time on defense, as he has established himself as one of the team's best pass-rushers last spring from the safety position. To fill Hatcher's void up front, the Blue Devils have Jamal Bruce, along with two 300-pound players in Will Bryant (recently returned from injury) and Steven Ingram. To put it in March Madness terms, I wouldn't "go Sharpie" on anyone's starting job quite yet.
On the offensive side of the ball, the Blue Devils have struggled in the red zone in recent years. The coaching staff has utilized an option style attack with Brandon Connette or Anthony Boone under center. Fans and media alike have questioned the success of this approach, as it seemed to lack creativity and often stalled drives. This year, however, it appears that won't be the case. Coach Cutcliffe has used the "best 22 players" mantra as a focus for this offseason, and the quarterback position has been one of the most impacted. With three players with significant game experience under center in Sean Renfree, Connette, and Boone, Duke is looking at ways to put all of their weapons on the field, especially in red zone situations. Based on early returns from this spring, both Boone and Connette will not only be used under center, but also at tailback and tight end. As two of the better athletes on the roster, these alignments, if nothing else, should have fans excited for the fall.
Kenny Anunike granted 6th year of eligibility
This is big-time news. Duke defensive end Kenny Anunike has been granted a sixth year of eligibility by the NCAA.  Based on the ruling, he is eligible to participate in the 2012 and 2013 football seasons.
A 6-5, 250-pound native Galena, Ohio, Anunike appeared in four games last fall before suffering a season-ending knee injury against Tulane. Prior to the injury, he was leading the ACC in quarterback sacks (4.0) and was credited with 13 total tackles including five for loss on the year.  Anunike has not participated in spring drills while recovering from knee surgery performed last fall.
Anunike also missed the 2008 season while recovering from knee surgery.  He played in all 12 games in 2009 as a reserve tight end before shifting to the defensive line, where he registered 23 tackles in 12 games during the 2010 campaign.
Kelby Brown undergoes 2nd ACL repair
Duke rising junior Kelby Brown underwent his 2nd ACL repair on February 22, putting his health for the 2012 season into question. The revision surgery was performed on Wednesday by Dr. Claude T. Moorman III, Duke's head team physician and the director of Duke Sports Medicine.  Brown originally injured the knee on November 20, 2010 against Georgia Tech, and underwent surgery weeks later.  He re-injured the knee earlier in February 2012.
A 6-2, 220-pound native of Matthews, N.C., Brown has played in 19 games with 17 starting assignments over the past two years.  Last year, he led Duke in tackles for loss (7.0) while posting 65 total stops and received the program's Mike Curtis Award as Duke's most outstanding linebacker.
Brown's career totals include 128 tackles, 12.5 tackles for loss, 3.0 sacks, four fumble recoveries, one caused fumble, three pass breakups and seven quarterback pressures.  In addition, he is a two-time selection to the Academic All-ACC squad.
Should Kelby not be available to play this fall, he does have a redshirt year available, and would therefore still have two years of eligibility remaining. It should also be noted that WR Conner Vernon pointed to Kelby's younger (but bigger) brother, Kyler, as one of the young Blue Devils who has been most impressive this spring.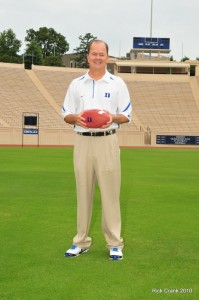 Preferred walk-on program thriving
Ok, so I don't leave you in Negative Town, let's talk about another bright spot for the Duke Football program. Since Coach Cutcliffe's arrival, he has built the walk-on program at Duke into an asset for Duke Football. First, allow me to give you some perspective.
A 5'10" 165 pound, slow-footed freshman from upstate New York enrolled at Duke a few (I mean several – ok, fine, it was over a decade) years ago, and within his welcome packet to the university, he received a letter inviting him to walk on to the football team. While I did not elect to subject my body to the punishment of collegiate football, I imagine several other equally qualified freshmen received similar letters back then, and some probably did. Flash forward to 2012, and Duke Football secures a commitment from one of the top 10 long snappers in the nation…as a preferred walk-on.
Slightly different use of the walk-on program, eh? Last week's commitment from Thomas Hennessy was just the latest among several preferred walk-ons for the program. When Coach Cutcliffe arrived in Durham, he had one quarterback to get through spring practice. This year, he has seven, including two preferred walk-ons. That's seven QBs to practice snaps under center, seven QBs to practice handoffs to RBs, seven QBs to practice routes with WRs, and seven QBs for defenders to pass rush. Across the board, the walk-ons that Coach Cutcliffe have brought in have improved the program by allowing for more reps and more productive practices. While many of these preferred walk-ons may not make a significant individual contribution to the box score, they make their teammates better everyday in practice.
Sweet, I knew I could make it through an article without mentioning Peyton Manning (he's been working out at Duke, in case you've been living under a rock). So, I haven't forgotten about Football Friday, but my schedule simply doesn't allow me to commit the time needed to it. But I'll make a deal with you, since we're all feeling down today. This won't be the last football update you read this spring. We'll keep it coming, as time allows. And also, we'll have lots of prospect interviews and several updates from current players and coaches as we head towards the spring game – March 31, Wallace Wade Stadium, 1:00 PM ET. Be there. I'll be looking for you.
WE ARE DUKE.