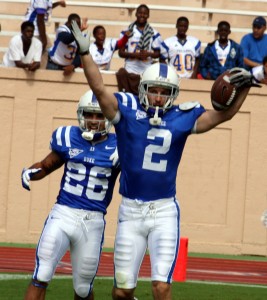 Duke senior WR Conner Vernon is poised to rewrite the Duke and ACC record books during his final campaign in Durham this fall. Vernon will enter his senior year just 34 catches and 842 yards shy of the ACC career record-holders. After flirting with the NFL Draft earlier this offseason, Vernon is committed to finishing what he started at Duke before moving on to the next level.
BDN caught up with the Blue Devils' star receiver after spring practice earlier this week.
BDN: You've been limited by injury this spring. First of all, how is your health right now?
It's better. I'm back out there, I was out there today for practice, and I'm looking forward to getting back out there.
BDN: Should fans expect to see you in the Spring Game on March 31?
Yes, that's what I'm hoping.
BDN: After three All-ACC caliber seasons at Duke, you considered entering the NFL Draft this year. Can you talk a little bit about that process and ultimately, why did you decide to return to Duke for your senior year?
Really, it just came down to just trying to finish what I came here to do at Duke, and that's to get them back to the program they once were. I really just wanted to jump start the new direction that Coach Cutcliffe has turned this program around in. Also, finishing up graduating and getting my degree was a really big thing for me and my family, so that also played a role into it.
BDN: As a rising senior, you now become one of the veterans and leaders on this team. What is your assessment of the team in spring practice so far, especially as you compare it to past seasons?
This team, we're a really young team, but we have a lot of talent, which is something we've had in the past, but I think the difference now is that we have a lot more depth at each position, and that's going to help us a lot. We have a lot of young guys who have grown up a lot this spring, who have shown that they can play at this level, which is a big improvement from prior years. We have a very good recruiting class coming in that will have some guys who can play right away, and we're hoping that will push some of the older guys to keep working to keep getting better. Really, that's what this spring is all about. The competition level has been a lot higher than it has been in the past.
BDN: You mentioned the youth on this team and the higher level of competition in practices. Who are some of your younger teammates that have impressed you this spring?
From what I've seen so far, some of the young guys who have really stepped up is Blair Holliday at the receiver position, he's taken on a starting role and has been playing a lot with the 1 offense, he's really stepped up. On the defensive side, Kyler Brown, Kelby's younger brother, he's been all over the field, flying around, so that's been really good to see. I'm definitely missing a few, there's been a bunch. Dezmond Johnson has really stepped up on defense. There's been a bunch of guys I'm missing right now, but when we pull up the tape you'll see flashes from some guys that are really impressive and things that they haven't shown in the past.
BDN: Over the past couple of seasons, Duke has struggled to score in the red zone. Why do you think this is? What are you working on this spring to improve the red zone offense?
I think it's really just an execution standpoint, for some reason down there we just lack execution. It's something we have to fix because we have to score points down there, field goals aren't going to cut it, we need touchdowns. Also, down there execution is very important because you don't have a lot of room to work with. It's difficult down there to throw the ball so we have to have our running game, which has stepped up a lot this spring. That's something we're looking forward to this fall, being able to run the ball down there as opposed to relying on the past.
BDN: You're closing in on an historic career at Duke, and looking to lead this team back to a bowl game in your senior year. What are some of the things that come to mind as you reflect back on your decision to come to Duke and your career here?
If I could do it all over again, I would do everything the same. This has been home for the last four years and it's been a great four years. I've been put in a position with this offense and Coach Cutcliffe's game plan to be able to be successful and have these kind of records, it's an honor. From the moment I stepped on campus to where we are now, the difference is monumental. From our new facilities, we have the new Pascal Indoor Facility. When I first got here, the Brooks Facility wasn't up yet, so I got to see that develop. Then we've added to our weight room, and really just the buzz around town is that Duke Football isn't an afterthought now. It's what's happening now around Durham, and that's something that was nonexistent before Coach Cutcliffe got here. Getting to see that grow has really been fun to watch.
BDN: Thanks a lot, Conner, and best of luck this fall.
Thank you so much, Patrick!