Browse:
Home
/
BDN Premium Football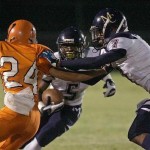 By Patrick Cacchio on July 6, 2011
With fall training camp just one month away, the Duke coaching staff is hoping to close out their July by adding the final pieces to the class of 2012. The Blue Devils have already had a busy summer, securing 13 verbal commitments before Independence Day. Looking at the projected Duke roster, however, there are a […]
Posted in BDN Premium Articles, Duke Football | Tagged BDN Football, BDN Premium, BDN Premium Football, Blue Devils Football, Britton Grier, Carlos Wray, Carson Ginn, Casey Blaser, Charlotte HS Football, Desmond Scott, Duke Football, Duke Football 2012, Duke Football Recruiting 2012, Duke RB, Duke Running Back, Football Recruiting News, Jamison Crowder, Jela Duncan, Jela Duncan Duke, Josh Snead, Kelby Brown, Kyler Brown, Mallard Creek Football, NC HS Football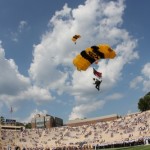 By Patrick Cacchio on May 27, 2011
In case you haven't noticed, things tend to come in waves here at BDN Premium. With AAU coverage in full swing, we're also entering the heat of the college football recruiting season. The Blue Devils have added another verbal commitment this week, and they're just getting started.
Posted in BDN Premium Articles, Duke Football | Tagged Albert Reid, Allen Jackson, BDN Football, BDN Football Friday, BDN Premium, BDN Premium Football, Bilal Marshall, Blue Devil Nation, Brent Wilkerson, C.J. Prosise, Carlos Wray, Chris Moody, Coach Cutcliffe, Coach Luke, Colin Thompson, Conner Vernon, Cooper Helfet, Dan Beilinson, Danny Parker, David Reader, Deion Williams, Donovan Varner, Dontonio Jordan, Duke Football, Duke Football Class of 2012, Duke Football commitments, Dwayne Norman, Erich Schneider, Evan Baylis, Football Recruiting News, J.C. Coleman, Jared Crump, Jeremiah Allison, Jonavaughn Williams, Jordan Watkins, Justin Johnson, Justin Meredith, Keilin Rayner, Keith Marshall, Kent Taylor, Korren Kirven, l'Tavius Mathers, Larry Hope, Matt Godin, Max McCaffrey, Max Tuerk, Micheal Summers, Nick Tompkins, Patrick DeStefano, Ron Geohaghan, Todd Gurley, Torey Agee