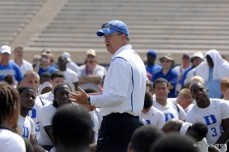 One of the areas of greatest improvement within the Duke football program since the arrival of Head Coach David Cutcliffe has been the offensive line. This fall, Duke is expected to feature one of the strongest and deepest groups in the Atlantic Coast Conference. Offensive Line Coach Matt Luke has worked hard to build the position group with Duke's current players, while also working tirelessly on the recruiting trail. On Wednesday, his efforts resulted in the addition of another talented offensive lineman to the Duke program. Tanner Stone, a 6'6" 260 pound prospect from Highland Park HS in Dallas, Texas, has committed to the Blue Devils. As a junior, Stone helped lead the Scots to a 12-1 overall record and the Texas 4A state playoffs.
Tanner spoke with BDN shortly after his decision today.
BDN: What are your strengths as a player?
I think they say I'm a good pass-blocker, I have good feet, and I'm quick enough to catch someone off the edge and I work hard and all that jazz.
BDN: What are you working on this summer as you prepare for your senior year?
I think the main thing is gaining weight, because I'm at about 250 right now and I know for a college offensive lineman, I need to be near the 300s.
BDN: How did you arrive at your decision to commit to Duke?
Yeah, I actually was up there last weekend for their football camps and met all the coaches, and all the coaches were really cool and they just have a really good program. They're on the rise because all of their coaches are from really good schools and I think they're going to do a lot for the program. Also, it's just outstanding academic-wise and it's overall just a good fit for me.
BDN: Is there anything else you want Duke fans to know about you?
I'm going to try my best to do whatever I can for the team and just try to win and work hard.
BDN: Thanks a lot, Tanner, and welcome to Duke.
Thank you.