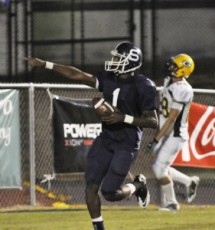 As the spring recruiting season begins to wrap up and the summer camp circuit lies ahead, college football recruiting is heating up across the country. Duke is no exception, as the Blue Devil coaching staff has been touring the country evaluating prospects over the past several weeks. As their recruiting net widens, the staff has remained focused on their initial recruiting targets, including a top athlete from the talent-rich state of Georgia. BDN last spoke with Micheal Summers, a 6'1" 190 pound prospect from Statesboro, in March, shortly after he had received his first verbal scholarship offer from Duke. As would be expected for a prospect with his athleticism, Summers' recruitment has picked up this spring, and he gave BDN an update.
BDN: How have things been going for you this spring?
We just wrapped up spring football last Thursday. It went great, getting back into the rhythm of things, just working on hitting the hole more explosive, working on my pad level, and catching the ball a lot more.
BDN: Which coaches have stopped by your practices this spring?
I got the chance to talk with Pittsburgh, Georgia, Florida, Louisville, Georgia Tech, Duke, Kent State, and Vanderbilt.
BDN: Which schools have you had the most contact with this spring?
I've been in contact with Pitt, Florida, Georgia Tech, Duke, Kent State, and Louisville, so just about all of them.
BDN: Have you taken any recent visits or do you have any visits planned?
Yes, I plan on visiting. I plan on going back to Duke, I plan on going to Florida, I plan on going to Pittsburgh, and Middle Tennessee.
BDN: Do you have any plans for camps this summer?
As of now, not right now.
BDN: Where would you say you are in your recruiting process right now?
Right now, I'm still working my options, but Duke is my favorite. They're my number one right now. I really like Duke. I'm not really set on which school I'm going to yet, I'm keeping my options open, but Duke is my favorite right now.
BDN: When we last spoke, you mentioned hoping to make your decision sometime before the end of the summer. Do you have a better idea for when you want to commit now?
I want to make my decision by the end of June.
BDN: Is there anything else you want college football fans to know about you?
I'm working out with a personal trainer, a lot of speed and agility work, trying to work on my stride and being more explosive, working on my turnover.
BDN: Well it definitely sounds like your hard work is paying off. Thanks a lot, Mike, and best of luck.
Alright, thanks.