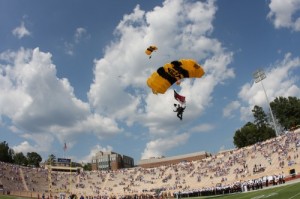 In case you haven't noticed, things tend to come in waves here at BDN Premium. With AAU coverage in full swing, we're also entering the heat of the college football recruiting season. The Blue Devils have added another verbal commitment this week, and they're just getting started. [private]
Class of 2012 up to 4
California LB Deion Williams joined TE Erich Schneider, DE Allen Jackson, and SAF Dwayne Norman as the first four verbal commitments in the class of 2012 this week. As a junior, Williams earned 2nd Team All-Trinity League honors, playing on both sides of the ball. Though Duke was his only offer to date, the coaching staff targeted Williams early on in the recruiting season and there's reason to believe that they expect him to develop into a solid college player.
Back to the board
During the recent spring evaluation period, the Duke coaching staff was out in full force, scouting the country for players who will make an impact for their program. At the start of the evaluation period, Duke had extended around 50-60 offers. That number has now swelled to nearly 100, so let's take another look at the recruiting board by position.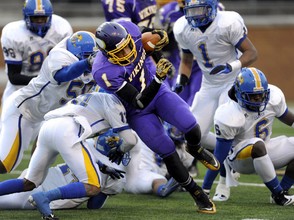 Running backs
Let's start with one of the positions of greatest need in 2012, after not bringing in a running back in 2011. Duke is up to 12 offers at running back, a good indication that they hope to take more than one in this class. Eleven of those prospects are still undecided, with J.C. Coleman, a Virginia Tech commit, being the lone exception. Dontonio Jordan is expected to announce his decision today, with most expecting his pick to be Kansas or Stanford. We've already heard from several of the remaining prospects, so we have some idea of where Duke stands with them: Todd Gurley, Keith Marshall, l'Tavius Mathers and Nick Tompkins. Interviews with some of the new names will be posted this week.
Offensive linemen
The offensive linemen are widely considered to be the strength of the class of 2011, and Duke hopes that success continues in the class of 2012. So far, Coach Luke and the staff have come up empty, losing six offensive line prospects to other schools; most recently, Patrick DeStefano to Clemson and Max Tuerk to USC. There are eleven uncommitted offensive line prospects remaining on Duke's board, and we will focus on this position in interviews next week.
Defensive linemen
It's no secret that Duke needs to improve on defense, and recruiting well along the defensive front would go a long way towards that cause. With an athletic defensive end prospect in Allen Jackson already on board, Duke is looking at 8 additional defensive end prospects and 12 defensive tackle prospects. Of those offered, only two have committed elsewhere: Brent Wilkerson to Penn State and Matt Godin to Michigan. Again, a lot of these prospects aren't new to us: Torey Agee, Korren Kirven, David Reader, Jordan Watkins, and Carlos Wray.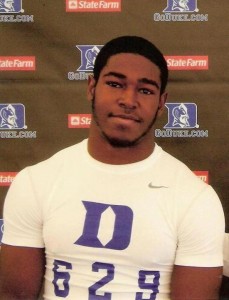 Linebackers
The Blue Devils added Deion Williams to the class of 2012 this week, and will look to add at least one additional linebacker in this class. Keilin Rayner remains at the top of the list, but Jeremiah Allison is a new west coast prospect that has entered the mix. We'll hear from him this week as well.
Safeties
Dwayne Norman became the newest member of the Duke secondary last week, but he is joined by five other uncommitted prospects on the recruiting board, which includes Ron Geohaghan, C.J. Prosise, and Jonavaughn Williams.
Cornerbacks
After losing out on Ronald Darby to Notre Dame, Duke remains focused on a group of five cornerbacks, led by Larry Hope and Albert Reid.
Tight ends
Duke views Erich Schneider, the first commitment of the class of 2012, as a tight end prospect, but will need to add at least one more to build depth at the position with the graduation of Cooper Helfet and Danny Parker. While they lost out on Evan Baylis to Oregon, Duke remains aggressive with a group of elite tight ends, headlined by Dan Beilinson, Justin Meredith, Kent Taylor, and Colin Thompson.
Wide receivers
The Duke offense remains attractive to elite wide receivers, and with All-ACC receivers Donovan Varner and Conner Vernon now upperclassmen, the Blue Devils will need to reload at the position in the class of 2012. Micheal Summers is an athlete we recently heard from who could fit nicely as a slot receiver, and Duke continues to pursue Jared Crump, Justin Johnson, and Max McCaffrey.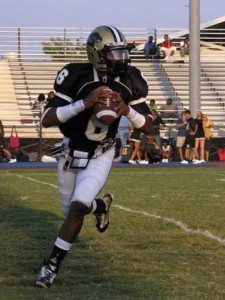 Quarterbacks
So now you're asking, did he really mean quarterbacks? I thought Bilal Marshall was the only one with an offer. Well, here's your reward for reading this far. Duke has extended an offer to Georgia QB Chris Moody, another dual-threat prospect in the class of 2012. Moody has offers from other ACC programs such as Clemson, Georgia Tech, and Virginia Tech, along with an offer from Steve Spurrier and the Gamecocks. Here's a highlight clip for those who want to see more.
Busy week
For most of you, this is a holiday weekend, and we wish you a safe and happy Memorial Day. For those of us here at BDN Premium, it will be a busy weekend, and we hope you'll come back for the best AAU and Duke football recruiting coverage around. WE ARE DUKE.
[/private]