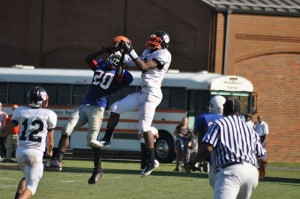 While Duke worked hard to improve their defense on the field this spring, the coaching staff is also working hard to upgrade the defense with a talented group of prospects in the class of 2012. The Duke staff has targeted an elite group of defensive backs who already have received verbal scholarship offers from the Blue Devils, among several other top programs. One of the most recent prospects to pick up a verbal scholarship offer is C.J. Prosise, a 6'2'" 202 pound prospect from Woodberry Forest, Virginia. Highlights from his junior season can be viewed here.
BDN: Can you start off by describing your strengths for fans who haven't had a chance to see you play?
Mostly, just a ball-hawking safety, and I'm pretty fast, I would think.
BDN: What are some of the things you have been working on this offseason?
Mostly my speed and my hips and my movement, getting my cuts back and forth.
BDN: What are some of your goals for yourself and your team in your senior season?
Mostly I know I've got to make plays, because everybody will be looking to me to make the plays, so that's really what I'm looking forward to doing. I know they're counting on me to be a great leader out there for them.
BDN: As you look at your college decision, what are the most important factors you are looking for in a school?
Good academics would be one, and then definitely a pretty good football team, just a place that I want to be for four years, even if I wasn't playing football.
BDN: Is there a particular academic field you are interested in studying in college?
Not right now, I haven't really thought about it too much.
BDN: Which schools have you been in contact with the most, and which schools have extended verbal offers?
I have offers from Boston College, Maryland, UVA, Virginia Tech, Duke, and Wake Forest. Those are all the ACC offers and then I have Vanderbilt from the SEC.
BDN: Have you had a chance to take any visits this spring?
I've visited Maryland, UVA, Virginia Tech, and I've visited Duke.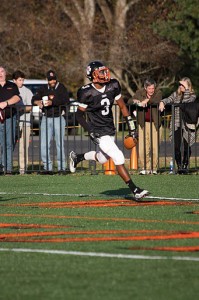 BDN: Have any schools impressed you or surprised you at this point in the process, either on your visits or your contact with coaches?
I mean, definitely I had a good time at Duke, when I was there, but also - I'm trying to think – Maryland, and I had a really good visit at Virginia Tech, too.
BDN: Do you have any plans for visits later this spring or over the summer?
No, I don't really have any right now, well I have a couple this summer but none in the spring. I have Vanderbilt, Boston College, and Wake Forest this summer.
BDN: Do you have an idea for how or when you would like to narrow your list of schools down and ultimately make a decision?
Not really, I haven't really thought about it that much.
BDN: Thanks a lot, C.J., and best of luck to you.
Alright.  You, too.