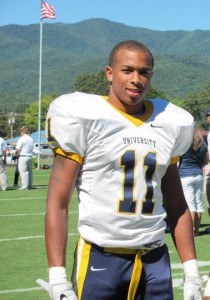 Duke received their verbal third commitment in the class of 2012 on Wednesday night, as Florida safety Dwayne Norman pulled the trigger for the Blue Devils. Norman is a 6'0" 185 pound prospect from University Christian in Jacksonville, Florida. The speedy junior spoke with the Blue Devil coaching staff on Wednesday evening and informed them of his decision.
Duke was the first school to offer a scholarship to Norman and has been recruiting him the hardest this spring. Norman also had high interest in Georgia Tech and South Carolina. The hard-hitting safety also had scholarship offers from Miami (OH) and Florida Atlantic, and had been in contact with Vanderbilt.
BDN spoke to Dwayne earlier this spring, and it was clear that the Blue Devils had made a strong impression on him after taking a visit to Durham back in March. Check back with BDN later for more from Dwayne on his decision.