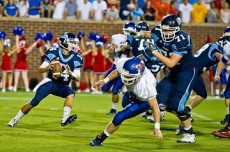 Patrick DeStefano is a 6'6" 280 pound offensive line prospect from Roebuck, South Carolina. In his junior season, he helped Dorman to the state championship game and later received several accolades, including 2nd Team All-State. Widely regarded as one of the top offensive line prospects in the state, Patrick has already received verbal scholarship offers from an impressive group of college programs, and Duke was among the first. Highlights of Patrick's sophomore season can be viewed here.
BDN: Can you start off by describing the strengths and weaknesses of your game for someone who hasn't had a chance to see you play?
I'd say for me personally, the biggest strength is my versatility. In Dorman's system I play regularly on a gamely basis, tackle, guard, center, tight end, fullback, defensive tackle, defensive end, and nose guard. But just as an offensive lineman, I've been told I have natural knee bend, I play with a straight back and I have really nice hips, and I can get up to the second level good.
BDN: What are some of the things you've been working on this offseason?
I mean, this is my last offseason before I actually get with the big boys, so every aspect of my game I need to improve. Bigger, faster, stronger, you know, you can never have enough of those. I know that I'm miles away from where I need to be to be a Divison I recruit, so I'm just trying to work as hard as I can. To be specific, it's hard to single out just one piece of my game, but I guess I would say the biggest thing would be working on technique, just better technique.
BDN: I know you had a great year last season. What are your goals for you team and yourself individually for the fall?
We lost the state game to our arch rivals, the Byrnes Rebels. That just gets me going. No offense to them, but I can't stand Byrnes. I hate them, and they hate me too, so it's a mutual feeling. My biggest thing is I want to beat them in State. I understand they're great rivals, they're great competitors, it's going to be a hard competition, but that's my goal and our team's goal, hopefully. But just for me personally, just every day trying to get better.
BDN: What are the most important things you are looking for in a college?
The biggest thing I'm looking for in a school is how comfortable am I with that school. When I step foot on that campus, do I want to be there? Because I'm potentially going to be spending the next four or five years of my life there, so that's definitely a big thing. The next thing I'm looking for is the academics of the school, because something my dad always drove into me as a little kid, he said that God many one day see it fit to take away your athletics, but he will never take away your academics.
BDN: Is there a particular field or program that you're interested in academically?
No, I thought so, but not really. I'm 17, life changes, I'm just a growing kid.
BDN: What schools have you recently heard from? Who were the first schools to contact you?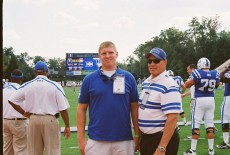 As far as the first schools, I had three offers come in on the same day in the spring, it was a great day, it was a blessing. Clemson, Duke, and South Carolina all came in on the same day. But as far as the total rap sheet, those three plus North Carolina, North Carolina State, Wake Forest, Tennessee, Arkansas, Northwestern, Stanford, and I think that may be. I may be forgetting one somewhere in there. I know it's at 11 or 12, I'm sorry. I know that sounds arrogant, but it starts to blend together, I hope that doesn't come across as cocky.
BDN: Which schools have you had a chance to visit so far? What schools do you definitely plan on visiting later this year?
My visits haven't really started up yet. So far I've only visited Duke and Clemson. But you know I also have plans for setting up other visits to different colleges. I don't really want to say what colleges because I don't know yet, all I know is I have several other colleges to visit this spring.
BDN: Were there any schools that have impressed you with your visits or with your contact with them so far?
If you had asked me that question a few months ago, I would have had five schools, top five all ready to go, but you know, this recruiting process has just gotten so big lately that it's all gotten jumbled together. So many schools have so many great things to offer that I couldn't honestly give you a top five.
BDN: It's still very early in the process, but ideally, when would you like to make your college decision?
I am going to graduate a semester early so I can go into spring practice wherever I want to go. I just know I need to have my mind made up before December.
BDN: Thanks a lot, Patrick and best of luck to you.
Thanks, have a good day.