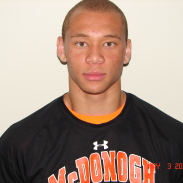 On a chilly and damp Saturday, the Blue Devils received their second verbal commitment of the class of 2012, as defensive end Allen Jackson gave his pledge to Head Coach David Cutcliffe and Duke. Jackson was among a large group of prospects and their families who were in Durham for the annual spring game.
Jackson is a 6'5" 225 pound defensive end prospect from Owings Mills, Maryland. Playing defensive end and tight end for McDonogh High School, Allen earned All-Conference honors as a junior, and had already received offers from Duke, Maryland, Rutgers, Vanderbilt, and West Virginia. Partnering with fellow defensive end Roman Braglio, Jackson forms one of the top pass-rushing duos in the mid-Atlantic region. In his junior season, Allen totaled 83 tackles and 9 sacks, numbers he'll look to top in his senior year as he hopes to lead McDonogh to a state championship. Highlights from Allen's junior year can be viewed here.
BDN: Can you talk about your visit this weekend and your decision to commit to Duke?
This weekend was great. Everything that we talked about, everything that was mentioned, contributed to my decision. Coming down, I didn't know that I was going to commit. I knew that I liked Duke a lot, but I also liked Rutgers a lot. But it was just the Duke education and the things that they have there, I think that nobody in the country can provide me as far as the academics and the people that they have there. I didn't think anyone else could amount to that, so that really played into my decision of picking Duke. And also, Coach Petri, his expertise on defensive linemen and approach to the game really intrigued me. That brought me closer to choosing Duke, and the Duke name was a big factor as well.
BDN: What were some of the things you talked about with Coach Petri as far as your role at Duke and things to work on this year?
They definitely see me as a defensive end and they like my athleticism, but definitely hope for me to keep continuing to lift as I am now and hopefully pick up some more pounds. But if not, when I arrive there in the summer, I definitely will continue to work out and pick up weight. He didn't really see weight as being a big issue right now.
BDN: What are your plans for future visits either this spring or summer?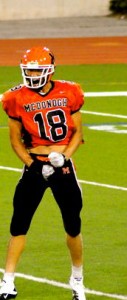 Well, I think I'm definitely going to go down and visit, probably take in some practices and maybe go on an official visit this summer. Other than that, I'm not quite sure at the moment, but I'm definitely going to go down some more, I'm just not sure the dates and times yet.
BDN: Thanks a lot, Allen and congratulations on your commitment.
Alright, thanks.