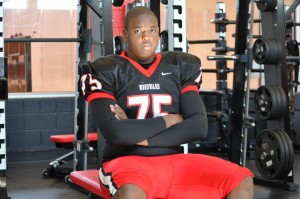 While Duke is working hard to improve their defense on the field this spring, the coaching staff is also working hard to upgrade the defense with a talented group of prospects in the class of 2012. Several defensive line prospects have received verbal scholarship offers from the Blue Devils, including one of the top prospects in the state of Georgia. Jordan Watkins is a 6'6" 265 pound defensive line prospect from College Park, Georgia. As a junior at Woodward Academy, Jordan helped to lead the War Eagles to the state playoffs, finishing with a 10-2 overall record. The impressive defensive end has already received dozens of scholarship offers from national powers, including Alabama, Auburn, Notre Dame, Ohio State, and dozens of other schools. Highlights of his junior season can be viewed here.
BDN: Can you start off by describing your strengths for fans who haven't had a chance to see you play?
Well, I think the biggest strengths for me, and my coaches have always stressed, is that God has blessed me with my size.  I'm 6'6", 265 plus pounds, and also with that, that also means long arms as well.  So with long arms, I can keep blocks off of me, and get good extension on the offensive linemen.  And also as well, I've been blessed with good feet as well, and so the quick feet and good hands, I think they're the 2 biggest things for me that I do well.
BDN: What are some of the things you have been working on this offseason?
The biggest thing is my strength.  I think that if I – to develop my strength a whole lot more then I can become a more complete player just from the fact that I'm playing both defensive end and defensive tackle, you know defensive end, you're playing there, you can just kind of run, run the outside on people.  When you're playing tackle, sometimes you have to beat the double teams and blocks like that, so I need to work on my strength.
BDN: As you look at your college decision, what are the most important factors you are looking for in a school?
First for me would be from an academic standpoint, is, well I want my major to be either broadcast journalism or communications, so I'm looking for a school that has the best options for me in those fields, and then after that I look at the football standpoint, how good the team is and the prowess of the school, and also the support for the school. Those are the 2 big things that I'm looking at.
BDN: Which schools have you been in contact with the longest, or have been hearing the most from?
The most, I think that'd be Georgia Tech, Tennessee, Alabama, those are the 3 main ones.  And then I think Auburn recently too.
BDN: Have you had a chance to visit any schools so far?
I went to Alabama Senior Day Saturday, and I visited [Georgia] Tech today, actually.
BDN: How have those visits gone for you so far?
They've gone great.  With Alabama, I actually picked up an offer from Alabama, so, you know, that was a great feeling for me.  And Georgia Tech, I live so close to there, I've been there before, so today was more to try and gain some – I'm pretty sure academically everyone knows that Georgia Tech is an engineering school, things like that, so I was trying to see if there is anything they can offer me when it comes to broadcast journalism and communications, and what a lot of people don't really know what Georgia Tech does have something to offer in that field, so it was a really good visit today.
BDN: Do you have any other visits planned for this spring or summer?
I have nothing set in stone yet, but I want to try to get some more school visits done.
BDN: Do you have an idea for when you would like to narrow things down or when you plan to make your college decision?
I'm trying to narrow it down, my coaches and my family, my parents down to about maybe 20, and then maybe by the fall or so trying to get it even lower down, maybe, like 15, 10, something like that. And then just keep going down from there, then when I feel comfortable where I want to go, then I'll make my final decision.
BDN: Thanks a lot, Jordan, and best of luck to you.
Okay, cool, thank you very much.