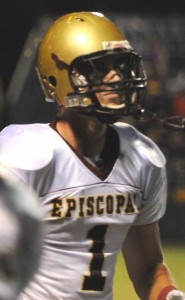 While the 2012 recruiting season is just heating up, Duke got on the board early with a commitment from TE Erich Schneider. After visits to Duke last summer and fall, Erich decided that the Blue Devils were the right fit for him. Erich is a 6'6" 220 pound prospect from Jacksonville, Florida. As a junior, Erich helped lead Episcopal high school to a 5-7 overall record, falling short of the state playoffs. The tall receiving prospect was recently in Durham for Junior Day and spoke with BDN after his visit. Highlights of Erich's junior year can be viewed here.
BDN: Can you start off by describing some of your strengths for fans who haven't had a chance to see you play?
I think my size, definitely, and my speed for my size and my quickness.  So hopefully I'll be able to get bigger, but still maintain my speed and my quickness.
BDN: What have you been working on this offseason?
My foot speed is basically the biggest thing, and just maintaining my speed, but I got to work on my foot speed the most.
BDN: You were recently in Durham for Junior Day. How did your visit go?
It was – okay, it was awesome.  I went to, first of all I went to the meetings with the coach, the whole team, and then I went with the tight ends and had a look at what they do in their meetings and stuff.  It was really neat, and then I was able to visit a practice, and that was awesome.  It was really fast, really fast playtime that they use, it was awesome.  So – and then I met some coaches, I met some of the players, and I basically just got to see what playing is all about, so that was really cool.
BDN: What were the biggest factors that led to your commitment to Duke?
Academics especially, and Coach Cutcliffe, definitely want to play for a coach like him.  He brought in that whole coaching staff, so that's – I know in the future it's gonna be a really strong program, and I love the offense that they run.  I'm really attracted to their receiving tight end, like myself.
BDN: Do you have plans to make any other visits this spring or summer?
Yeah, yeah, I'm probably gonna go up for a weekend or something and go to a camp there, work with the tight-end coach, maybe he'll – and, I don't know, I definitely am gonna go up there this summer, but I might also take my official visit there.
BDN: Have any other schools been in contact with your recently?
I've attempted a little bit to contact a few schools, Northwestern, Georgia Tech, Vanderbilt a little bit, but not really.  I'm considering, but I'm pretty solidly committed to Duke right now.
BDN: Is there anything else that you think is important for Duke fans to know about you?
I guess I just want to win.  I want to help the team in any way I can, but it's kind of cliché, but true.
BDN: Thanks a lot, Erich, and best of luck to you.
Thank you so much.  You too.