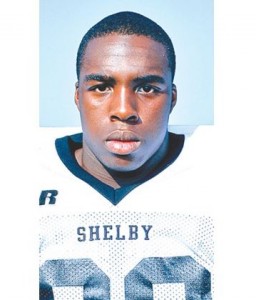 While Duke is working hard to develop a group of young defensive linemen on the field this spring, the coaching staff is also working hard to recruit a group of young defensive linemen in the class of 2012. Carlos Wray is a 6'2½" 250 pound defensive line prospect out of Shelby, North Carolina. As a junior, he helped Shelby to a 9-6 overall record, totaling 78 tackles, 14 sacks, and forcing 3 fumbles on the year. His standout junior season has earned the attention of college coaches and scouts, including the Duke staff, who have impressed Carlos early in the process.
BDN: Can you start by describing your strengths on the field for fans who haven't had a chance to see you play?
My strengths on the field are, I guess you could say it's reading defense and getting to the football, getting around the ball, and seeing where the ball is going before it gets there.  Things like that.
BDN: What are some of the things you have been working on this offseason?
My speed and my endurance, just having more energy out on the field, and – I mean being a playmaker, I know that comes natural, but just finding the football a little bit faster, and getting there a little bit faster.
BDN: What are your goals for yourself and your team in your senior year?
Probably want to get the best season I've had in my high school career, probably have to say, just, I had 14 and a half sacks this past season, so I kind of just want to beat that myself this season.
BDN: As you're thinking about your college decision, what are the most important things you are looking for in a school?
The tradition of the program, the coaching stability, strong head coach, and the position coach is good.  It ain't all about winning to me; it's about being around a family of players who want to play, so just the atmosphere, things like that.
BDN: Which schools have you had the most contact with so far in the recruiting process? Who were the first schools to contact you?
First school to contact me was probably either Georgia Tech or Clemson, they've been schools that have really been keeping up with me hard.  And [North] Carolina, Georgia Tech, South Carolina, Georgia.
BDN: What schools have you had a chance to visit so far?
I've been to [North] Carolina, Clemson, Duke, and South Carolina, and Georgia.  I'm going to Georgia Tech on the 19th of this month.
BDN: Have any schools stood out to you at this point in the process, either on your visits or your contact with the coaches?
I like Duke.  I mean, it seemed to me that they had a great coaching staff, and everything they're telling me, I saw for myself when I went up there.  Just the coaching staff and atmosphere up there, I got to go to a basketball game while I was up there, I know the campus life is safe and cool, and it's like, I felt like I was walking down the street to my house at Duke, and that means a lot to me, just feeling at home.
BDN: Do you have an idea when you would like to make your final college decision?
Well, right now, I have a date to verbally commit on December 19th.
BDN: Is there anything else you think is important for college football fans to know about you, on or off the field?
Well, I play with a passion.  My idol is Ray Lewis, just because the way he takes in the game, and the passion he providing in the way he plays, and the morals he goes by.  I love the game, I have a passion for the game, and the game is pretty much my heart.  I promise to work hard wherever I go.
BDN: Thanks a lot, Carlos, and best of luck to you.
All right. Thanks.