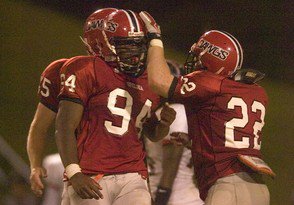 After finishing last in the ACC in sacks and rushing defense in 2010, Duke hopes to upgrade the defensive front in 2011 with a group of young linemen. While the fate of the 2011 Blue Devil defense rests with Coach Knowles and the players already on campus, the Duke staff continues to work the recruiting trail in search of future stars. Duke was among the first schools to offer a scholarship to a talented run-stopper from the state of Alabama. Torey Agee is a 6'4" 247 pound defensive end from Opelika, AL. The son of former Auburn fullback Tommie Agee, Torey helped Opelika to the playoffs as a junior and has impressed scouts on the spring combine circuit with his speed and technique. The Blue Devils are hoping to get Torey on campus this summer for a visit. Highlights from his junior year can be viewed here.
BDN: Can you start off by describing your strengths for fans who haven't had a chance to see you play?
I think my biggest strength is my ability to stop the run. I'm pretty explosive off the ball, so that's my strong points.
BDN: What are some of the things you have been working on this offseason?
Big thing I'm working on is pass rush, finishing pass rush, stuff like that.
BDN: What are your goals for yourself and your team for your senior season?
This season I plan on leading my team in sacks and I think we have a good enough team to make it to state this year, so we'll see how it all plays out.
BDN: As you look at your college decision, what are the most important factors you are looking for in a school?
Most important thing for me when I'm deciding on college is academics, because that's really big for me and my family. Any school that's strong academically, that's at the top of my list.
BDN: You stressed the importance of academics; is there a specific field that you're interested in studying?
Right now I think my major is going to be computer engineering, but it could change at any time.
BDN: What are the other schools that you've been in contact with the most so far?
I'm getting a lot of interest from Auburn right now. Auburn, Georgia Tech, and South Alabama [USA].
BDN: Have you had a chance to visit any schools so far?
I've visited USA, Auburn, Georgia Tech…that's about it.
BDN: Do you have any other visits planned?
I might be taking a trip up to Duke in the summer, but other than that, none yet.
BDN: You said that you've been getting a lot of interest from Auburn. Being close to there and with your father's history there, is that a program you've grown up following closely?
Oh yeah, you know growing up in my house I was always a big Auburn fan.
BDN: Are there any schools that you feel you have a good relationship with at this point in the recruiting process?
Yeah, USA, I think I have a pretty good relationship with the coaches down there, and Georgia Tech.
BDN: Do you have an idea for when you would like to make your final decision or how you would like to narrow your list down?
I plan on taking as long as possible to think this whole thing through, because it's a huge decision and I don't want to rush into anything.
BDN: Is there anything else that you think is important for college football fans to know about you?
I broke my school's power clean record.
BDN: That's great. Thanks a lot, Torey, and best of luck to you.
Same to you, thank you.