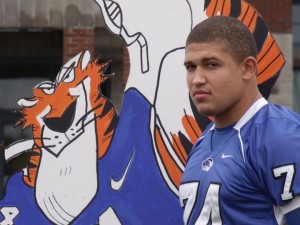 With camp season in full swing, recruiting has picked up quickly, and Duke has extended offers to a number of top offensive linemen across the country, and BDN is profiling some of the top 2012 offensive line prospects. With Head Coach David Cutcliffe and the Duke staff's ties to the state of Alabama, the Blue Devils have successfully recruited players like Johnny Williams and David Reeves in recent years, and hope to continue that trend in 2012. Steven Foster is a 6'3" 280 pound offensive line prospect from Demopolis, Alabama and helped Demopolis to a state title in 2009. The big lineman is interested in learning more about the Blue Devils.
BDN: Can you start off by describing your strengths for fans who haven't had a chance to see you play?
I'm pretty big, I've got good size. I'm 6'4" 295. Most people don't know football, but I'm pretty intelligent on the football field. I'm quick, I've got good feet and good hands. I'm strong in the weight room, and that carries over to the football field.
BDN: What are some of the things you have been working on this spring?
Trying to get stronger, working on speed and quickness.
BDN: What are your goals for your senior year?
Win a state championship, and of course go undefeated. That's about it.
BDN: What coaches have stopped by or been in contact with you this spring?
Yes sir, we had a lot come by the school this year. We had Duke, South Alabama, Southern Miss, Mississippi State, UAB, Troy, Jacksonville State, Western Kentucky, I think that's about it.
BDN: Which schools have you had the most contact with so far?
South Alabama, Duke. I've talked to Miami a little bit, South Florida, I've talked to them a lot. I talk to Memphis about every other week.
BDN: Have you had a chance to take any visits yet?
I went to some Junior Days. I went to Southern Miss, Mississippi State, South Alabama, and I plan on going to a couple camps. I'm actually at a camp right now at Southern Miss. I plan on going here and tomorrow to Mississippi State. Next weekend I'm going to Auburn, the weekend after that I'm going to Alabama. I think that will wrap up for June and then in July I'm probably going to UAB and Ole Miss.
BDN: Have any schools stood out to you at this point in the process, either from your visits or your relationships with the coaches?
Yes sir, South Alabama, I like them a lot. And I'm starting to gain interest in Duke too. I've been talking to them more and more, talking to the coaches on Facebook and calling them.
BDN: What stands out to you about South Alabama and Duke so far?
They have a great group of coaches, it's a family type atmosphere and they like winning. I've played against some of the [South Alabama] coaches when they were in high school.
BDN: Do you have an idea for how you would like to narrow things down and make your decision?
After I take all my visits first.
BDN: Thanks a lot, Steven, and best of luck to you.
Yes sir, thank you.