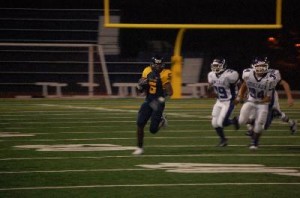 The Blue Devils' secondary has been an area of recent concern for many Duke fans, and the coaching staff has worked hard to upgrade the depth over the past two recruiting classes. In the class of 2012, Duke has extended a scholarship offer to a top athlete from the DC area. Albert Reid is a 5'10" 195 pound athlete at Friendship Collegiate Academy in Washington, DC. After playing running back and safety during his junior season, he has received offers from Duke and Stanford and is receiving interest from several other programs. Highlights from his junior year can be viewed here.
BDN: Can you start off by describing your strengths for fans who haven't had a chance to see you play?
I play both sides of the ball.  On defense I play free safety.  I think of that as my second position because I prefer playing running back, but defense could also be as one of my positions as I transfer to college football. I lead blocks a lot.  When I see a hole, I hit the hole.  And I've got good vision.
BDN: What are some of the things you're working on this offseason?
Just working on my strength and conditioning, just working together trying to build my team back up.
BDN: What are your goals for your senior season?
My goal for senior season is to basically just to have an undefeated record.  That's what we was trying to do last year, but we didn't actually succeed at that.  But next year, have an undefeated record to get our place in college.
BDN: As you approach your college decision, what are the most important things you are looking for in a school?
The most important thing is education.  That comes before anything else.  Basically just education is always going to come first, though.  That's the first thing I'm going to look at when I go look at a college or something.  Second thing is how are the coaches going to be at that college if I went there.  Are they good people to be around, or what's the atmosphere of the college?

BDN: Is there a specific academic field you are interested in?
Yeah, mechanical engineering was going to be my first choice, but if that didn't work out, I was just going to be in something like sports medicine or some – like sports injuries, something like that.

BDN: Who are the schools you have heard from the most so far?
Well, right now, I have two verbal scholarship offers.  One is from Duke and one is from Stanford. I have been in contact with Maryland.  I talked to NC State.  There's a couple other colleges.
BDN: Have you had a chance to visit any schools?
Yeah, I took an unofficial visit to Duke and Maryland.

BDN: How did your visits go?
They went good.  When I went up to Duke, they showed me around the campus.  I went to one of their practices, the day before their game.
BDN: Have any schools stood out to you at this point in the process?
No, I'm still open.
BDN: Have you given any thought to when you would like to make your decision or narrow things down?
No, I'm not sure when I'll make a decision.  I would like to set out to go visit the colleges before I make a decision.
BDN: Is there anything else you think college football fans should know about you?
The main thing about me is just I have a good personality, a good person to be around, good leadership.
BDN: Thanks a lot, Albert, and best of luck.
Alright, you too.