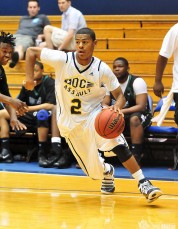 BDN's Andrew Slater breaks down Duke Hoops commitments and prospects you can view over the next few days.  For more analogies on future Blue Devils future players and their key targets, join BDN Premium for full site access as we prepare for the upcoming AAU Basketball season.
3/31
ESPNU:
Austin Rivers and Winter Park take on  Boys & Girls at 6 EST
Quinn Cook and Oak Hill take on United Faith of North Carolina at 8 EST
4/1
ESPN2:
National High School Invitational Semi-final between the winners of the aforementioned games at 5:30
4/3
At the inaugural Next All-American Classic in Chicago, DeAndre Daniels will be playing on CBS College Sports at 3 PM EST.
At the inaugural All-American Championship in Houston,
Tony Parker and Robert Carter will be playing for the South team (Coached by I$aac Pitts of QEA) at 9 EST on ESPNU.
Alex Murphy and Mike Gbinije (Coached by Jason Smith of Brewster Academy) will be playing for the East team against Rasheed Sulaimon and Shabazz Muhammad for the West (Coached by Greg Wise of Yates) at 10:30 EST on ESPNU.