Browse:
Home
/
Rasheed Sulaimon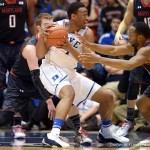 By Mark Watson on February 22, 2014
Duke pulled out a 66-60 win over Syracuse in another great matchup today in Cameron.  Blue Devil Nation caught up to Jabari Parker and Rasheed Sulaimon to get their thoughts on the win -
Posted in Duke Basketball | Tagged Jabari Parker, Rasheed Sulaimon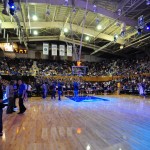 By Mark Watson on August 28, 2013
While football season is set to kick off this weekend, echo's can be heard from dribbling of basketballs in Cameron and the practice facility.  In about another week, pre seasons hoops magazines will hit the newsstands and there will always be talk around one of the most storied programs in America.  With that said, here […]
Posted in BDN Premium Articles, Duke Basketball, Duke Basketball Recruiting News | Tagged Duke basketball team and recruiting update, Jabari Parker, Jahlil Okafor, Jeff Capel, Justise Winslow, Myles Turner, Rasheed Sulaimon, Rodney Hpood, Tyus Jones
By Brady Buck on June 20, 2013
COLORADO SPRINGS, CO—On the surface, it may seem odd to put the words "sophomore" and "veteran" in the same sentence. For Duke sophomore to-be Rasheed Sulaimon, though, he'll step into a leadership role this upcoming season after a promising rookie campaign in Durham. An All-ACC freshman last year, the 6-foot-3 and 180-pound shooting guard averaged […]
Posted in Duke Basketball | Tagged Blue Devil Nation, Brady Buck, Rasheed Sulaimon, USA Basketball
By Mark Watson on May 30, 2013
Rodney Hood, Rasheed Sulaimon and Alex Murphy share their summer plans and more at Blue Devil Nation Premium.  One on one interviews can be found on the members message board.
Posted in Duke Basketball | Tagged Alex Murphy, Blue Devil Nation, Mark Watson, Rasheed Sulaimon, Rodney Hood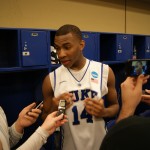 By Mark Watson on March 30, 2013
The BDN Locker Room Report continues this morning after last evenings Duke victory over Michigan State.  Check out what Rasheed Sulaimon had to say after the win -
Posted in Duke Basketball | Tagged BDN, Rasheed Sulaimon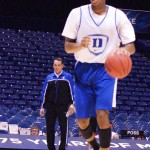 By Mark Watson on March 29, 2013
Make no mistake about it, the Duke Blue Devils need a solid effort from their freshman guard, Rasheed Sulaimon in order to advance in the NCAA Tournament. His play on both ends of the court will be important against a tough Michigan State squad. Check out what Sulaimon had to say via BDN Video -
Posted in Duke Basketball | Tagged BDN, Duke NCAA Tournamnt, Rasheed Sulaimon