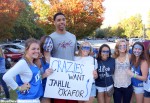 There are plenty of reasons for excitement when talking Duke Basketball in that the program constantly maintains excellence.  It's nothing new for Duke to have a banner class of freshman coming in where they will be molded by Mike Krzyzewski into a unit upon his return for duties with USA Basketball.
Having covered the AAU trail for many years and the young men coming in ad nauseam, the one thing that stands out to me is the overall maturity of this bunch.  Many times, it's hard for the fan base to realize that these guys are still teenagers and until they're on campus it's hard to get a really good feel for how they might react to the new and faster game speed and all the other intangibles with concern to adjustment.
Duke will get an immediate infusion of talent from their incoming class and we take a look at what some of these adept newcomers bring to the table which are all the opinions of one man who saw them play multiple times.
Tyus Jones - When I started covering Tyus Jones heavily during his rising junior season, the one thing I remembered from seeing him at a younger age was that he knew how to win.  Jones was not especially flashy, so there was no early grab in my mind's eye when he was a rising sophomore.  As I continued to watch him I saw a cool customer and a player that would stuff the stat sheet in a steady manner.  It was like, did this guy just do all that while I was watching when looking down the box score.  That led me to realize that this young man was a true point guard and one who made everybody around him better.  In short, he's a winner.  Jones has a knack for controlling the game and he helped his Howard Pulley AAU team over achieve in that they had little around him in comparison to other teams on the Nike circuit.  Jones is not going to jump out of the gym or go down the lane for a flamboyant dunk.  But what he will do is find the open man and help them to have the flashy play.  At Duke, Tyus Jones will have a lot of weapons around him and that should make his acumen for dishing assists even more impressive.  Another thing you will see when watching Jones is that he remains emotionally stable at all times. He moves on to the next play and that puts him in position to always help his team.  Jones draws the defense in at times but he is also adept at slithering through the lane for an easy lay in when others are looking for the kick out and he has the ability to knock down the jump shot.  Jones will need to work on his on ball defense at the college level, but Duke got the best pure point guard in the class and a kid you will fall in love with for his commitment to his teammates and winning.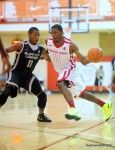 Justise Winslow - Known by the nickname of "Chief Justise," Justise Winslow brings a very solid skill set to the court.  What you will first notice about young Winslow is his toughness and his ability to guard multiple positions.  Winslow has the ability to pull his defender out or take them to the rack and he can easily post up smaller defenders when mismatches come his way.  Winslow has a good handle and you can bet that the Duke coaching staff will use him as a defensive stopper early on.  Like Jones, Winslow stays level when playing the game, but he has a fiery can-do side and he's physically mature for his age.  Winslow can shoot the jumper with good range or power in the lane on offense and he likes to mix it up.  His value to this coming years team will likely be on the defensive end where his footwork is ahead of the curve.  On the offensive end, he can draw some mismatches and like all the Duke freshman, he can run the floor.  Winslow is one of the more versatile players I have seen coming into Duke and you will love his confidence which is a vital part of his game.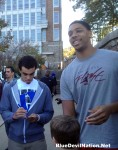 Jahlil Okafor -  Duke got their man of choice in the middle in Chicago native Jahlil Okafor.  Coach Mike Krzyzewski is not one to guarantee a starting role or playing time to any prospect, but he's already said that the offense would look to run through and around the best post player during last years recruiting class.  Okafor has good hands and like the aforementioned two incoming freshman keeps his cool on the court rarely getting too high or too low.  He was a beast on the AAU courts last summer and he has a long running relationship with Tyus Jones which will provide immediate chemistry.  Okafor knows how to use his frame and get a player on his hip and he has good court vision.  The Duke staff has obviously been working with Okafor on nutrition and in the weight room and the budding star has reshaped his body or frame.  It's a little harder for me to project Okafor in that I have yet to see him play with a trimmed down frame, but common sense says he is likely to be even quicker on his feet which is vital as the college game is much faster than AAU ball.  Okafor is the most likely of the freshman to be one and done, so Duke fans should enjoy him while they can.  Having a true post player to play alongside Blue Devil veterens like Marshall Plumlee will help to give the team the ability to get out and press or trap more in that they have a man to slow down the break aways in the post.  And Okfor will certainly help to develop Sean Obi, the big man transfer from Rice who will be eligible the following season.
Grayson Allen - During the annual Nike Peach Jam, Allen sent word to Duke that he was playing in an event just down the road called the Peach State Classic.  Allen grew up a Duke fan and was playing for an AAU team that was not on the national radar.   It didn't take long for Mike Krzyzewski to take a look after word came back from assistant coaches that he can play.  At the time, Allen was ranked in the top 100 at best but as more evaluators saw him and Duke offered he entered the top 25's of many.  Allen is one of those "Did he really just do that?," kind of guys.  He can throw down some impressive dunks which belies his look test at first glance and smile while doing it.  Allen can also drain the ball from deep and has the ability to become a fan favorite with his dunks.  Many may remember Olek Czyz exciting crowds at the N.C. Pro AM years back, with his dunks but Allen does similar things with an all around game in tow as well.  Allen enjoys playing the game and that is important and he takes a joke well.  He was quick to give me a smile when I joked with him about his size 17 at the time flappers or show size.  Maybe that's why he has such surprising up's.
Collectively, this is one of the more impressive classes the staff has been fortunate enough to land.  There is balance in that there is a true post player, a true point guard, a versatile wing and an explosive wing.  But in the end it will come down to how they integrate with the Blue Devils veterans players.  This seasons Blue Devils will be a mix of very young players and some guys who have seen the ACC wars. We're not that far off from seeing these kids first hand and what they look like after the capable coaching staff has worked with them.  The public will have a chance to see this years version of the Duke Men's Basketball team on October 25th for Countdown to Craziness.  Tickets are currently available through the Duke ticket office.