Well, Duke got a much-needed road win over Pitt last evening.  Here are my 10 random thoughts on Duke Basketball going into the next game.
Put the win to bed quickly, get to bed quickly
The Blue Devils impressive  ACC road win over Pitt 87-52 cured many ills.  I will take a look back as my random thoughts progress, but the most important thing for Duke to do is put this game to bed.  Duke needs all the rest they can get before Saturdays high noon game with Wake Forest.  And just mere hours later, they will board a flight for Miami in a critical road match up.
That is why Duke played their depth
Come on.  You know it was fun to see Justin Robinson knocking down three pointers on his way to a career high.  Duke got major minutes from its bench players last evening and it was by design.  With games coming at a fast and furious pace, the Blue Devils need to rest their iron men starting rotation.  With injuries to Marques Bolden and Javin DeLaurier, Duke was able to steal some minutes and develop its bench against an even younger than they are Pitt team.  Those minutes will improve team camaraderie via involvement.  The team will benefit from strategic resting of players legs in certain games in the long haul.
Double-doubles are the norm for Bagley III
How ridiculously spoiled we are for now expecting a double-double from Marvin Bagley III each time out.  Last night he scored 16 points and pulled down 15 rebounds and he happens to lead the league in scoring and rebounding.  If you are counting, that was his 13th double-double which puts him one game shy of the record held by Jabari Parker and Gene Banks.  This young man is special.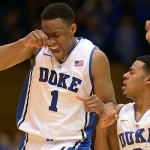 Speaking of Jabari Parker
If you follow my Blue Devil Nation twitter feed, you saw where I retweeted video of former Duke player Jabari Parker moving well in the pre game for the Milwaukee Bucks.  Parker is expected to return to the Bucks before the NBA All Star Break.  Parker underwent his ACL surgery on Feb. 14, 2017, after tearing that ligament — for the second time in his career.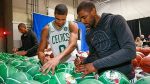 Staying on the NBA for a moment
How cool is it to see so many Mike Krzyzewski era Duke Blue Devils playing key roles in the league?  I must admit to being a bit of a Boston Celtics fan now that Kyrie Irving and Jayson Tatum are both starting and tearing it up.  But I like following Brandon Ingram and all the rest as well.  Back to my twitter feed, you can vote Blue Devils into All Star game considerations with retweets.  So, get at it!
Six double figure scorers
With every starter hitting double figure scoring and JRob's points off the bench -- Duke had six players in double figures for the first time this season.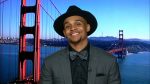 I want to talk about Gary Trent Jr.
A shooter has to keep shooting even when their shot is off.  But there have been some games this season when Trent Jr. IMHO, may have taken too many shots.  We saw the best of Trent Jr. last evening where he allowed the game to come to him while getting other teammates involved.  He looked for his teammates first and that led to his career high in assists.  Trent then scored at will down the stretch after finding a balance or comfort zone.  And do not overlook his 2 of the 11 Duke steals.  He is a good defender capable of getting even better.
Don't overlook the positives
There has been a lot of talk about the Duke defense and for good reason.  Until last evening and in select other games they have not been very good in that area.  But don't overlook the positives with this team.  Duke leads the nation in scoring at 93.5 ppg.  Duke is 2nd in the nation in rebounding and close to the top in scoring margin of win.
And then there is Trevon Duval
It's Du-val.  Think Val Kilmer.  While many are figuring out how to pronounce his last name, Duval is quietly leading the ACC in assists.  What burning minds want to know is if that 3 of 5 from the three-point line was a mirage.  If he hits that shot at a 40% clip, his game would go through the roof.  Of course, he was just over 16% going into last evenings win over Pitt.
And then there is Wake the snake
Will Duke allow for Wake Forest to slither into this  game and challenge them in Cameron at high noon this Saturday?   Wake had a six game winning streak after a slow start to the season and they took UNC down to the wire in Chapel Hill.  They most recently lost to a good Virginia Tech team at home.  Hidden in the stat line from that game is the fact they outrebounded their opponent by ten and connected on nine three-point shots.  You cannot overlook them, but Duke certainly needs to come away from this game with a win.  And then go to bed.  Back to random thought number one here... Duke will fly all the way down south to Miami and be hit by the body shock of its warmer weather.  The team will have about 50 hours in between the end of the Wake post game meal and their next opponent.
Stay tuned for the next 10 Random Thoughts on Duke Basketball coming next Tuesday after the game with Miami.  One more thing, we are still doubling the time of premium memberships through January.  You can get two years for the price of one or a full year for the six month price.   Help support BlueDevilNation.Net by joining at this discounted rate --