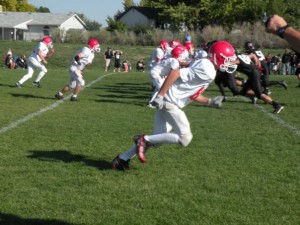 With Duke's prolific passing offense, it's no surprise that the Blue Devils have had success recruiting and developing talented wide receivers in Durham, most notably All-ACC performers Eron Riley, Donovan Varner, and Conner Vernon. The Blue Devils hope to continue that trend in the class of 2012, and have been scouting throughout the country in search of receiving talent, and found a great talent in the state of Colorado. Max McCaffrey is a 6'3" 190 pound receiver from Highlands Ranch, Colorado. As a receiver and defensive back, Max helped Valor Christian to the 4A State Championship and an 11-3 overall record in his junior season. The athletic junior, who also plays basketball and track, already has received scholarship offers from Duke and Wake Forest.
BDN: Can you start off by describing your strengths for fans who haven't had a chance to see you play?
You'd probably be better off asking coaches what they believe to be my strengths. I've been told that I have a good combination of size, speed, and athletic ability for a WR or DB.
BDN: What are some of the things you've been working on this offseason?
I've been hitting the weight room and running track so that I show up to camp a little bigger and stronger than last year.
BDN: What are some of your goals for your senior year?
I'd like to gain speed, muscle, and polish my route running and coverages so that I can help our team win our third state championship.
BDN: What are the most important factors you're looking for in a college?
A team of coaches and players with integrity that value both football and academics. Also, a great college atmosphere.
BDN: Who are the schools that you have heard the most from?
Several schools have contacted me and I have received a few scholarship offers but since this article is for ACC readers I'll just tell you that Duke and Wake Forest have made offers and are the two schools from the ACC that seem the most interested. So far I think both schools are excellent.
BDN: Which schools have you had a chance to visit so far?
My family and I will schedule visits this spring.  It's been tough finding time since basketball season overlaps track season.
BDN: Have any schools stood out to you at this point in the process?
Both Wake Forest and Duke from the ACC.
BDN: Is there anything else that you think is important for college football fans to know about you?
I'm a hard worker who puts the team first.  Also, as a 16 year old, I think I'm still growing and will be able to put on another 10-15 lbs of good weight before next years graduation.