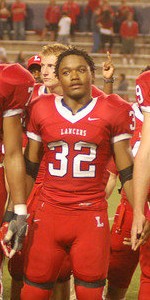 The Duke staff has recruited California well in recent years, and that trend continues in the class of 2012, as the Blue Devils received their 4th verbal commitment on Wednesday from a Golden State prospect. Deion Williams, a 6'0" 215 pound outside linebacker prospect from Orange Lutheran, called Coach Cutcliffe Wednesday and informed him of his decision. The 2nd team All-Trinity League honoree should help to fill the Blue Devils' need for a hard-hitting linebacker. A standout both on the field and in the classroom, Duke was the first school to offer Williams and he was able to visit Durham earlier this spring for an unofficial visit. The newest Blue Devil checked in with BDN shortly after his decision.
BDN: How did you come to your decision?
I actually just called Coach Cutcliffe today and sealed the deal. I was thinking about going to visit other places and see if anywhere else was a better fit for me, but the more and more I thought about it, the more I realized that nowhere else would prepare me for my future like Duke would.
BDN: What other schools were you considering?
I was looking for Stanford to show some interest but they haven't, and Washington as well, but they haven't shown me any real interest.
BDN: What was it about Duke that really stood out to you and helped you make your decision?
Well, Duke, it's a very beautiful place, a very beautiful campus, so that really stood out to me. And then just what I want to do with my life, the study of genetics, and going into that field, I feel like Duke has one of the best programs in the world, and a lot of other people feel that way as well, so they were just the best fit for me going into college.
BDN: Congratulations, Deion, and best of luck to you.
Thank you, thank you.