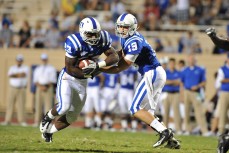 The fourth season with David Cutcliffe at the helm of Duke Football is just around the corner and optimism prevails. Is this the year Duke will win the six games necessary to qualify for a bowl game? The Blue Devils have posted 16 consecutive losing seasons since going 8-5 in 1994. In order to stop that streak, Duke will need better on field performance in all areas of the game.
DEFENSE
Categorically the biggest unknown for Duke in 2011 is the defensive line as evidenced by Coach Cutcliffe's recent statement: "The biggest question mark for us is the defensive front, we need to be much improved there compared to a year ago, and if we do that I feel we can be a good solid football team."
The interior line will be anchored by redshirt senior nose guard Charlie Hatcher and four additional returning lettermen: Kenny Anunike, Justin Foxx, Curtis Hazelton and Sydney Sarmiento. However, depth will be critical to keeping the defensive line fresh for sixty minutes and establishing depth will be dependent upon the youngsters stepping up and proving they are capable of performing.
Redshirt freshmen Jamal Bruce, Steve Ingram, Jamal Wallace, Will Bryant, Dez Johnson, Jordan Dewalt-Ondijo and Nick Sink need to prove they are ready to play quality downs along the defensive line.
Possessing a cornerback who can shutdown the opponent's top wide receiver provides the defensive coordinator with opportunities to implement multiple blitz packages, which pressure the quarterback and create turnovers. For Duke, the cornerback with the talent to develop into a lockdown defender is sophomore Ross Cockrell.
Duke was minus 11 in turnovers in the 2010 season, which ranked last in the ACC. It is hard to win ball games when you turn the ball over more than your opponent. In 2011, the defense must generate turnovers and recent statements from defensive leader Matt Daniels indicate the 4-2-5 will be geared toward generating turnovers. Daniels stated, "We're going to be applying a lot of pressure, with pressure come turnovers. The defense has become a lot more aggressive with its scheme, the scheme that Knowles has drawn up for us. We're ready to get after it and show the world who we are as a defense."
To be successful the new scheme will have to accomplish two things Duke did not achieve in 2010; pressure the quarterback and stop the run. Duke recorded only 12 sacks last season and allowed opponents to rush for 208 yards per game. Both those marks ranked last in the ACC.
Duke ranked last in the ACC in rush defense, pass defense, total defense, sacks, interceptions and turnover margin last season so the 4-2-5 defense must prove to be a more effective scheme in order for Duke to make the next step as a program and qualify for a bowl game.
OFFENSE
In his first full season as Duke's starting quarterback, Renfree passed for 3,114 yards and 14 touchdowns. Unfortunately, Renfree also tossed 17 interceptions, which cost Duke dearly in losses against Wake Forest, Army and Miami. Renfree recovered from his early season woes and only threw two interceptions over Duke's last five games.
The media looked past Renfree, when casting votes for the Preseason All ACC team, giving Florida State's unproven EJ Manuel the nod at quarterback. Hopefully, this omission will stir Renfree's competitive juices and motivate him to go out and prove the talking heads wrong.
Duke's offense is potentially the ACC's most potent, but in order to convert potential into reality, Coach Cutcliffe needs Renfree to be superb week in and week out. Seeing as Renfree's knee injury will be almost two full years in the past, he should be fully recovered both physically and mentally, which will facilitate his ability to lead Duke to victories.
Renfree has been named to the preseason Davey O'Brien Award Watch List. The Davey O'Brien Award is presented annually to the nation's top quarterback.
This Dynamic Duo has led the ACC in receptions the past two seasons. Donovan Varner caught 65 passes for 1047 yards and eight touchdowns, in 2009. In 2010, Conner Vernon caught 73 passes for 973 yards and four touchdowns.
With Sean Renfree a year more experienced, expectations are high for the Duke passing attack so if Varner and Vernon are both competitive for All ACC honors, at the end of the season, it means Duke's passing offense performed to expectations.
Both Varner and Vernon have been named to the preseason Biletnikoff Award Watch List. The Biletnikoff Award recognizes the nation's top wide receiver.
Conventional wisdom states games are won or lost in the trenches and Duke has steadily improved along the offensive line since Coach Cutcliffe arrived in Durham. The line ranked third in the ACC in sacks allowed per pass attempt in 2010. In 2011, improved run blocking will allow the Blue Devils to execute a balanced offensive attack capable of both scoring points and eating up large chunks of the clock with sustained drives.
Depth should be a positive factor for the offensive line in 2011 as six lettermen, including four starters, return. Additionally, talented redshirt freshmen Laken Tomlinson and Takoby Cofield are expected to pressure the starters for playing time.
Center Brian Moore has been named to the Rimington Trophy Preseason Watch List. The Rimington Trophy recognizes the nation's best center.
With the improvements being made up front, Duke should see improvement in the running game. Junior Desmond Scott has been the Blue Devils leading rusher for the past two seasons rushing for 549 yards and three touchdowns as a sophomore. His 35 yard touchdown run, on a toss sweep, in the fourth quarter against Virginia, was one of the top individual plays in the 2010 season.
Sophomores Josh Snead and Juwon Thompson will see lots of time at tailback alongside Scott. Snead was plagued by minor injuries throughout his freshman season.
SCHEDULE
With a tough home schedule, it is paramount the Blue Devils take care of business on the road. The games at Boston College, at Florida International and at Virginia are all games the Blue Devils are capable of winning. Victories in two of those contests would go a long way toward securing the six wins required to qualify for a bowl game. Victories in all three would be preferred.
The Blue Devils also play road games against Miami and North Carolina. A victory in either of those games would be considered an upset. Speaking of upsets…
The Blue Devils will have ample opportunity to defeat a Top 25 opponent with home games scheduled against Stanford, Florida State and Virginia Tech who are all ranked in the various preseason polls. Is this the year Duke knocks off a ranked opponent? To reach bowl eligibility, the Blue Devils might need to knock off one of those big name opponents at Wallace Wade Stadium.
Duke has another opportunity when they face Miami on the road in Coral Gables. The Hurricanes are also ranked in the preseason Top 25.
Coach Cutcliffe is 1-12 in November at Duke. With a tough schedule during the middle of the season, which includes games against Florida State and Virginia Tech in October, the Blue Devils will need to take care of business in November, on the road at Miami (Nov 5), at Virginia (Nov 12), and at North Carolina (Nov 26), and at home against Georgia Tech on November 19.
The past two seasons, Duke has gone 1-3 and 0-4 in November games. In 2011, there is a good chance Duke will need to win at least two ball games in November in order to become bowl eligible.
Every Duke fan should breakout a fat red Sharpie and circle November 19 on their calendar as the game against Georgia Tech in Wallace Wade Stadium could be the make or break game for bowl eligibility in 2011. The Blue Devils might not pull off the big upset in 2011, with a win over Stanford, Florida State or Virginia Tech, but the game against Georgia Tech, in Wallace Wade, on November 19, is a game that should make Yellow Jackets' fans nervous.