This is it, baby. The last Football Friday before training camp opens. Get excited, Blue Devil Nation! Football season is here. This week, BDN's Bob Green looks at the 2011 Blue Devils' bowl hopes, and we also previewed the October matchup with ACC favorite Florida State. As promised, we've got an in-depth look at the 2011 Blue Devil defense this week, so without further ado…
BDN Duke Football 2011 Team Preview: Defense
It's no secret that the Duke defense struggled mightily in 2010. Simply put, the Blue Devils were unable to stop opposing offenses, placing nearly impossible pressure on the offense and first-year starting QB Sean Renfree to outscore opponents. The experiment with a 3-4 defense was short-lived and essentially doomed the Blue Devil defense. Without a clear defensive scheme or identity, Duke's defenders often appeared out of position or overmatched. On the whole, the effort was there, but the execution was inconsistent. Jim Knowles takes over as Defensive Coordinator in 2011, and Rick Petri joins the staff as Defensive Line coach.
Defensive Line
Losses: Patrick Egboh, Wesley Oglesby, Eriks Reks
Key returners: Charlie Hatcher (R-Sr.), Kenny Anunike (R-Jr.), Curtis Hazelton (R-Jr.), Justin Foxx (R-So.), Syndey Sarmiento (R-So.)
Newcomers: Jamal Bruce (R-Fr.),Will Bryant (F-Fr.), Jordan DeWalt-Ondijo (R-Fr.), Steven Ingram (R-Fr.), Dezmond Johnson (R-Fr.), Nick Sink (R-Fr.), Jamal Wallace (R-Fr.), Lucas Fisher (Fr.), Carson Ginn (Fr.), Sam Marshall (Fr.), Mario Sanders (Fr.)
2010 Review: Simply put, the Duke defensive line was unable to stop the run and failed to pressure opposing quarterbacks. After showing improvements between 2006 and 2008, the defensive line began a two-year slide in 2009. The line came up with just 19 sacks in 2009, allowing 153 yards per game rushing (4.0 average yards per carry). The numbers declined again in 2010, finishing with just 12 sacks and giving up 208 rushing yards per game (4.8 average yards per game). Those numbers finished last in the ACC and 113th in the country. Overall, the group battled through injuries and midseason schematic changes, but failed to find consistent success.
2011 Outlook: With seven redshirt-freshmen, along with four true freshmen, entering the depth chart this fall, this will be the deepest line Coach Cutcliffe has had at Duke, at least in numbers. With a preponderance of youth and inexperience, the hope is that Coach Petri, who is known as a great teacher, can accelerate the growth of this group. Overall, the unit should have improved size and speed relative to recent years, but significantly less experience. While projected starters Hatcher, Foxx, Sarmiento, and Anunike are expected to play the majority of snaps, they will be frequently rotated with several of the first-year players. Much like the Duke running game, the Blue Devil defensive linemen have to find ways to improve over their 2009 and 2010 numbers. Reports indicate that the talent is there to improve and compete, and now the players will have to go out and execute if Duke hopes to become bowl-eligible in 2011.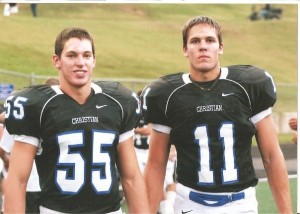 Linebackers
Losses: Adam Banks, Abraham Kromah, Damian Thornton
Key returners: Austin Gamble (Jr.), Kevin Rojas (R-So.), Kelby Brown (So.)
Newcomers: C.J. France (R-Fr.), Kyler Brown (Fr.), Britton Grier (Fr.), David Helton (Fr.), Jon Woodruff (Fr.)
2010 Review: The Blue Devils' defense has seen their leading tackler come from the linebacking corps in seven straight seasons, and that tradition continued in 2010 with Abraham Kromah. Kromah was an unsung hero on the Duke defense, finishing with a team-best 123 tackles, which was good enough for 2nd in the ACC behind BC All-American Luke Kuechly. Even with five of the top six linebackers returning in 2010, freshman Kelby Brown proved to be too good to keep off the field. After burning his redshirt against Alabama, Brown was the biggest surprise of the year on defense, earning freshman All-American honors and leading the country in fumble recoveries per game. Injuries slowed the linebackers as a whole, and Brown saw his breakout season come to an early end with a knee injury against Georgia Tech. Departing seniors Kromah, Damian Thornton, and Adam Banks leave big openings on the depth chart heading into 2011.
2011 Outlook: Though the success of the Duke defense will begin (or end) with the defensive line, the linebackers also present question marks heading into the 2011 season. Kelby Brown is the only returning player with significant starting experience, and he is recovering from season-ending ACL surgery. The newcomers are likely to push Gamble and Rojas for playing time, and that competition should be interesting to watch starting on Monday. If Kyler Brown can replicate some of his brother's freshman success, or if France, Grier, Helton, or Woodruff can contribute ahead of schedule, then this group again could be a pleasant surprise for the 2011 Blue Devils.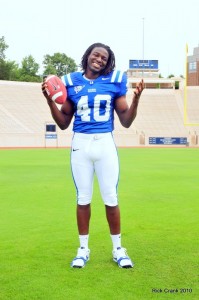 Safeties
Losses: none
Key returners: Lee Butler (Sr.), Matt Daniels (Sr.), Jordon Byas (R-Jr.), Walt Canty (Jr.), August Campbell (R-So.), Anthony Young-Wiseman (R-So.)
Newcomers: Chris Tavarez (Fr.)
2010 Review: It's hard to say that any position group had a good year among the 2010 Duke defense, but the safeties probably contributed the most to the small success that was had. Daniels, Canty, and Butler all finished in the top 7 in tackles for the 2010 defense. The safeties produced some of the defenses' biggest plays in 2010, and that play-making ability ultimately led the staff to end the season with primarily a 4-2-5 scheme. In a tight fourth quarter at Navy, Matt Daniels forced a key fumble to secure the Duke victory. In a game where the offense struggled against Boston College, August Campbell's school record 95-yard fumble return for a touchdown ignited the Duke team.
2011 Outlook: The deepest position on the Duke defense by far, the success of the 4-2-5 scheme will rely on safeties to become key playmakers. Duke will return all of their safety playmakers from 2010, though they will be without redshirt-freshman Issac Blakeney for academic reasons. Even without Blakeney, this will be the deepest and most experienced group among the Duke defenders. Senior Matt Daniels is poised for an All-ACC campaign, along with fellow senior Lee Butler. Byas, Canty, and Campbell are all capable of significant improvements over their 2010 efforts. If the Duke cornerbacks can provide good coverage, the safeties should find themselves in position to slow oppfisher rushers and make plays all over the field.
Cornerbacks
Losses: Chris Rwabukamba
Key Returners: Johnny Williams (Sr.), Tony Foster (R-Jr.), Zach Greene (R-Jr.), Ross Cockrell (R-So.), Garrett Patterson (R-So.)
Newcomers: Jared Boyd (Fr.), Tim Burton (Fr.)
2010 Review: Cornerback seemed to be a feast or famine position for the 2010 Blue Devils. Missed coverages, poorly-read throws, and converted third-and-longs plagued the Duke corners all year. That being said, senior Chris Rwabukamba was the top coverage guy, forcing opponents to look elsewhere. Cockrell and Williams, two of the team's top athletes, but both playing their first year of college defense, struggled mightily. Overall, Duke finished last in the ACC in pass defense. Cockerel was just the second freshman to lead the Blue Devils in interceptions, giving fans a glimpse of his potential coverage ability.
2011 Outlook: This is another group that needs to show significant improvement in 2011 for the Blue Devils to win. The inconsistencies and missed coverages seen in 2010 cannot happen if Duke is going to be able to improve on their ACC-worst pass defense. If the corners are unable to shut down opposing receivers, the Duke safeties will be unable to be aggressive against the run. Cockrell, Williams, Greene and Foster are likely to start the year at the top of the depth chart, but any struggles will give an opportunity for highly-touted freshman Jared Boyd. Collectively, Duke has some of their best athletes at cornerback, and those athletes will have to play with more confidence and poise than 2010.
Next week
Practice kicks off on Monday! The Blue Devils will practice every day next week, putting on pads for the first time on Friday morning. BDN will be your best source for coverage inside Duke's training camp, as the Blue Devils prepare for the 2011 season. WE ARE DUKE.