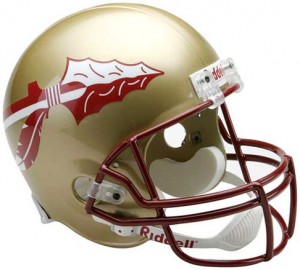 After their week 6 off week, Coach Cutcliffe and the Blue Devils will host yet another top 10 opponent in Wallace Wade Stadium on October 15th, as the Florida State Seminoles travel to Durham. Despite the loss of starting QB Christian Ponder, the Seminoles are the consensus favorite to win the Atlantic Coast Conference  in 2011. In Jimbo Fisher's second season in charge in Tallahassee, FSU returns 18 starters from last year's Chick-fil-a Bowl Championship team that finished with a 10-4 overall record. Expectations are high for this fall, and with a win against top-ranked Oklahoma in September, the Seminoles could vault themselves into the national championship picture.
The Seminoles have always been a tough opponent for the Blue Devils, as Duke is 0-16 all-time against Florida State. This year will be no exception; Duke will certainly have their hands full against an experienced and confident FSU team on October 15th.
For Duke's week 7 match up against FSU, we are fortunate to have the insight of onebarrelrum from Tomahawk Nation. 
BDN: In his first year as Head Coach in Tallahassee, Jimbo Fisher led the Seminoles to their first 9-win season since 2003. What were the biggest changes seen on the field and within the program?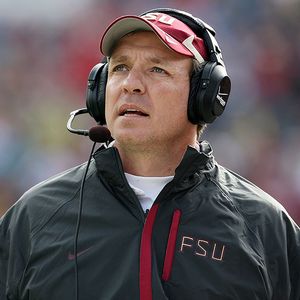 We'll start with program changes because that is what dictates and influences what happens on the field. Bobby Bowden's approach to the FSU program was that of CEO of a company much like Mack Brown at Texas. He delegated many responsibilities to other coaches. Fisher, however, is much more hands on with every facet of the program. Sure, his assistant coaches have their own responsibilities, but Fisher doesn't watch practice from a tower. He is on the practice field, managing and coaching, utilizing direct interaction with coaches and players.
Beyond Fisher's approach to coaching, there have been vast improvements in numerous areas including weight training, player tutoring, psychology, and nutrition. An army of support staff was brought on board to help boost all of these areas in an effort to improve the quality of play on the field. Under the waning years of Bowden, these areas had not kept up, or come close to matching other elite programs. Fisher has done an admirable job reorganizing and retooling the program so that it can compete with modern day elite teams.
On the field, the largest changes in x's and o's is most noticeable in the transition from Micky Andrew's man heavy scheme to Stoops' balanced defense that utilizes much more zone. FSU fans would like to all but forget the 2009 defense. It was the worst defense fielded by a Bowden coached team. In 2009 FSU was starting a 225 pound walk-on at defensive end. This year, the first and second string DE position will feature 4 players all over 265 pounds. It was also revealed that the defense was not provided playbooks in 2009. To say the least, Stoops had a lot of issues to address when he stepped on campus.
BDN: Florida State is the consensus top pick in the ACC in 2011, and will almost certainly receive a top-10 preseason ranking. With a win against Oklahoma on September 17th, many expect the Seminoles to vault towards the top of the BCS rankings. What does this team need to do to beat the Sooners, and is FSU ready to return to college football's elite and compete for a National Championship?
Last year, many 'Nole fans did not expect to win in Norman against the Sooners. They also didn't expect FSU to get absolutely destroyed. It was a learning year for the Florida State defense, and the first exam was against OU. They obviously failed miserably as OU scored on its first five possessions. The FSU offense was in shock and could not come close to offering enough points to help as they dealt with their own struggles. This year, the defense has got to get at least a few stops. The offense has to manage the clock and keep OU's offense off the field and out of rhythm. Last year, the OU no huddle decimated FSU's young, learning defense and that can't happen again if they want a chance to win. The plan should be to shorten the game with long drives and converting on 3rd down (easier said than done, I know). If FSU is successful at limiting OU's offensive snaps, it will have a shot at winning in the 4th.
As for the second part, time will tell. If FSU can keep the game at least close with OU, it will have shown major strides since 2009. While competing for a title is extremely difficult for any team, I think FSU has the structure, players, and coaching staff to once again start competing with and beating the nation's elite.
BDN: While most of the ACC will be breaking in a new quarterback in 2011, Florida State and Duke have to feel pretty good about their QB situation. E.J. Manuel filled in admirably for Christian Ponder over the past two seasons, leading the Seminoles to bowl victories over West Virginia and South Carolina. What do you expect to see from Manuel in his first year as a starter? With three explosive backs and top receiver Bert Reed returning, what questions remain for the FSU offense?
You are right about EJ, fans have been very pleased with his effort filling in when Ponder was injured. EJ is an extremely talented QB with smarts to boot. Though this year FSU fans hope he is even better. He had a mechanics problem in his throwing motion which eventually lead to needing shoulder surgery. The surgery and improved mechanics have helped him with velocity and hopefully accuracy. He is excellent in the option game and keeping his eyes downfield when flushed from the pocket. I look for Fisher to utilize him in the running game quite a bit on designed runs this year to make defenses account for all 11 offensive players. EJ has bulked up to over 240 pounds, hopefully preparing his body for the long season. Outside of his talents EJ is a vocal leader on the team. He also has great chemistry with a lot of the receivers having thrown to some of them for years in practice. Hopefully all those reps will pay off this season.
As of right now, going into fall camp, the biggest question mark for the offense is the offensive line. There are returning players with experience but it is a question of how healthy they will be for the season. Both tackles, Zebrie Sanders and Andrew Datko had to go under the knife and miss spring ball. Guard David Spurlock had multiple concussions last year keeping him out of a number of games and also missed spring ball. Fisher says that they are all healed up and should be fine. If they are really 100 percent then there is a lot less to worry about for the FSU offense, but I'd wait until fall practice gets going before I breathe a sigh of relief. At the beginning of last season receivers Willie Haulstead and Rodney Smith struggled. They had route issues, timing issues, and just needed quite a bit of time to get used to the college game. FSU needs them to continue their maturation and be ready to become major contributors. They will be counted on more than ever with the departure of WR Taiwan Easterling (left for pro baseball).
BDN: Mark Stoops did a nice job with a young FSU defense in 2010, though the group was inconsistent at times. With 8 starters returning in 2011, what improvements need to be made defensively for the Seminoles to compete for an ACC and National Championship?
For the defense, the most improvement should come from being in the new system for another year. While 2010 was a year to learn the basics, this year should show the grasp the players have of the different schemes and the understanding of their roles on any given play. Another issue last year was depth along the front. With so many young players, fatigue became an issue by the NC State game. FSU did not force a single punt in the second half of that game. Russell Wilson, time and again, was able to use his legs and arm to convert on 3rd and long. This year, there should be some serious depth along the front, along with another year of strength training, maturity, and familiarity with a new scheme. Same goes for the linebackers and secondary. With the way FSU is recruiting on the defensive side of the ball and Stoops' scheme, I have no doubt that FSU will field an elite defense in the not so distant future. A defense that can be leaned on to win games and perhaps a championship. There is some hope among fans that this defense won't have to wait another year to be special. Of course, we won't have to wait too long to find out.
BDN: Florida State is 16-0 all-time against the Blue Devils, and the series hasn't been competitive, with the Seminoles winning each game by at least three scores. Having last met in 2007, the two programs will have to get reacquainted in 2011. Duke has made strides under Head Coach David Cutcliffe, but will still be a significant underdog at home on October 15th. What have you heard about Coach Cutcliffe's Blue Devils and what will they need to do to compete with the Seminoles?
From what I understand Duke has made very good strides under Coach Cutcliffe. After this season it wouldn't be surprising to see a program offer Cutcliffe a pay increase. Duke was a scrappy team last year and proved to be much better than an annual speed bump in a number of ACC games. I look for that same level of play or even better from Duke this year. I can say it's a good thing FSU's defense has been tuned up since the 2007 match up. If these two teams faced off in 2009 I could have easily seen a Virgnia/Duke 2010 type shootout.
I know Duke likes to throw, but if they want to stay in it with the 'Noles this year, they need to shorten the game. They will have to eat up some clock with runs. Duke needs to seize some momentum early and hope for the best. If FSU puts up 2 or 3 quick TD's all hope may be lost as the revamped defense will be looking for pass. It will be the 3rd road game in a row for FSU, perhaps impacting how much time FSU spends on studying Duke's offense and defense. Best thing to do would be break tendencies and do the unexpected. For heavens sake, don't kick field goals on 4th and 3 inside the 25 or even 30 yard line. Duke will have to maximize every chance it has at TDs, as FG's just won't get it done.
BDN: Thanks so much for your help! We look forward to hosting the Seminoles on October 15th!
Previous game: October 1, Duke at Florida International
Next game: October 22, Wake Forest at Duke