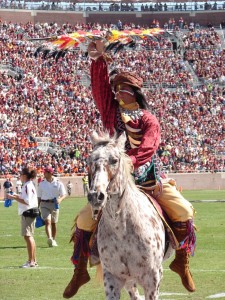 The Duke Blue Devils (3-2, 1-0 ACC) will host the preseason ACC favorite Florida State Seminoles (2-3, 0-2 ACC) on Saturday in Wallace Wade Stadium. The two teams enter the game on opposing streaks, with the Blue Devils having won 3 games in a row and the Seminoles having dropped 3 in a row. Duke and FSU last met in 2007 in Tallahassee, with the Seminoles gaining a 25-6 victory. FSU is 16-0 all-time against the Blue Devils, having won every contest since the teams first played in 1992.
Both teams feature high-flying offenses, with the ACC's top two passing units facing off in Wallace Wade on Saturday afternoon at 3PM on the ACC Network. The two squads also rank at the bottom of the conference in pass defense, which means that fans should be ready for a probable shootout.
KEYS FOR DUKE
1. Keep the Seminoles grounded
It's easier said than done. With E.J. Manuel's mobility limited by injury and the Seminoles struggling to run the ball, FSU has racked up an average of 325 yards per game through the air. Freshman Rashad Greene is the Seminoles' top target, averaging 91 yards and over 5 catches per game. He's already found the end zone 6 times through the first 5 games. While FSU has been effective through the air, they have struggled on the ground. Florida State ranks last in the ACC with just 85 yards per game rushing and a 3.2 yards per carry average. The Blue Devils will have a big challenge in front of them as they look to continue the Seminoles' struggles on the ground while limiting big plays through the air. With injuries to Matt Daniels, Johnny Williams, August Campbell, and Lee Butler, the Blue Devils' secondary will have to matchup with an explosive FSU receiving corps. Can young players like Zach Greene, Jordon Byas, and Walt Canty continue to step up in their teammates' absence?
2. Keep Sean Renfree upright
We mentioned this as a key last week against an athletic FIU pass rush. The Blue Devils' offensive line will face another stiff challenge this week as the Seminoles feature an NFL-caliber pass rush led by 6'3" 265 pound junior DE Brandon Jenkins and 6'4" 273 pound sophomore DE Bjoern Werner. If Duke is to have any success on offense, they will have to protect their quarterback, who has thrown for over 300 yards in 2 of the past 3 games. Expect the Blue Devils to utilize various blocking schemes and quick throws to limit the FSU pass rush. If FSU is able to put Renfree on the ground, it may be a long day for the Duke offense.
3.       Keep the momentum
It's not often that Duke has had the better record and the momentum heading into a matchup with a national power like Florida State, but that's the case this year. While the Seminoles are still favored by nearly two touchdowns, the Blue Devils are the team with a 3 game winning streak and an unbeaten record in ACC play, while the Seminoles are searching for answers after an 0-2 conference start. The Seminoles will likely have some success moving the football, but the Blue Devils' offense has been playing well enough to keep up. Duke must maintain their aggressive style of play and the confident determination they displayed in their 4th quarter comeback against FIU. If Renfree and his receivers continue their rhythm and the Duke defense remains opportunistic, the Blue Devils are capable of pulling off a big upset in Wallace Wade Stadium.
GAME ANALYSIS

Turnovers
Duke -2, FSU -7
What a difference a year makes. The Blue Devils have significantly cut down on their turnovers from a year ago and find themselves playing better football as a result. The Duke defense is still struggling to turn opponents over, but have come up with the football in crunch time, including the forced fumble late against FIU. The Seminoles have thrown 10 interceptions through 5 games, and the Blue Devil secondary should be looking to make a few big plays in this one.
Sacks
FSU 14, Duke 7
The Duke offensive line will have its hands full as they try to protect Sean Renfree against yet another tough pass rush. Jenkins and Werner have totaled 6 sacks between them. With Brian Moore still sidelined and Dave Harding bruised, Duke will need another strong effort from redshirt-freshmen Laken Tomlinson and Takoby Cofield.
FSU 47%, Duke 43%
Both teams have been efficient on 3rd down, and if that trend continues, it should make for a high-scoring contest. The Blue Devils have been able to control the clock throughout this season, mostly due to their success on 3rd and 4th down. The Blue Devils will have to continue to move the chains and minimize E.J. Manuel's impact on the game. With a banged up defense, the Blue Devils will need to control the clock in this one. A healthier Desmond Scott and Juwan Thompson should help the Blue Devils move the ball more effectively on the ground, and the emergence of freshman Jamison Crowder gives Sean Renfree yet another weapon to work with.
The Seminoles feature 7 players who average over 10 yards per reception. The Blue Devils feature 7 players who average over 10 yards per reception. With two top passing offenses, explosive plays are going to be the norm in this game, but it is likely to be the team who is able to come up with an explosive play on defense or special teams that will leave Wallace Wade with a win. Neither team has a kick or punt return for a touchdown yet this season, though both have the athletes to make it happen. The Blue Devils' secondary should look to capitalize on errant throws against a team that averages 2 interceptions per game.

Rushing TDs
Duke 12, FSU 5
Coach Cut says, "When you run out of room to throw the football, find a way to run the ball in." Despite the loss of QB Brandon Connette, RB Desmond Scott, and RB Josh Snead, the Blue Devils have been successful rushing the football in the red zone during their three game winning streak. With both offenses likely to move the ball at will, red zone efficiency will be crucial to staying in the game. This is an area where the Blue Devils will have to continue to be successful if they hope to pull of the upset.
Field Goals
FSU 8/8, Duke 3/9
FSUs Dustin Hopkins is one of the top placekicker in college football, and the Blue Devils are excited to have their own All-American kicker back near 100% after a week off. After a dismal start, Snyderwine has been solid over the past two contests, converting FGs of 40 and 27 yards. Coach Cutcliffe has been especially enthusiastic about Duke's work in the kicking game during the off week, and a key special teams play could be the difference in this game.

Penalties
Duke 22-193 yards, FSU 47-406 yards
If you were to wonder why the Seminoles are on a 3 game losing streak, there are two statistics that should jump out at you. A turnover margin of -7 and an average of over 80 yards in penalties per game. FSU has not played good fundamental football, while the Blue Devils have played nearly mistake-free football over their past two games. Duke will have to continue that trend this week against a talented FSU team. If the Seminoles continue to make costly mistakes, the Blue Devils will have to be ready to capitalize.
PREDICTION
The Blue Devils have won 3 games in a row, but are 0-16 all-time against the Seminoles. One of those streaks is destined to end on Saturday. Florida State has struggled with turnovers this season, but the Blue Devil defense has struggled to consistently create turnovers. If Duke is able to force a few costly turnovers, there could be an upset brewing in Wallace Wade Stadium. After three straight losses and with a healthier E.J. Manuel, expect the Seminoles to have a strong bounce-back performance against Duke. Both teams will have success on offense, and the opportunistic defense will emerge the victor.
FSU 31, Duke 24