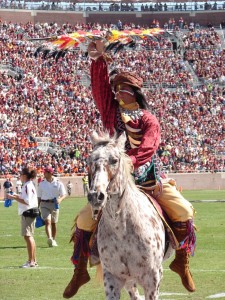 After a week off to rest and heal, the Blue Devils will ride their three-game winning streak into the heart of their ACC schedule. Preseason favorite Florida State will travel to Durham on Saturday, and while things are looking up for the Blue Devils, the Seminoles' season took a turn for the worse after an injury to QB E.J. Manuel. FSU will enter Saturday's matchup in the midst of a three-game losing streak, but with a healthy Manuel, they will be a stiff test for the young Blue Devils.
To give us additional insight into the Seminoles' recent struggles, BDN welcomes in Rich from ChantRant.com. Be sure to check out BDN's half of the Q&A Exchange on their site as well. Thanks for your help, Rich!
BDN: As the consensus preseason pick for ACC Champion, expectations were obviously high for the Seminoles in 2011. What is the mood in Tallahassee after three straight tough losses to Oklahoma, Clemson, and Wake Forest?
 You know about the five stages of grief? It's been something like that. After the final gun last Saturday, the mood was appropriate to the opponent: a Wake. A day later it had turned to anger ("How could this happen!?" "What's up with our well paid coaching staff!?," etc.). Depression was mixed in there somewhere. Then a grudging acceptance of the Seminole's swan dive from the Top Ten. Now FSU's faithful (at least the majority) are rallying behind the team, remembering the Noles have been down before and bounced back, while looking ahead to a better 2012 with a more experienced corps of young talent.
BDN: Redshirt-freshman Clint Trickett stepped in after E.J. Manuel was injured against Oklahoma. Trickett started the past two games, but Manuel replaced him last week at Wake Forest. Can you give us a brief scouting report on Trickett and Manuel? How do you expect them to be used against Duke on Saturday?
 Jimbo Fisher had made it clear that E.J. Manuel is his starting QB -- and that was even before Clint Trickett had a poor start at Wake. So unless E.J. is injured against Duke, I doubt you'll see Trickett. The scary part, though, is that doctors had told Jimbo before the Wake game that E.J. was not completely healed from a shoulder injury against Oklahoma. And if E.J. takes a nasty hit, he could be out for up to six weeks. For that reason, E.J. was one dimensional against the Deacs: all pass, no designed runs. I'd expect the same against Duke. And FYI, if Trickett DOES enter the game for whatever reason, FSU also becomes one dimensional. The redshirt freshman QB, who's the son of FSU's offensive line coach Rick Trickett, is not physical or fast enough to present a run threat -- at least not this season.
BDN: After finishing 2nd in the ACC a year ago, FSU has really struggled to run the ball consistently this season, ranking last in the ACC at just over 85 yards per game. What has been the source of the Seminoles' struggles on the ground and how can they get back on track?
Blame it mostly on the offensive line. FSU graduated two excellent linemen -- both on last year's Outland Trophy watch list. Since the 2011 season kicked off, one senior OL (Datko) is out with a shoulder injury; another (Spurlock) is limited by lingering effects of a concussion. Quality depth that should be filling those spots was lost due to various issues over the past few years. That leaves little continuity, with one senior tackle surrounded by underclassmen -- including true freshmen -- and one junior, a JC transfer. Given all that chaos, the OL is a work in progress from week to week. And that's a nice way to put it.  
BDN: Mark Stoops took over the FSU defense for Mickey Andrews last season, and though there were some growing pains, the unit performed well, finishing 1st in the ACC in scoring defense. After a promising start, the defense has allowed 70 points over the last two games. What are the areas of concern and how do you expect the Seminoles will try to stop the Blue Devils' potent passing attack?
There are concerns at linebacker and in the secondary. No doubt Jimbo Fisher is wrestling with how much of a youth movement to employ to address those concerns. My guess is he'll go mostly with experienced guys rather than experiment. That's especially true for the secondary, where two upper classmen have underperformed since a strong showing against no. 1 Oklahoma. In fact, I expect Coach Cutliffe to pick on that duo all day with the pass 'n catch combo of Sean Renfree and Conner Vernon. But you can be sure FSU will attempt to do the same. Both teams top the ACC in passing (FSU is first with 325.4 ypg; Duke 2nd with 311.6), while the Noles and Devils are at the bottom of the league in run yards. Fans of the aerial game should get their money's worth on Saturday.
BDN: Florida State and Duke last met in 2007, and the Blue Devils are 0-16 all-time against the Seminoles. This will be the teams' first meeting in the David Cutcliffe and Jimbo Fisher eras. Duke is riding a 3-game winning streak, while FSU has dropped 3 in a row. What do you expect to see from this matchup Saturday afternoon in Wallace Wade Stadium?
It all depends on which FSU team shows up. We don't know how much player confidence is shaken after the Wake upset. If the Noles have been able to rebound emotionally and physically, fired up to make a statement and turn their season around -- AND reduce the number of dumb penalties and careless turnovers -- expect a team that will battle til the end. But if the guys in garnet and gold come out tight and tentative, and worst of all not playing as a team, it could be a long afternoon.
BDN: Thanks for your insight, Rich!