Noah Vonleh, who has developed a reputation as a tireless worker, enrolled as a student at the New Hampton School in New Hampshire last month as a 2014 student. Vonlehwas looking to challenge himself in arguably the toughest high school league in the country, the NEPSAC, and in the smaller classrooms, while enjoying the accessibility of his new coaches, teachers, and facilities. As a result of his success during the AAU season with the Mass Rivals, he caught the eyes of college coaches and evaluators. This fall, they've traveled en masse to observe the Haverhill, Massachusetts native in "open gyms" alongside his New Hampton teammates. Vonleh added that this was a marked change from the open gyms held last year at his local public high school.
Noah noted the hard work that he and Coach Pete Hutchins put in to refine the mechanics of his perimeter shot. They've tried to improve his accuracy by working to shoot straight up off of his right hand, as opposed to gaining leverage by crossing the body on the long-distance jumper. With three years to fine-tune it, it's a worthwhile "work in progress" that will enable him to gain more consistency and a quicker shot release, enabling the 6'8" sophomore forward to enjoy the versatility of being able to play the small forward position on the next level or be a potent face-up four. He also has embraced the classroom attention and increased workload that the smaller teacher-to-student ratio provides at New Hampton.
This past weekend, Vonleh spent the Columbus Day weekend in New London, CT on the campus of Connecticut College. He was teamed with his high school teammate and close friend Zach Auguste, a Notre Dame commitment, on the Mass Rivals, as they competed in the BasketBull Columbus Day Challenge.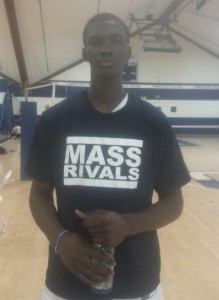 On the opening night, Vonleh was hit with an unusually high amount of foul calls ( three in less than five minutes of playing time) against the smaller frontline of the Raritan Roundballers and Coach Vin Pastore was forced to sit his sophomore star more than he would have liked. Noah came out more focused in the second half. He scored all eight of his points from close range, rebounded the ball with ferocity (11 rebounds), and tied up the shorter, opposing three. In the nightcap (literally beginning at 10 PM), Vonleh used his combination of soft hands, tenacity, and 7'2"+ wingspan to dominate the glass and cause hesitation in low-post shooters. He finished with six blocked shots, four steals, and fourteen rebounds.
Between the games, Noah mentioned that he has been working consistently with Coach Hutchins on improving his ball-handling. Three times during the final game, Vonleh was able to grab a defensive rebound, navigate traffic and ultimately go coast-to-coast for a finger roll, twice getting fouled as he made the transition basket.
The following is a quick update from Noah Vonleh, New Hampton forward and Duke recruit:
How has the transition to New Hampton gone for you so far?
The transition's been pretty good. It's way different from high school. The classes are harder. You've got less kids in the classes. The teachers are very close to the students.
You live with some of them.
Yeah, exactly, dorm parents.
Right, what are the facilities like? Maybe touch on that.
Yeah, the gym is open. The area for lifting is open and the coaches are always there to help you.
[private]
That's great for you, I remember that you said you worked out like crazy and now you have access all of the time.
Yeah, it's great. We get to work out and work on lifting all of the time.
Has you body changed at all or not really?
Not yet, but it will be by the time I'm done.
I guarantee it will be.
Yeah, we're lifting all the time.
How has your training changed? Have you done things differently in terms of things you want to work on?
In terms of training, I've been doing different ball-handling drills.
Yeah, I saw you working on that before this game.
Yeah.
Is that so you can play more on the perimeter?
Yeah.
Can you talk about the open gym experience? I'm sure plenty of coaches came to see you. What was that like?
It was great. We had Roy Williams, we had all types of coaches, we had Duke, North Carolina, Syracuse, other schools. A lot of different schools.
Was that a major difference in terms of the open gym this year versus last year or, rather, last year to this year?
Yeah, last year, we didn't really have any.
So, that's great for you.
Yeah, it was a great experience.
What were some of the schools that came?
Duke, North Carolina, Kansas, Syracuse, and Georgetown.
How has role and position changed from last year to this year ?
It was different last year because I was the tallest guy and they were focused on trying to stop me and so you had to fight for position. That's why I did most of the ball-handling, too. I'd be at the top of the key and teams would be able to set up their defense and they could focus on me, but now they can't do that.
With Zach (Auguste)
Yeah, there are so many guys that they can't key on me or any one of us.
Oh, that's gotta be great and it'll be a good experience for in college.
What's it like living with Zach?
Oh, it's been cool. He's been showing me around. We go everywhere together.
Have you guys been driving each other in practice?
Yeah, we've been pushing each other.
Have you taken any visits since August? Do you have any plans?

No, I haven't, but I think I'm going to go out to Arizona in a few weeks with Coach Hutchins.
Oh, okay. Are you going to any midnight madness? I know some people go to those.

I think I'm going to go to UConn for theirs.
What would you say you've tried to work on most since the summer?
My jumper. I've been trying to work on that.
Well, I saw you, before the game, working on your three-point shot. Are you trying to work on your three-pointer or are you trying to concentrate on your mid-range and beyond?
Yeah, my three-point shot and my pull-up.
How's it going? Are you seeing an improvement?
I am trying. I've been working with Coach Hutchins trying to change my shot. (motioning) He's trying to work with me on taking my shot from this side (pointing to the left) and instead on going straight up.
Is it sort of a work in progress?
Yeah, it's coming.
That's good to hear and I'm sure it will. When does your season begin for fans that want to catch you play?
We start practicing on November 1st and then our first tournament will probably be around Thanksgiving.
Right, I thought I was going to catch you next month at one of the tournaments that they're having in New Haven.
Oh, yeah, yeah, definitely.
What does your coach expect out of you in terms of production and your role on the team?
AAU or high school?
Both, actually, is probably best.
In AAU, to be a better leader on the team, be our primary rebounder.
You did a pretty good job at rebounding in very limited time in this game.
Yeah, it was frustrating with all of the early foul calls. It was kind of frustrating.
Yeah, tell me about it.
(laughs)
Okay, and now, what about the prep school level?
In prep school, I'm just trying to get into the system or the things that Coach Hutchins asks. Coach wants me to be able to knock down shots.
I didn't know if they expected more scoring out of you on one team or the other.
Yeah, now I've got to step up and try to do it on both teams.
Thanks, Noah, and good luck to you.
Thanks a lot and good to see you again.
[/private]