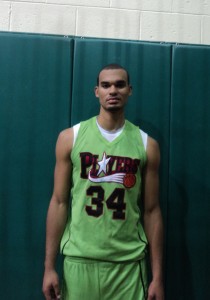 This past weekend, 6'8" rising senior Perry Ellis of Wichita helped his USA Red team to a third place finish at Adidas Nations in Compton, California. In his final game, the three-time Kansas Gatorade Player of the Year scored twelve points and grabbed six rebounds. Since he was last profiled, Ellis, a 4.0 student, has cut his lengthy list of suitors down to a final four: Kansas St., Kansas, Kentucky and Duke University. He is working on setting up future visits.
Over the past month, Ellis has teamed with improving guard Buddy Hield for the Kansas Pray and Play program in events from the NY2LA Summer Jam outside Milwaukee to Las Vegas' Super 64 to cap off his final AAU campaign. In two weeks, the driven forward, who battled tendinitis in June, will once again be participating in the Elite 24 event in Venice Beach, CA.
The always cordial Perry Ellis sat down with BDN for a quick update following a close defeat to discuss what he'd like to find in the college of his choice and what he hopes to view on his upcoming visits.
How much momentum carries over from event to event or tournament to tournament? Either as an individual or a team?
With our first game, we always seem a little sluggish.
I noticed that. Then, you guys seem to pick it up in the second game, for whatever reason. The team seems to get into a groove and build from there.
Yeah, and then we get into a flow and we get momentum and we're running up-and-down and things seem to click a lot better. When we're not, we're missing easy shots and easy lay-ups.
[private]
Even just one or two tip-ins would've changed the course of this game.
Yeah, it's the little stuff. I mean we lost by what? Three?
Two. It was killing me. (laughs)
Two? Jeez. Man, I can't believe we lost by two and we missed all of those little things. We should've won by twenty or something. There's no excuse, but we've just got to keep our focus.
Yeah, I was just thinking about momentum and what your thoughts were on it. Is there any new news in terms of recruiting or visits?
Um, I'm not really sure when exactly I'm going to visit the schools. I don't have nothing really planned right now.
Where do you feel most comfortable catching the ball?
Right around the free throw line..
Facing up around the wings?
Wings?
Yeah, I'm sorry, like the free throw line extended.
Yeah, exactly, right around there, you know, just facing up.
How about defending fours versus threes? Which do you feel more comfortable defending against? It seems like you've defended everyone from fives to threes.
I mean I like getting out on the wings, but it just depends on what we needed.
Yeah, that's why I was more curious about what position you felt most comfortable guarding versus what the team needed in a given game or match-up.
Well, I like getting out on the wings because I think you get out on more breaks, you know. I mean most of the time if you're down low and you throw an outlet pass, it's already too..
You're too late to score on the break. (laughs) You want to have some fun out there.
Yeah, exactly. (laughs)
And what position are most schools recruiting you for now? There seemed to be some back and forth the last time over some schools recruiting you as a face-up four versus a three.
I'd say most schools are saying three and, if I've got a mismatch, than a four. That's what they've said.
What are you looking for ideally in the college that you ultimately do decide on? What are some things that you hope that they have? Looking big picture now.
The first thing is being comfortable. Being comfortable around the school and just knowing people. Being comfortable there is the first thing.
That's step one. You've got to feel comfortable.
Then, playing on TV. I want to be able to play on TV.
Sure.
Putting out players..they're developing players.
So, exposure and developing players..
Yeah, definitely.
What about urban versus rural? Will distance play a big factor? You've got them both very close by and a few states away.
Yeah, no, distance won't really matter to me. Just whether I'm more comfortable there than on the other campuses.
How about knowing players either on the current team or in your recruiting class?
Yeah, that would definitely help. It would help as far as knowing other people and being comfortable. Just knowing guys that you might get to play with. That's definitely something to think about.
Yeah, I was just thinking that might ease some concerns. What are you hoping to see on your visits?
As far as..
Where would you like to go? Do you want to see the facilities, the campus, and the players' dorms, etcetera?
Yeah, exactly, I'd like to see all the little stuff like what do they do before the games.
Pre-game rituals and preparation.
Yeah, see all that they have to do, where they live, see their classes and so forth.
Have you thought at all about what you'd like to major in or what interests you? I know you're Mr. 4.0 student.
Yeah, (laughs) I'm not really sure. I've been concentrating so much on basketball lately.
Sure, will immediate playing time be a major factor in your decision?
Yeah, I mean, on the one hand, I definitely would like an opportunity to play early on…just like I'm sure everybody does, but, on the other hand, I don't want people to just tell me that I'm gonna play..I want to work for it. I want people to tell me that. I don't want to just be given anything.
See, but I remember the last time that you said that you didn't like guys that were too demanding on you all of the time. How does that..would you like them to push a little bit, but not too much?
Oh, I meant as far as practice.
But you just meant off the court.
Yeah, yeah, breathing room.
Because the last time you were talking about how you liked how some of the programs recruiting you gave their players freedom, but now I understand that you want the freedom off the court, while being pushed on it.
Yeah, yeah, exactly.
Okay. That's it for me. I really appreciate it. Good luck tonight.
Alright, sure. Thank you.
[/private]