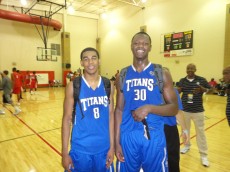 BDN's Duke Basketball Team and Recruiting Updates have set the standard among the sites and sure enough, this concept is now being copied.  We'll take that as a compliment but when push comes to shove, it is all about the content and we'll stack ours against anybody.  Here at BDN, our staff is in the trenches at AAU events.  That means our members are getting live streams of information as it happens, making our site well ahead of the curve.
We can lay claim to the fact that we cover more major recruiting events in person than any other site and that has been a running thing for several years now.  We don't send "stringers," with limited knowledge of the subject matter to do our work, nor do we sit back and depend on national network guys to do our job for us.  Seriously, do you not want first hand observations from an accomplished staff that has seen the prospects play multiple times?  No knocks here on the National guys in that many are our friends, but their sole focus is certainly not on Duke prospects nor is it a priority to cover them.  There are no smoke and mirrors tactics at BDN folks, nope, we are straightforward and honest when it comes to our coverage and we take pride in that.
If you have yet to try BDN Premium, you don't know what you're  missing of late and with some exciting changes on the horizon, it's the perfect time to check us out.  Our staff is hard working, dedicated and hands on in everything we do.  In our current update we lay out a clear picture of the staff's efforts.  And before we get on with our update where lots is happening, take a look at how much content we've pumped out recently which includes: Two interviews with both Tony Parker and Matt Jones to go with individual interviews with Julius Randle, Jabari Parker, Alex Poythress, Perry Ellis, Jahill Okafor, Rasheed Sulaimon and much, much more.  Just today, recruiting analyst Andrew Slater goes in depth with Mitch McGary and we have content laying in wait this week. And our interviews have meat to them in that we don't lure you in with a premium article featuring a couple of quotes via texting.  Anyhow, let's move on to another informative and detailed (2521 word) update on the Duke Basketball recruiting scene where we paint a crystal clear picture for our members.  Trust me in that you will absolutely love our update, so if you want to find out where the coaches will be going, who is really on the radar and such, we have the answers for you.  And if you are not satisfied, we'll refund you within the first 24 hours of joining.
The picture is now crystal clear with concern to 2012 and beyond.  Duke will stick with Tony Parker until his decision is made.  Coach Krzyzewski sat front and center for many of Parker's games and the big man [private] knew it, cutting his eyes towards the man while playing.  Parker has been a bit up and down with his comments of late but my belief is that Duke is in better shape than anyone else for Tony.  His parents love Duke and if they had their way, this one would be over from what I've heard from legitimate sources.  The Parkers sat directly behind the bench this weekend and they certainly saw the Blue Devils' keen interest.  Duke has been faithful to Tony and his verbal could set other things in motion.  Coach K loves his hands and footwork and wants him to anchor the paint in Durham.  The Blue Devils have made Tony priority 1 on their 2012 wish list.
And if Parker is priority 1-A, then Mitch McGary is 1-B, or you can reverse the order if you'd like.  Duke will go hard after McGary and they feel they have a great chance at the tenacious big.  Sources are now saying McGary may pull the trigger before his high school season and if that is indeed the case, look for a whirlwind of activity in the coming months.  It is safe to say McGary will be visiting Duke and the Blue Devils will be in home with him when the time comes, but that will not happen until the team returns from their venture to China and Dubai.
The Blue Devils were most impressed with Matt Jones and he gained an offer after his play this past weekend.  Of course, as members, you all saw this one coming.  Jones glowed beyond belief when talking of Duke and you will see those videos this week.  We spoke to Jones the other night but kept it short.  He told BDN that he was on cloud nine after Coach K called and that he could certainly see himself there.  He was very excited that Duke moved in and it is fair to say that they went to the top of his list.  Jones has shown steady improvement in his game and he can slash through the lanes and has an outstanding outside shot.  He is a good on-ball defender as well and he sent a game to overtime with a defensive stop in front of Krzyzewski as time ran out.  The only knock I witnessed is that he at times has trouble shaking free for his shot.  He is a great character kid as well and BDN got his AAU coach's thoughts on that, which is another feature you can look forward to.
His teammate, the hulking Julius Randle, also has an offer and Duke feels they are in good shape there as well.  Jeff Capel has certainly been a help in this one and the thought of a package deal with Jones is most appealing.  But make no mistake about it, Duke loves Matthew Jones as a stand alone player.  Randle was called the best player in the nation on the night he dominated the Memphis front court by someone close to the situation that watched him play.  That was a bit cryptic but easy enough for you to figure out on your own.  Randle was like a bull in a China shop and it is clear that he will not back down from anyone.  I caught several of his games and was most impressed by his enormous upside.  He is a true power player that may or may not fit should Duke get Tony Parker.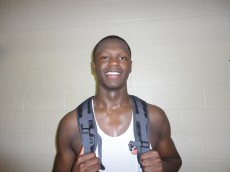 And then there is another 2013 product named Jabari Parker.  What a humble superstar he is and you'll see this on coming videos as well.  Parker likes Duke a lot ... a whole lot and the Duke coaches like him a lot, a whole helluva lot.  They are in great early shape with Parker and this one might end in the spring of next year at the latest.  Parker will make an unofficial visit to Durham in due time and we'll have more on that as it develops.  While UNC and others are on him, Duke has been from the start and that will IMO pay dividends down the road.  Parker is smooth and versatile and at times cannot be stopped.  He is part of the spectacular trio joining Randle and Noel as the best of the best in 2013.
One thing many seemingly fail to see is that Duke has a great jump on 2013 for a reason.  The Duke staff will be tied up with Team USA duties next summer limiting their time on the recruiting trail.  That especially holds true for Krzyzewski and that is why he was so hands-on this past week with the class.  The three aforementioned 2013 players are clearly at the top of the wish list but more names are in the works, specifically Nerlens Noel.  This defensive demon we coined the "Sultan of Swat," is a most interesting talent and game changer.  Then there is the "Nerlens Noel effect," which causes players to alter shots for Noel is an absolute terror when it comes to blocking shots.  By the  end of the EYBL he was in every prospect's head and it doesn't matter who he is guarding.  In short, he inflicts pain on guys the same age, younger and/or older.  When I joked with Noel about the fact he didn't send out invitations to his "Block Party," he loved it.  Form that point on, Noel really opened up to me.  Make no mistake, everybody is on Noel, so Duke will have their hands full as will every other team that vies for his services.  I love me some Nerlens and so does Grant Hill, for he is making his fade rise on the cover of the 1991 Sports Illustrated stylish again;) A side note is that Grant Hill will go along on the China trip and he will be helping to teach the "Duke culture" to newcomers.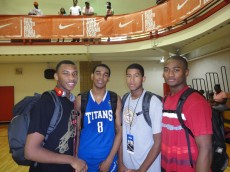 Some have attempted to hang me out to dry with a comment on Rodney Purvis which was misquoted, but that is something I am used to from another Duke site.  This time they made sure my name was in the head of a post.  I never intended certain things to go public but when users break the agreement upon signing up all I can do is boot them.  Purvis flat out wants to come in and play right away but Duke has a bevy of wings on the roster and in the works.  Purvis wanted to hang with Rasheed Sulaimon, Matt Jones and LJ Rose this weekend and he is seemingly upset at, well, everything that is said these days.  The mere fact that Duke did not watch him is telling and I can tell you without revealing sources close to the situation that Purvis is no longer an option.  Of course, we were the first to say that in a private forum and now all but one site is on the bandwagon.  I think the offer to Jones may have made him see the light and/or the writing on the wall.  Purvis is a good kid, but his emotion concerns me as does his behavior when he is not on the court.  Would Duke take him if he called and wanted to come?   Make no mistake, Purvis has talent and he is a good kid, so I am in no way beating him down, but he is no Austin Rivers or Kyrie Irving.
We have to watch how we mention prospects around here and even where we'll be going on the recruiting trail in that it tips off others.  Just this week nobody was on Nerlens Noel until we were seen talking to him.  Yes, people pay close attention to everything we do at events.  It frustrates us at times but what can you do?  All I can say is pay close attention to when information is printed and as a member sit back and know that you were aware of it beforehand.  Noel is sure to pick up an offer soon.
Rasheed Sulaimon played very well at the EYBL finals as well although he saved his worst game for last and a lackluster offensive performance cost him the scoring title.  Still, he finished second and he has improved immensely since a season ago;  he's like a water bug running all over the place and locks down well on his defensive assignment.  His handle is improving as well and his offense is top shelf.  The Duke staff knew exactly what they were doing in getting this kid aboard early, a testament to Krzyzewski's eye.  That too should excite one more with concern to Jones.
Wojo was in Wisconsin this week and Krzyzewski was as well before returning to Augusta.  Chris Collins was at home this go round but he returns in the coming week.  The addition of Jeff Capel has been a winner and this staff is, well, pretty darn good.
One kid that caught our eye during the EYBL opening session was  Tyus Jones, a 2014 PG from Minnesota who plays for the older Howard Pulley team.  Once we interviewed him, it was obvious to others he had caught the Blue Devils' eyes.  Again, our every move is watched by others at events.  We actually interviewed Jones while at Boo, so he didn't slip up on me at all.  In fact, he stood out and I was amazed to learn he was 2014 for his play was smooth as silk and so far ahead of those in his class.  We have a nice interview coming your way with Jones as well.  I can tell you that he has great character, confidence and his recruitment will go on for a very long time.  Still, both Andrew and myself take pride in giving you background on players Duke likes before it really gets out there.  In short, we anticipate while at the many events, as Andrew did with Jahill Okafor.  What you may not realize is how rare a good interview with Oakfor is, so pay attention to our offerings.
Duke is still keeping an eye on Alex Poythress and Perry Ellis as well.  Neither of them have an offer and both play pretty much the same position.  Duke would likely turn here if they got one of Mitch McGary and Tony Parker but the real need is bangers and not wings.  Still, keep a close eye on these guys as the recruiting evaluation period opens back up.
Just in are the players Duke will watch in Orlando for the AAU National Showcase which runs from the 23rd to the 27th.  Mitch McGary will start there and once it is over go to Kansas City.  Teammates Julius Randle and Matt Jones will be there as well along with Nerlens Noel and Theo Pinson.  Rasheed Sulaimon will play in the AAU Nationals in Orlando which takes place after the loaded Showcase.  And Tony Parker and Alex Poythress will play in both events.  I am trying to swing this event but right now it isn't looking good.
I am trying to rework my schedule to go to Orlando but a cash crunch may prevent that from happening.  However, Andrew is set to go to Las Vegas and you know his coverage will be top shelf.  In closing our latest update I would like to thank all of you for supporting us through membership.  We would like to give back, so here is an opportunity for you.  If you refer new members to BDN Premium, we'll give you 15% of their membership provided you e-mail or PM us before they join.  If you have a friend join for a year, that means you get 15$ cash sent to your paypal account.  If it is for six months, you get 9$.  There is no referral granted for a one or three month membership.  This is a limited time offer.  Help us grow our community!
Thanks again for choosing Blue Devil Nation Premium and the future is looking bright around here, so stay tuned for more on that. [/private]