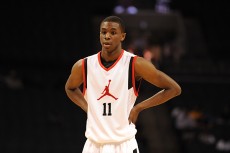 For many, Memorial Day Weekend is a time of remembrance, family, friends, and grilling. But for recruiting junkies this is a time to catch the top prospects in the nation battle it out. For the second straight year Nike ran its new EYBL, Elite Youth Basketball League. The league hosts three sessions starting in Hampton, VA at the Boo Williams Sports complex in early April, Dallas, TX at the Fieldhouse USA in late April, and the last leg, before the finals, was held in Los Angeles, CA at the HAX this past weekend. The culminating event after the three regular season events will be the Nike Peach Jam held in North Augusta, SC from July 12-15th. The top 24 teams will be invited to battle it out for the EYBL Championship as well as a contract from Nike.
This year there was a bevy of Duke prospects at hand in L.A including the likes of Jabari Parker, Tony Parker, Alex Poythress, Rodney Purvis, Theo Pinson, Rasheed Sulaimon (verbal commit), Andrew Wiggins, and Nerlens Noel. Let's see what went on with them this weekend.
I know it was [private] early morning but it's hard to forget your basketball jersey at the hotel isn't it? Well there was a little mishap with Tony Parker and his jersey. Tony had forgotten his jersey at the hotel and unfortunately it was not brought back in time for him to play in his first game vs. Playground Elite (WI). With Tony out this meant Alex Poythress was the main attraction. Alex went 5-8 from the field for 12pts and 5rebounds. He also had 2 blocks.  Alex put on a nice display of athleticism with a beautiful baseline reverse layup. He has the type of frame that NBA GM's drool over. At already 6'8 it is clear that his upper body still has room to fill out, and when it does watch out! Alex is seemingly known for his three point shot, however, that is not all this talent can do. Alex displays a great slashing ability and has been on the connecting end of several big time alley oops that will surely come to a YouTube channel near you. His most impressive attribute in my opinion is how seemingly effortless he makes his put backs look. At this point though, it is clear his handle will need improvement but that can come with time and repetition. His defense can use more consistent intensity, but again, this is not a worry as it can be coached and drilled into him, and AAU ball isn't exactly a clinic for defense. In his night game Alex went for only 9pts on 4-7 shooting but had 8rebounds including 2 offensive.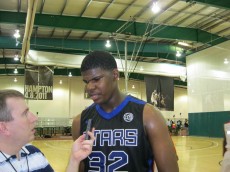 Tony Parker finally got around to getting his jersey for the Georgia Stars second game of the night vs. a solid New Jersey Playaz team. Tony put on one of his better displays this game putting up 17pts and 6 rebounds on an efficient 8-12 from the field and 1-3 from the line. Using his wide frame Tony parked himself in the paint and didn't move, which should be a delight to hear for many Duke fans. Tony shows lots of comfort with his back to the basket often backing his man down before displaying an extremely quick spin move to mini hook shot. Tony also has no problem dropping a 5-8ft fade away jumper that is a joy to see go in. There was a little bit of controversy in this game between Tony and his coach but I assure Duke fans there is no worry with this. In his game against Alabama Challenge Tony was consistently fed the ball in the post. The Georgia Stars would work the ball around the arc while Tony would flash in the post from side to side. In this game Tony displayed some quality vision by passing inside to his teammates on many occasions. Unfortunately not many of his teammates hit the shots but the passes were there from Tony. Parker put up 19pts and 8 rebounds on another solid 8-14 shooting performance while also going 3-5 from the line. He continued to display his comfort in the post as well as a solid face up game. In catching up with Tony after the game he knows that his post game is solid but that adding a respectable face up game is essential in his development.
We've discussed one Parker, now let's move onto another one, Jabari Parker. Regarded as a top two prospect in the 2013 class, Jabari displayed a plethora of moves this weekend. One of his best attributes is his knowledge of the game at such a young age which has no doubt been strengthened by his father's tutelage. Jabari displays great instinct in when to give the ball up. He often made plays this weekend which eventually led his team to an easy bucket. In his game vs. All Ohio Red, Jabari put up 16pts and 7 rebounds on 8-19 shooting from the field but went 0-3 from the line. Jabari also had 4 blocks in this game which speaks well of his defense, something he really enjoys doing. While not a freak athlete at this point, he more than holds his own against the competition in that regard. What makes him special is how seemingly smooth he looks on the court gliding around. In his match up against BABC, Jabari put up 12pts and 6 rebounds on an efficient 5-6 shooting from the field. He also added 3 assists. One thing is for sure, Jabari Parker is a future pro right now and if Duke is so fortunate to land the Chicago product then we will be in great hands with him.
Let's move onto one of the more impressive defenders not only in the EYBL but in the entire country, Nerlens Noel. Sporting a classic high top fade and pogo stick type frame, Noel is exactly the type of athletic defender every division one school is coveting. In his matchup against the Charlotte Royals he put up 13pts and 8 rebounds on 5-6 shooting from the field and 3-3 from the charity stripe. As far as his defense goes, he had 4 blocked and altered countless others. Noels length and athleticism gave fits inside to the opposition which clearly got frustrated all weekend. He has an incredibly quick second jump similar to Shawn Marion which allows to get up quickly again for the rebound or blocking/altering another shot. Most of his points this weekend came off of put backs and moves from about 10ft and in.
The only verbal commitment Duke had at the EYBL was 2012 guard Rasheed Sulaimon. Rasheed hurt his ankle in his game against Arkansas Wings Elite. Before his injury he was matched up with 2012's Archie Goodwin, often regarded as one of the better players and athletes in his class. Rasheed has become a big time defender and he proved it in the 19 minutes he played that game. He held Archie to 3-12 shooting, and quite frankly some of those buckets came after Rasheed had left the game with injury. The play in which the injury occurred was a 3pt shot from the wing which he hit, but on his way down he landed awkwardly on his ankle and stated he had heard a pop. Fortunately he was able to come back in and show that it wasn't too severe. Impressive to say the least, considering many players may have considered shutting it down for at least the day as to not risk anything further. His handle has proven to be much more advanced than I had originally anticipated, clearly showing he is improving in this area. His lateral quickness allows him to really stay in front of his defender. Combine that with a low defensive stance that would make Coach K extremely proud and you've got one good looking future defender. At this point Rasheed is showing to be a very solid shooter from beyond the arc as well as a bit of a mid-range game. As he adds strength he will be able to follow through and finish with contact when he gets to the rim. His best offensive game came against MoKan Elite where he put up 17pts, 4 rebounds, 4 assists, 3 turnovers, and 1 steal on a solid 7-14 shooting.
At one point it was thought that 2012 guard Rodney Purvis would never leave the state for college. That is until he had committed to Louisville due to an incredible relationship with now former Louisville assistant Tim Fuller. Once Fuller left Louisville, it was thought Rodney would decommit, and sure enough he eventually did. Before he had committed to Louisville, the North Carolina product had Duke very high on his list, and now, post decommitment, it seems Duke is right back up there. Rodney displayed some very nice dribble penetration this weekend that either led to a bucket or a kick out to a teammate. He had multiple And 1 situations all throughout the weekend which speaks well of his strength at this age as he finished well through contact. Rodney also showed some quality effort as I saw him dive for multiple loose balls, a quality any team certainly would enjoy. He attempted many pull up jumpers from about the 18ft mark which unfortunately were inconsistent. With time and practice he should improve on that aspect of his game. Rodney also showed some quality defense this weekend. He is very quick going both north and south but also going east to west. From a scoring perspective, his best offensive game came in his last, against the Jackson Tigers. Rodney put up 18pts, 9 rebounds, and 2 assists on 7-16 shooting from the field and 3-6 from the line. He consistently put up between 15 and 18 points all weekend long. As Andrew mentioned it seems as if at this point it is a N.C State/Duke race, though we all know how fluid recruiting is. In speaking with him this weekend I asked if he would be leaving Upper Room Academy since it seems to be only going through the junior year. He told me that he is planning on staying because they are supposed to soon add a senior year.
It may be a ways from now but Theo Pinson and Andrew Wiggins have firmly placed themselves at the top of everyone's 2014 list. The two athletic guards displayed flashes this weekend that shows why everyone is so high on the two freshman. As far as this tournament goes, neither guard put up ridiculous numbers. Against the Arkansas Wings Elite, Theo put up 17pts and 4 rebounds on 7-11 shooting from the field and 3-5 from the line. Andrew had his best offensive game against Boo Williams when he put up 13pts on 3-12 shooting from the field and 7-10 from the free throw line. Both players showed off superb athleticism this weekend as well as flashes of what is to come in the future. As freshman, it is a testament to their poise that their coaches have trusted them enough to put them on the big stage. Both players showed confidence in taking their shots and not being nervous in such a setting. I spoke with one of the CIA Bounce staff after their game and he spoke very highly of Andrew Wiggins. I had asked how it was working with him and he could not have been more complimentary of him. He stated that he's really just a kid at this point who isn't fully aware of the onslaught of media that is in his future, but that to this point he has handled it with maturity beyond his years. He also said that the game has already at this point really slowed down for Andrew, which is extremely vital to his early development. Simply put, these two players look to have big time futures.
The game of the weekend was easily CP3 vs. Houston Hoops, so good that I felt it deserved its own paragraph. This game hosted 5 top 50 guys including Rasheed Sulaimon, L.J Rose, J-Mychal Reese, Rodney Purvis, and Theo Pinson. The crowd was big time for this highly anticipated match up. The bounce of the ball and squeak of the sneakers was overshadowed by the playful banter between families of both teams. This game meant something to these players and families, and both teams showed it. While Rodney put up 17 points, it did not come easy. The experienced trio of J-Mychal Reese, Rasheed Sulaimon, and L.J Rose made it very difficult for Rodney to penetrate to the hoop. Instead he was forced to shoot much more than he probably liked and had to earn his points at the line where he went for an impressive 7-8. Despite a hobbled ankle, Rasheed continued to play overall stellar defense against CP3. At halftime the game was 30-28 Houston Hoops. The second half had a flurry of traded baskets keeping a quick and exciting pace. The crowd grew even more ruckus as the game was within a few points. In the end a very solid Houston Hoops team pulled out the victory 63-58. Rasheed ended up with 14pts and 3 rebounds on 3-9 shooting from the field and 7-9 from the line. Rasheed continuously attacked the hoop getting past quick defenders. He hit a few clutch free throws to ensure his team the win.
As far as other players that impressed me this weekend there were three. Houston Hoops' Justin Jackson, a 2014 prospect, showed a nice soft touch around the rim for such a young player. Justin is a 6'5 wing prospect from Bryan, Texas. Secondly I was extremely impressed with Tony Parker and Alex Poythress' teammate Marcus Hunt, a 6'5 215lbs 2012 prospect. Marcus displayed a great ability to attack the hoop and often finished through contact. He has a strong frame for his age which helps against smaller guards. The third prospect which impressed me was Jahlil Okafor of Mac Irvin Fire. The 2014 prospect is 6'10 and 255lbs and showed a lot of quality flashes for a young freshman. He is a big body down low that many coaches will surely observe over the next few years. His teammate and Duke prospect Jabari Parker spoke very highly of Jahlil even calling him the best freshman in the country. [/private]