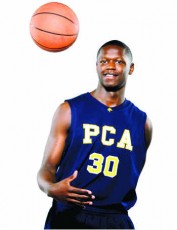 If you are not a member of Blue Devil Nation Premium, now is a great time to join for our Nike EYBL live coverage begins on Friday.  As many of you know, the Tournament of Champions features no main Duke prospects at this time, but at the Nike EYBL in California?
BDN Recruiting Analyst Andrew Slater and our west coast correspondent Varand  Khachadouri will both cover the loaded event.  You will get first hand reviews and live updates on our members only message board from the events start to finish.
And who will you hear about?  Let's start with the Georgia duo of Tony Parker and Alex Poythress, two front court players at the top of the Blue Devils wish list.  Our staff will also follow Jabari Parker and Julius Randle, two absolute studs.
They will also check out the talented CIA Bounce team with Andrew Wiggins and a young upstart named Theo Pinson.  And of course, covering Pinson means you will hear from another hot name on the Duke recruiting radar, PG Rodney Purvis.
Heck, I am just scratching the surface with names ... Nerlens Noel, Brannen Greene, Trent Williams and others will be checked out as well.  And of course, the interviews then start rolling in all next week and beyond.  And if you haven't seen one of our interviews of late, let's just say they are about as concise as one can get, averaging almost 2000 words each.
Summer time balling and covering the grass roots circuit is our time of year, a strength of this site, but we are more than that.
Football recruiting is red-hot and we have the fastest growing premium football coverage around where Patrick Cacchio is on the ball with the latest breaking news.  He's broke the last two recruits at Duke and this site is definitely football friendly.  He also pens a weekly in depth article called Football Friday for members only.
Check out BDN Premium for yourself if you are a Blue Devils fan that loves a dedicated site that is Duke-centric.  While we are starting to cover the national recruiting scene as well, we are the only site sending reps to get the information you really want to hear, that being the latest on Duke prospects and that will not end.
And changes are in store as well, as we rework the site to better suit your needs.  Quite frankly, we have a great staff, friendly members that want you to join them in the latest discussion on a flame free message board that isn't filled with not so witty one liners distracting from the subject matter.
And we are all Duke fans at heart just like you and that shines through as well. 
If there is a press conference at Duke, we are there in person.  If there are events from the Men's Basketball Banquet, the NC Pro Am action to the Coach K Academy, we are there.  And if there is a basketball or football game, we are there in person as well.  In short, BDN a full coverage site.
I'm excited about the future here and again, I love the staff I have assembled that has a perfect balance of youth and wisdom.  I personally invite you to join us and promise you that you will love the information within.  We want you to compare BDN's coverage with our competition for we are more than proud of our product and think you get a lot of bang for the buck over a years time,
Lastly, thanks for visiting Blue Devil Nation and be sure to bookmark the site and follow us on our informative Twitter and Facebook pages which can be found on the main page.  And it is you that makes up the Blue Devil Nation, a site with total dedication to Duke Athletics.  Now, come on in and join us!
Mark Watson, owner of Blue Devil Nation