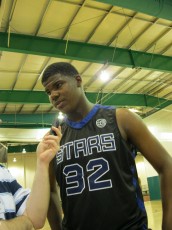 There is a lot to talk about in this weeks Monday Musings column with concern to Duke Basketball, especially on the recruiting front.  As you already know, Duke made an offer to 6-10 forward Austin Nichols and that kicks off the AAU season.
Speaking of the AAU season, Blue Devil Nation Recruiting Analyst, Andrew Slater covered the Nike EYBL and showed his prowess on the beat.  Slaters' twitter site blew up this weekend with premium like information as it happened.  Our premium members know that Slater is the best at what he does and now the secret is out that Team BDN is as good as it gets.  My side kick is a protege of the infamous Tom Knochalski, a legend and pioneer  on  prospect evaluation and his in depth interviews and analysis on the front is unmatched.
Slater will unveil an interview with Marcus Lee who plays for California Supreme, a prospect who caught the Blue Devils staff eyes this past weekend.  BDN tipped the nation off last night that there is a new kid firmly on the radar.  But Slater also spoke with Jabari Parker and a dozen more true Duke prospects, so BDN Premium is the place to be this week, so join today and see just how awesome our AAU coverage is.  You will love the value and knowledge we bring to the table, I guarantee it.
Is today the day Tony Parker decides?  Well, if it is, it will put an end to one of the more bizarre recruitment's of the season.  Parker has frustrated some national recruiting analyst to the point where they will not even give him the time of day with coverage.  This talented young man would fit well with Duke next season but whether the golden opportunity dawns on him before his 4:00 scheduled decision remains to be seen.  Parker has had a bit too much fun with the media and there will be a collective and anxiously awaited sigh from the schools still in the running for him in that the roller coaster will finally come to a halt.
There is still no word on when Philly product Amile Jefferson will decide but many feel it is down to Duke and N.C. State.  I would think his choice would come this week, so lot's going on this week beyond the pending NFL Draft.  Yep!  Basketball recruiting is in bloom and Duke fans anxiously await the Jefferson decision to see if he will be added to the roster next season.
Congratulations to the Duke Men's LAX team for downing arch rival North Carolina to win the ACC Championship.  The boys in royal blue scored 10 second half goals in a furious comeback for the victory and now it is on to the NCAA's.
Now that the Andre Dawkins news forced it's way out, there should be no more happenings around the team in that manner.  I didn't say there would not be rumors, but hopefully people will learn to follow those sources with long time proven track records and not some poster who tells you he's the man and he said, she said the neighbors dog groomer, cuts Skippys' coat and Skip belongs to the guy that runs the cleaners where a player goes and a player told that player that another player said that so and so was unhappy at Duke .  Silly, isn't it?  Still, many would fall for it hook, line and sinker in the steadily growing and unstable world of web based reporting.
In ending, again, consider joining BDN Premium and see for yourself what you are missing.  Duke will be on the trail this weekend at two events and we'll be out there just like this past weekend.  And be sure to follow Andrew Slater  on his twitter site and our resident football analyst Patrick Cacchio here and then there is of course my BDN site here.
Have a good week Blue Devil Nation and visit often for there will be a lot to talk about in the coming days.