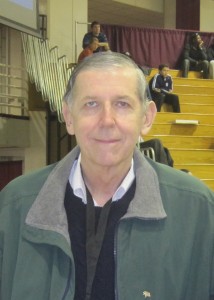 Tom Konchalski has been evaluating high school basketball players for nearly forty years. In a business filled with fly-by-night operations, charlatans, non-athletes, and simpletons, he's the exception. Mr. Konchalski is a disciplined, compassionate, learned man of faith who keeps his eyes open and his ears to the ground.
In an age of social media, where a seventeen year-old with a Twitter account can call himself a recruiting analyst, the 6'5" Queens native still utilizes a typewriter for his HSBI Report and sends it via mail to more than two hundred college programs. Author John Feinstein '78 once wrote of the veteran scout that he was the "only honest man in the gym."  Unfortunately, it's a fairly apt description of the AAU circuit on many summer nights.
Recently, I spoke with my mentor, consigliere, and friend about twelve players who have, at least, received interest from Duke  in the classes of 2012, 2013, and 2014. Never prone to hyperbole, the McDonald's All-American voter graciously gave his candid assessments.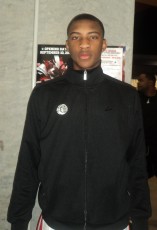 Rasheed Sulaimon: "He's a very good player. He's athletic and has good size. He has skill. He plays a team game and lets the game normally come to him. He's a guy who I think is going to be a good team player at Duke.[private] I think he'll be a good system player at Duke and Duke's system fits him quite well. He should become a very good player for them and I don't think he's going to be a player who will be a one or a two years and done for them. He's going to be around for three or four years. You need those kind of players because those are the types of players that Duke has had most success with. Defensively, he has the body, the strength, and the quickness to be a very good defensive player."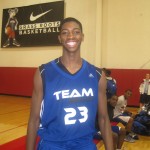 Amile Jefferson: "He's a young colt who's waiting for his body to blossom, but he has a really good feel for the game. Right now, he's probably more of a 4/3 and, obviously, he's going to have get stronger, but, in the ACC, it's not as if he's going to the Big Ten or the Big East, which is even more of a physical conference. In terms of style of play, if he were to go to Duke, that would be a good pick, but he's still got to get stronger in order to be able to play both sides of the court. He's a guy who has some perimeter skills..not an explosive athlete, but, when he starts to working to improve himself physically, his legs will get stronger. He will get quicker and he'll get more lift off the ground. He's a guy who has a good feel for the lane and the baseline. He's almost like an old-time player around the lane. He knows how to finish without going above the rim or jumping over people. He knows how to use his body to get between the defender and the ball. He knows how to shield the ball and reverse it. He has a really good feel for the game and he's a really good kid. He's also a good student."
Shabazz Muhammad: "Shabazz Muhammad is a guy who may be the best senior in the country right now. I don't think he has the potential to be a superstar. I think there are other people who may have a  higher ceiling, such as guys like Jabari Parker, Nerlens Noel, and Julius Randle. Right now, he just plays so hard. He's high energy, but he has some holes in his game. For example, he never beats you going right. When Mater Dei, for example, beat them in the fifth place game at the City of Palms, Stanley Johnson did a really good job of defending him because he overplayed him to his left. He ended up with thirty anyhow, but most of those came in the second half after they were already down twenty. He's an extraterrestrial athlete and he has great work habits on the floor. He gives you great second effort. He's left-handed, which is an advantage. He can hit some threes off of the catch. He's got to work at getting the ball on the floor and being able to change direction. He's got to build up his right hand, but he's a terrific athlete. He's a guy that when he goes to college, I don't know if he's going to be ready to go to the NBA after one year because he does have these areas of his game that he needs to develop. He's a guy that you'd love to coach. He's a classic coaches' player because he plays so hard, especially for a guy like Coach Krzyzewski that sees in him the kind of effort that he was used to as a player and a coach for Army and in his earlier, lesser talented teams at Duke, where they just showed so much toughness and great effort. I think that was the attraction there."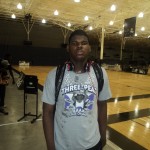 Tony Parker: "Tony Parker is a good player. He's a really good kid. He has good hands. He has good skills. The key thing for him is conditioning. He's lost some weight and he's got to lose some more weight. He's actually in better shape now than he was over the summer, but he's got to lose even more weight and improve his conditioning. I don't think he'll ever be a star, but I think he'll be a very good, solid player and kid who's a good student and I think he probably sees himself as staying around a while and not leaving. He's a four or a five, depending on where he ends up. He can step out and hit a mid-range shot, but he's never going to be a perimeter scorer. God didn't give him that body to shoot jump-shots and play on the perimeter. That body has got to be used inside. What he's got to do is sculpt that body, change his body somewhat, and ultimately use it as a weapon."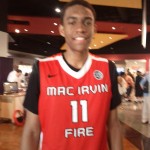 Jabari Parker: "Now, he's a guy, who, since the end of his sophomore season, really did change his body type. He shed a lot of that baby fat. He's gotten quicker. He got a lot more lift off of the ground and he's also improved his perimeter skills. He's become a pretty good three-point shooter. The one thing that I haven't seen with him… and I'm looking forward to seeing more of him this summer.. is that I'm not sure if he has the disposition to dominate a game, although, maybe… when he was younger, he was looking to simply defer to his upperclassmen. He's got to become a little bit more assertive. In big games, he's got to learn to take over games, which I think is a learning process for him. That said, if you want to talk about guy that has athleticism, a good feel for the game, plays the game the right way, and has a really good skill set for his size, he certainly is one of the best players in the country, regardless of class. When I saw him at the Peach Jam, for example, he showed certain things, but I think a lot of it has to do with his personality. He wants to defer to the older players somewhat. He doesn't want to try to take over completely. He hasn't become a prolific scorer in the Chicago Public League just yet, but there are a lot of weapons on his Simeon team so I don't think you're going to see him average twenty-five or thirty points. He does, however, need to come up big for them in their biggest games. With his size, athleticism, and skill set, he's got to be even more of a factor for them. Right now, I don't know that he quite realizes how good he is and can be. Everybody says that he's a very humble, grounded kid, but he may not realize just how good he is."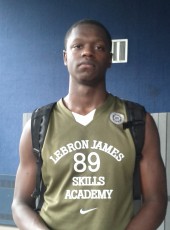 Julius Randle: "I'll tell you what... he was spectacular down at the City of Palms. Against Riverside (Riverside Academy of Louisiana), I thought he was bothered by the size and I thought he tried to initiate too much of his offense, after he was bothered by the size of Riverside in the first half. In the second half, I think he played too much on the perimeter to try to counter them. Now, here is a guy that has a Wayman Tisdale body, he's left-handed, and he can shoot the ball. He's actually strong with his dribble. He can take the dribble through traffic. He has a tremendously high ceiling. He could be a great, great player. I really like him."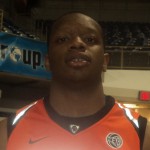 BeeJay Anya: "BeeJay Anya, as Coach Jones mentioned, is in so much better shape. He said that when he got cut from the USA basketball team that it really was a wakeup call to him. He took it to heart and became dedicated to improving himself physically. He trimmed down, lost weight, improved his conditioning, and just got in better overall shape. Right now, he's so much more active. He runs the floor more consistently. He can stay in the game for longer stretches. He has more range rebounding-wise. Before, his rebounding range was his arm length, which is considerable  (astonishing 7'9" wingspan), but now he can really go out of his area and grab some rebounds for his team. His offense has gotten better too, but I think he's just so strong. As you know, he's retained his strength and he knows how to use his body and you saw the difference. He's a man-child. He improves and he keeps on working. The thing that you notice about the DeMatha kids, you know, Morgan Wooten isn't the coach there, but one of his disciples is and they've retained the same work ethic. Also, it's the same character that you're finding with their kids. They have good kids. They have talented players, but, if they're not good kids, they're going to get them out of there.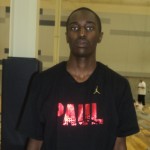 Theo Pinson: "Long, 6'5" to 6'6," he played with CP3. He's very thin, but a skilled player. He's a young guy, who was 6'5" to 6'6," who can handle the ball and shoot the ball with range. He looks like a fine prospect, but I want to see more of him.
Jahlil Okafor: "He's a big, strong post player inside. Because Thomas Hamilton tore his meniscus, there was more responsibility put on him. He's a terrific kid, very friendly, very smart. That's a good school. That's probably the best public high school in the Chicago system academically. He's a big, strong kid inside who doesn't try to be something he's not. He doesn't try to be a perimeter wannabe. He recognizes and utilizes his strengths. That's a valuable thing. He's not a 6'10" kid who wants to go outside, loft up threes, and show that he can dribble the ball or change direction with the ball. He knows what he is. He's a power player inside. Ben Franklin said that there are three things hard in life: steel, a diamond, and to know one's self. I guess he's read Ben Franklin."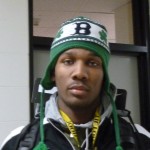 Wayne Selden: "First of all, when you look at him, he has a man's body. He's a sophomore, but he should be a junior. So, he's a reclassified kid. When he goes to college, there's not going to be any physical adjustment that he's going to have to make when he gets there, which is an advantage. Even when you look at the guys who go from college basketball to the pros, the guys who give you the most instant impact are those that have already prepared their bodies for the next level. The two kids who went straight from high school to the pros who had the most instant impact and who wound up earning Rookie of the Year in their respective years, 2003 and 2004, were Stoudamire and LeBron James. They entered the league with NBA bodies. Well, he's got a college body, right now. He's a strong, tough physical kid, who's also very nice kid. His skill level has really improved. When I first saw him, which was the summer before his freshman year, he was more like a 6'4" power forward, but he has been able to develop his game and learned how to handle the ball, while keeping that physical mentality. They let him bring the ball up the court and sometimes play a little point guard, but he doesn't see the court like a point guard and he's certainly not a point guard. He can, however, handle the ball, get to the basket, and shoot threes. In terms of his shot selection, he can sometimes put up poor shots, but, overall, that's improved as well. He's a guy who has great physical ability and he's a guy who has elevated his skill level. The next thing is for him to further understand the game, but he'll probably end up as a big two guard or a big combination guard. Once again, he's a very nice kid. He's also a terrific prospect."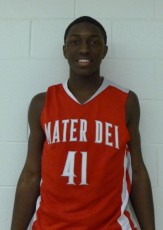 Stanley Johnson: " He's a good basketball player, but a terrific teammate. He plays in a program where there's a lot of players and there's a system. I don't know if he'll ever be a star, but he knows how to play the game and he plays both ends of the floor. He's their designated defender and he can defend multiple positions. He's the guy who defend Shabazz Muhammad very well in the City of Palms and he defended Isaiah Austin, I believe, for several stretches in their prior game against Grace Prep. He's a strong, physical kid, who's about 6'6," who's not a great athlete, but he knows how to use his strength and his shot discipline is very impressive. He takes shots that he knows he can hit. He'll take an occasional three. He's not going to create off of the dribble or anything like that, but he's also not going to try to. He generally lets the game come to him. He's a very good team player and system player. They play a lot of people. They're like the Noah's Ark of basketball programs. They've got two of everything, (laughs) but he stays on the floor most of the time because he offers them a lot on both ends. He can handle the ball, defend the opposition's best player, and just really seems like a good teammate and a terrific kid."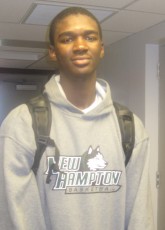 Noah Vonleh: "He's a big, 6'8" kid with good skill. He can guard pretty well and he's also a versatile defender. He gets down in his stance pretty well. I think he wants to be a perimeter player. I think he needs to use his strength and size a little more than he tens to do right now. He seems very coachable. He's very athletic and has a good body. He has good skill for his size. Right now, he's not a small forward and I think he's got to realize that. His game has probably got to start a little more inside. He's got to get a little more developed. He's a guy that eventually with his size and, if he can develop his skill set, might become a three, but he's got to develop his game. He's another kid who should be a junior, but he'd, at least, be a young junior. He'll graduate at eighteen, whereas, before he would've graduated at seventeen. He's certainly one of the best players in that class."
Overall thoughts on the 2013 class: "Well, before, there were those three big three and there were the Harrison twins who are very close behind. Those twins will be very good. You like Andrew (Harrison) more, which is appropriate and fits in with today's Gospel (laughs). I think those three have more upside than anyone that was in this class. The seniors in this class…I'm just, well, I think that Shabazz and Kyle Anderson were probably the two best seniors in this class. They're very good players. Kyle, from the neck on up, is the best high school player in his class, but, from the neck on down, he just is not. Those three, however, can be really stars at the college level and they can be stars at the pro level. They have so much physical ability and they have skill."
On whether Jabari Parker and Julius Randle could play together: "Jabari can play with him. Randle is a four/five, with, for example, more perimeter skill than Nerlens. They could be interchangeable. The thing that I don't know is that, with the transcendent talents that they are, I don't know if any of them would want to share the spotlight, with the way kids think right now. That said, if two of them went to the same college and stayed for more than one year, that's a national championship team. If they stay together for one year, that still may be a national championship caliber team. Who knows?"
Best long-term potential of Parker, Randle, and Noel: "I couldn't say. I've seen Julius and Nerlens play four times this high school season and I just haven't seen Jabari play as often, but let's just say that they all have Brobdingnagian potential. The sky is the limit for each of them. They can be as good as they want to be. They can each be truly impact players not only at the next level, but on the level beyond that."[/private]