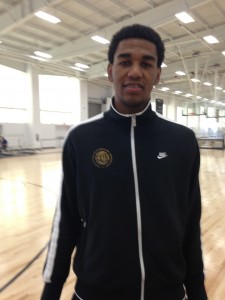 The third of four children born to the affable Mark and Arrolyn Jones and raised in the diverse Dallas suburb of DeSoto,  6'5" Matthew Jones, who, in late November of 2011, became the first pledge to Duke in the class of 2013, has carved his niche in this world by developing into one of the elite shooters in his class. Although he once described himself as a "chubby kid," Jones grew well beyond his parents' heights and has worked hard in the gym to stay lean.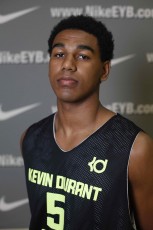 The more recent focus of Matt Jones' development has been centered around learning to handle the basketball more, being aggressive on offense, looking to become a better passer, and attempting to become a more focused defender. The beneficiary was DeSoto (TX) HS, which compiled a 33-3 record and was ranked nationally for stretches of the season, including after they defeated Simeon Academy of Chicago with fellow incoming Duke freshman Jabari Parker in an early season victory.
In recognition, Jones, who averaged sixteen points and nearly six assists for the top-ranked squad in Texas' largest classification, earned All-State honors in Texas and was named a McDonald's All-American. Clearly coming from a wellspring of a genetic pool, Jones joined his sister Jordan, a 5'8" key freshman reserve guard for the Texas A & M Aggies, to become just the third pair of brother-sister McDonald's All-Americans.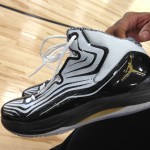 After playing more of a self-described "team game," with four shots in thirteen minutes, at the United Center in Chicago for the McDonald's All-American game, Jones felt the need to be more aggressive at this year's Jordan Classic game at the Barclays Center. With his close friend and former AAU teammate for the Texas Titans, Julius Randle, a Kentucky commitment, suiting up for the East squad, Matt Jones teamed up with his future Duke roommate, 6'8" Jabari Parker, to lead the West squad, which was coincidentally coached by his DeSoto coach Chris Dyer, to a 102-98 win in Brooklyn.
[private]
What was the experience like both here and the McDonald's All American game?
It was a big honor. There were a bunch of great players and they were great people too. I definitely had fun with that experience. In Chicago, there was a lot of love. I mean, I really felt wanted and with the Jordan Brand, we're just getting started. I know I feel like it's going to be a great weekend. I'm seeing most of the same people that I saw last week. We're definitely having fun, we're definitely talking a lot. It's been fun. Just getting a lot of gear. 
That's a nice backpack and case for your shoes.
Oh, yeah, definitely.
What have they got planned for you? I heard that you went to see Spike Lee last night. What did you see with him? Did you see the new "42" movie?
We just saw a bunch of clips and he was talking about them. I mean, Spike Lee is definitely an ambassador for the movie business. It was a lot of fun to see him. 
It's amazing the places that basketball can take you.
Oh, yeah, I'm grateful for the experience. It's just such a great experience to just be here, to have this opportunity to be here and to see a bunch of great people. Tonight, I think we're going somewhere fancy to eat. (laughs)
(laughs)
I mean, I'm definitely very grateful.
Did your sister give you any advice either about either your senior year or the hoopla that comes with McDonalds American game and the various all-star games? She had a great freshman year and she was really coming along at the end. 
Yeah, she did. She basically told me to just soak it all in. I mean, she didn't really get into like, a bunch of details or anything like that, but she just told me to have fun and live it up because you can only be in this place one time.  To just soak it up and be hungry. She definitely just said to take advantage of the opportunities. 
Your father said she was more like a firecracker and you're a little bit more calm. Is that true?
Yeah, I'm definitely calm. I definitely get slandered sometimes by my dad for being too non-chalant, so I mean, it definitely rubs off. And she is a firecracker.
How would you characterize your senior year?
It was a great season. We beat a whole bunch of players like Cat Barber, Jabari, and Jarrell Martin..all of them McDonalds All Americans and I mean, we definitely had a good season. We didn't end it like we wanted to, but overall. I mean, the ending was tough. 
You'll eventually get over it. 
Yes, sir.
Size-wise, how tall are you?
I'm about 6'5", 190.
What do you think you've improved on most since last summer?
I think really, my handle. I'm really just more confident with it. That's really it, sir. 
That's good to hear. Has it helped your mid-range game, as well?
Yes, sir. It definitely does. It definitely like helps my confidence to create off the dribble more and just turn my shot into a more lethal weapon. A really lethal weapon. 
I know you want to be a Ray Allen type of player.
Yes, sir. 
What has the staff asked you to work on?
They haven't told me much, but they told me to be more of a killer. To just have more of a killer instinct. 
I thought you were a killer sometimes when I saw you, at least in AAU.
Yes, sir, I mean, they just want me to be more consistent with my killer instinct (laughs)
What did you talk about with Jabari? He mentioned you spoke with him last night.
Yeah, I mean, we just talked about life. Well, I just tried to get to know him. I just wanted to get a head-start when we go to Durham. 
You might be roommates.
Yeah, we might. We definitely talked about a lot.
For the audience that doesn't know him, what would you say he's like?
He's a great kid. I mean, he's really funny. He's just so down to earth for being such a great player. I mean, he's just very down to earth and a humble kid. 
Can you tell the audience a little bit about your family?
Well, I have two sisters and one brother.
Well, now, he's a firecracker.
He is, he is. I have a sister that goes to A&M. She just finished her freshman year. She did pretty well and I have another sister that sings. She goes to the Chicago Institute.
I remember your father said that.
I mean, we definitely have a talented family.
Is Mason a player at all? He's sort of a bigger guy.
He had a tournament last weekend and he hit six three's, so...
So, he's got your pure shooting. 
Yeah, yeah. Yes, sir. 
What position does he play?
He plays shooting guard. 
I remember talking briefly with Kyrie last summer in Las Vegas and he was yelling "Uncle Drew! Uncle Drew!"
Yeah, that's him. 
Is there anything different that you're going to do in this game that you didn't do in McDonalds?
I think, basically, I'm going to be a lot more objective. I mean, at McDonalds, I was just trying to play team ball and trying to go for the win. But like, in this game, I just want to end my career right. I definitely want to go out there and get the win and be aggressive. Yes, sir.
I saw you picked the #13 for next year. How did you come to that number?
I just wanted to start a new career with the number 13. It really doesn't mean anything in terms of why I chose it.
Have you thought about what you'd like to major in at all?
I haven't really thought about it, but something generally with health or something like that. I don't really know. 
What would you like to do after your playing career is over? Would you like to be a coach or a broadcaster?
I've thought about coaching, but, like, I don't know. Maybe Coach K will give me a ride on that chair, I don't know. (laughs) But I don't know. Other than that, I haven't really thought about it. 
Do you have a favorite basketball memory?
Probably the McDonalds All American game, so far. I mean, you know, last week, it was just such a prestigious event to be able to go there and soak it all up.
Well, I thought it was an honor you deserved.
Yes, sir. Thank you.
What expectations do you have for both you and the team for next year?
Just a hard working group. I mean, of course, we have a bunch of athletic wings and a really good team all-around. We're just trying to work hard and an athletic team all around. We're just trying to go hard.
What about from you, specifically?
Just a little bit of everything. I'm gonna try to use my shooting as a weapon all over the game and just go over there and play defense. I just love playing defense. I'm definitely going to bring that. I'm going to just try.
Is that the thing you want to be known for? Being a sharp shooter and playing lock-down defense, as well?
Yes, sir. That's it in a nutshell. That's the mentality. That's what I want to bring.
Lastly, describe yourself for the audience that may not know you.
I'm just basically a humble kid. I like to have fun. I'm just a normal person. I like to laugh and chill and basically just do whatever you'd see a normal kid do. That's basically what I do. 
And what's your relationship like with your father? Does he give you advice? 
I mean, he's cool, he just gives me advice. He's very religious and spiritual. It's cool though. He's just my dad, so he's going to be there to talk to me anyway.
Thanks, Matt.
Yes, sir, no problem.
[/private]