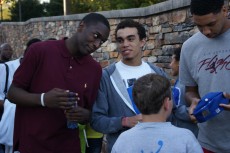 There is never a shortage of feel good moments for Duke fans when Countdown to Craziness kicks off the basketball season and on Friday night a celebration of the program ensued. Coach Mike Krzyzewski and his program had more than just this years team on display during the festivities. They also had a bevy of highly rated and key future prospects in attendance and they hope it will not be these young mens last visit to Durham.
It wasn't long after BDN began it's coverage of the event that all of the Duke Assistant Coaches, Jeff Capel, Chris Collins and Steve Wojociechowski came walking down the steps beside the Swartz-Butters Building which houses Coach K on the top floor with all of the visiting prospects.   Among [private] those were a point guard who does nothing but make his team better and win, Tyus Jones.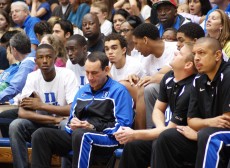 Jones is believed to have Duke and Michigan State at the top of his list, so it was important that Duke made a good impression and from afar it appears that may have happened. Also attending was a 6-10 behemoth from Chicago Jahlil Okafor and a sleek wing in North Carolina native Theo Pinson. All three of these players played on one of the better Team USA Development Teams in recent memory and all know one another from the AAU circuit as well. Depending on how your perceive information, it is said that these guys along with Justise Winslow would not mind playing together in college.
Duke also had a visit from another stud prospect in Karl Towns and a junior high sensation and specimen in Harry Giles.
Anyhow, back to the walk through campus by the prospects. As they descended down the steps quite a few Duke fans took notice and trust me from the folks I met who follow or are members of BDN, a lot of them and others were well aware of these kids visits. Suddenly, there was a small mob of picture and autograph seekers and the guys took time out to accommodate the fans.
Several minutes past before the prospects made their way fully onto the concourse with K-Ville dead ahead. By that time, owrd had spread and more Duke fans were taking notice. I could not help but think how disappointed some kids would be after getting their Duke caps and such signed for these guys not to matriculate but the greeting is one the average fan would have hoped for and a positive thing.
As they got closer to K-Ville, several groups of students, mainly coeds, held signs up letting each player know they were wanted in Durham. All of them seemed touched if not a tad embarrassed by the moment but all were certainly impressed by the situation. The group then made their way towards the Chapel and campus and later appeared behind the bench in Cameron as the event took place.
All of them sat directly behind Coach Krzyzewski and he would often turn to them individually and collectively and chat of what was happening on the court or offering some nuggets of wisdom. Several times during the game you could hear their names shouted but there were never any orchestrated cheers which lasted long but each of these kids knew they were honored guests.
If body language is any indication, the group enjoyed themselves and the Duke atmosphere and there were several times where the group had collective laughs at various antics, such as Marshall Plumlee dancing with his crutches. No real information past that at this time but I sure more will come out at some point today and I will pass on what I can.   Talk about it on the BDN Premium Message Board.  [/private]