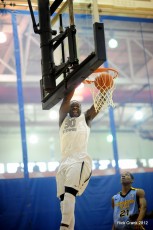 The Nike Peach Jam is in full swing and we are here in South Carolina to bring you updates on all the action and the latest on the many Duke prospects here.  Austin Nichols, Matt Jones, Julius Randle, Justise Winslow, Theo Pinson, and Jahlil Okafor are but a few of the informative interviews we have on tap.  In addition, there are some younger kids starting to catch the staff's eye as well.  You can learn about them and much more as a member.  Considering the bevy of interviews we have up for Blue Devil Nation Premium members, if you've been on the fence about it, this is the perfect time to join.
Here is the recap of the Friday day session:
Howard Pulley 74 Team Texas 65
First of all, this game had some intensity to it, as Roy Williams, Billy Donovan, Tom Izzo, the Duke staff and others crowded the court to the point where they would not let any more people into the gym once the game started.  The game was much closer than the score indicates. A Julius Randle turnover allowed Pulley to go up 4, but he then came down to score and "and one" inside, which cut it to 1 with little time left. Pulley's Tyus Jones drew a triple team and found an open teammate for a 3 and that pretty much sealed the deal. After a Team Texas miss, Jones quickly scored again on a drive and then assisted on another trey and that made the final score 74-65.  Despite his team being upset, Randle was a beast again, scoring 31 points and grabbing 17 boards.  While aggressiveness is something Randle thrives on (and as he told BDN, he feels he can take anybody off the dribble at any time) his aggression sometimes causes turnovers and could also make him foul prone at the next level.  But the big picture with Randle is he is a big-time force on the floor.  One coach sitting beside me quipped, "It's hard to evaluate the players around him and those who defend him in that he's so good." I have to agree. Then there was Tyus Jones, a smooth, spunky leader on the court who thinks [private] "team first," yet still gets his own shots too. Jones's late heroics helped his team to a win; he finished with 24 points, 8 assists and 4 rebounds. Randle and Jones are now the number one and two scorers at the entire event.
Capel will follow Team Texas
Jeff Capel has been sitting with his brother Jason for much of the camp today. Capel said he would go to Orlando and the AAU Nationals and be anywhere Julius Randle and Matt Jones were playing. So, yes, there will always be a Duke presence as Randle nears his decision.
Semi Ojeleye continues to play well
Ojeleye scored 20 points and grabbed 3 boards as his team coasted past Bluff City Legends. I just love his size and strength.  I have a mini-interview coming with Semi.  I will tell you that the Duke staff feels really good about their chances with him, and that it could be over in the near future. He's just a Duke kid through and through.
Jahlil Okafor struggles?
Part of the problem is his own play, but part is his teammates just not looking for him.  While I think the latter is the main culprit, still Jahlil was not impressive in Mac Irvin's loss to CIA Bounce. He fouled out in 15 minutes of play and his numbers were dismal:  2 points and 0 rebounds. He has not helped himself here so far.  By the way, Andrew Wiggins had 21 points for CIA.  He is one of the four best players in camp.
Oh Boo!
The dysfunctional bunch known as Boo Williams is again winless. In their first game, Anthony "Cat" Barber and Al Freeman jawed hard at one another, and it took a while for Barber to let it go. Talent and no production makes college coaches pause.  Freeman and his game are still a bit of a wreck.  Note: the Duke staff has not watched a single game this squad has played. And wasn't star forward Troy Williams supposed to have decided? Hmm.
Marcus Lee struggles as well
Marcus Lee is foul prone in a big way, and he once again finished the game on the bench as California Supreme lost again, and is now 0-3. Lee had 2 points and 5 boards; his offense is anemic. Yes he's talented and long, but putting all the hype aside, he is a little overrated and I am not the only one who feels that way.
Justise Winslow
From my conversation with him, this really seems like a good kid. He has recently been offered by Calipari and Kentucky, and he spoke highly of them, but Duke is on his list and he also spoke well of Coach K and his recent U-17 camp experience with Team USA. His production here has been good; he went for 16 points and 8 rebounds in his team's two point win this morning.
Yes, Theo!  You do have an offer!
Theo Pinson has had an offer for over eight months.  Odd how nobody knew, but the bottom line is he does now.  More may come out from this, not that it even matters at this point.  In the morning game he scored 23 points to lead CP3 to a 75-71 win over California Supreme.
Nichols Interview
Don't miss Andrew's interview with Austin Nichols.  The Duke coaches feel he will take all five of his visits before deciding.
[/private]