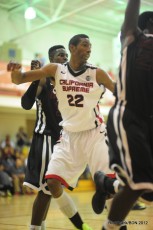 Marcus Lee, a rising senior out of Deer Valley (CA), has blasted onto the scene over the last six months, establishing himself as one of the top big men in the class of 2013. Boasting a 7'1.5" wingspan, the wiry 6'9" Lee uses that length well to protect the paint.  Driving much of the attention has been Lee's excellent summer on the hardwood.
Marcus never imagined he would receive the attention he has, even as his game has blossomed. He is extremely gracious for all the help his brother Brian has given him in the recruiting process. For Marcus, Brian has been the rock that he has needed to help him navigate the challenging recruiting process.
Lee recently arranged his final official visits, and is expected to make an official visit to Duke on October 27.
The bouncy big man was gracious enough to give BDN some time to discuss his recent trip to UCLA, his impressions of Coach K, and his relationship with his brother, among other topics.
BlueDevilNation: Being a west coast guy, it must be an honor to represent the west side out here in the Elite 24.
Marcus Lee: Oh yeah.  It was a great honor once I got the invite. It was just a real add-on to summer.  The summer was great.
BDN: Do you feel you had a good summer and played as well as possible?
ML: Yeah, I think I had a real great summer this year, and yeah, I tried as hard as possible and just tried to [private] get it done this year.
BDN: Your recruitment really blew up this summer.  Did you ever imagine all of this?
ML: (laughing) Uh, no, I never imagined all of this. It all came as a big surprise once it all started.
BDN: You had a chance to visit UCLA recently.  Can you go over that trip?
ML: It was a pretty great visit. The gym that's about to open will be crazy.
BDN: Pauley Pavilion?
ML: Yeah, yeah.
BDN: There's a perception about kids leaving the west coast.  Do you feel you fall under that at all?
ML: No, not at all. I feel like I'm able, I feel like I'm a chameleon and can adapt to wherever I go.
BDN: As with most recruits, their families hope to be able to watch them when they play.  Will it be important for yours to be able to attend the games?
ML: Yeah, it'll be very important. It's great to have your family and friends there to support you.
BDN: Do you feel like it's a deciding factor?
ML: Uh, I don't know yet. (laughs)  We'll see when we get there.
BDN: You've set a bunch of your in-home visits recently.  Have you had a chance to set up the Duke one yet?
ML: Umm, I don't think so.
Brian Lee: No, we haven't set it yet.
BDN: You were at the Lebron camp this summer and got to see the USA National team practice.  Can you describe that experience?
ML: Yeah, it was great.  We watched them scrimmage and it wasn't like high school. They were going after each other like they were playing a real game.
BDN: Going back to Duke, do they have a pitch they're selling you?
ML: No, they don't really have a pitch.  It's just us talking together, trying to learn more about each other.
BDN: Were you able to keep in contact with Coach K while he was in London?
ML: Yeah, a little bit. We talked in an out. Probably mostly through text messages because it was harder to call.
BDN: You said recently that he's really energetic.  Could you describe that?
ML: Just in his voice you can hear it.  You can hear that he's excited about basketball, he's excited about the team. He just has that passion.  He's always excited.
BDN: How would you describe how he approaches you? Is it more like a friend or a teacher, or a coach?
ML: He approaches me as a teacher. I see him as a real great teacher that I can learn from.
BDN: Tell me about your relationship with your brother. Obviously he's a major influence in your life.

ML: He's the brain of everything. He gets me here on time, he figures everything out. He's also my consultant. He'll talk to me throughout the year and . . .
BDN: Keeps you level-headed?
ML: YES! He does everything.
BDN: What are you hoping to see when you go on your visits?
ML: Something to catch my eye. I don't really know what it is, but I just know once I see it something will tell me to go here.
BDN: Is family atmosphere important for you?
ML: Yes, family atmosphere is extremely important.
BDN: Will you be staying at Deer Valley this year?
ML: Yeah, I'm staying at Deer Valley.
BDN: OK, just because there had been rumors in the past.
ML: (laughs) No, I'm repping Deer Valley until I die.
BDN: Do you feel like you have to be more vocal or is that something that comes naturally to you?
ML: I don't believe I can get any more vocal than I already am. I don't think anybody can get more vocal than me. It's just the way I am. It just happens naturally. I don't know where it comes from.
BDN: Do you feel there`s a difference between your role in AAU and high school?
ML: There really isn't a difference.  It's just that in high school I have to make sure everybody is on the same page, whereas on AAU, I already know for sure they're on the same page.

BDN: Thanks a lot, Marcus.
ML: All right.  Thank you. [/private]